Advanced Practice Registered Nurse (APRN) Requirements in West Virginia
West Virginia's nurse practitioners and other advanced practice nurses are under the jurisdiction of the West Virginia Board of Examiners for Registered Professional Nurses. Nurse practitioner is by far the most common advanced practice role nationwide, according to a report prepared for the West Virginia Nurses Association (http://campaignforaction.org/sites/default/files/West%20Virginia%20White%20Paper.pdf). Other Board-recognized roles include clinical nurse specialist, nurse anesthetist, and nurse midwife.
Nurse practitioners and clinical nurse specialists are recognized as having particular population foci. The Board-recognized population foci for clinical nurse specialists are adult/ gerontology, family, neonatal, pediatrics, psychiatric/ mental health and women's health/ gendered-related. The population foci for nurse practitioners are the same, except that adult-gerontology and pediatric practice may be noted as acute or primary care.
<!- mfunc feat_school ->
Featured Programs:
Sponsored School(s)
<!- /mfunc feat_school ->
West Virginia APRNs also hold licensure as registered nurses. West Virginia is not a nurse compact state (https://www.ncsbn.org/nurse-licensure-compact.htm). A nurse seeking to practice at the APRN level in will need to apply for an RN license through endorsement.
Advanced practice is based on post-basic education and national certification. In order to be granted prescriptive authority, an APRN must have recent clinical pharmacology coursework.
Nurse midwives are required to have formal, written collaborative agreements with obstetricians or other qualifying physicians and to file them with the Board. APRNs who seek authorization to write prescriptions must also file collaborative agreements.
Select a West Virginia Advanced Practice Registered Nurse Topic:
APRN Educational Requirements
A prospective APRN must complete an accredited graduate program (http://apps.sos.wv.gov/adlaw/csr/ruleview.aspx?document=8682). The accreditor is to be some agency that is recognized by the Council for Higher Education Accreditation and/ or the U.S. Department of Education. State regulations specify that nurse midwives are to graduate from programs that have been approved by the American College of Nurse Midwives. (Nurse Practitioner programs in West Virginia)
The student will need courses in advanced health assessment, advanced physiology/ pathophysiology, and advanced pharmacology. Program content will vary, depending on practice role and intended population focus.
After meeting educational requirements, the nurse will take a certification examination that is consistent with his or her role and population focus. The certification program must meet criteria described in 19-7-4. The certification program must be nationally accredited. The certification must be national in scope. There must be educational standards that are consistent with the requirements of recognized advanced practice roles. The examination must use acceptable methodologies. The organization must have a plan in place for certification maintenance.
There are similarities between this list of requirements and the National Council of State Boards of Nursing's Criteria for Evaluating Certification Programs (https://www.ncsbn.org/12_APRN_Certification_updated.pdf).
State regulations specify that a nurse midwife pursue certification through the American College of Nurse Midwives. Nurse midwives will now go through American Midwifery Certification Board (AMCB); this is the name that the ACNM Certification Council currently uses.
<!- mfunc search_btn -> <!- /mfunc search_btn ->
Obtaining Prescriptive Authority
In order to be eligible for prescription privilege, an advanced practice nurse must be at least 18 years of age. He or she must have completed 45 recent contact hours of coursework in pharmacology/ clinical management of drug therapy.
An APRN will submit a separate application for prescription writing privilege. There is a $125 fee. The APRN will need to provide verification of a collaborative agreement.
The Application Process
APRNs applications are available online (http://www.wvrnboard.wv.gov/forms/Pages/default.aspx). The application can also be completed through an online portal (http://www.wvrnboard.wv.gov/licensing/Pages/default.aspx); a printer will be required.
The applicant will need to arrange for some supporting documents to be sent from primary sources. Official transcripts and certification verification are both to be sent directly to the West Virginia Board from the issuing school or agency. Applicants who have practiced as APRNs in other states are directed to have verification sent from each applicable state board of nursing.
Applicants who answer "yes" to questions about criminal convictions, professional discipline, drug use, or conditions that may cause impairment will need to provide explanation and supporting documentation. Individuals who have questions about this section of the application are invited to email the Board; directions are included in the application packet.
The application fee is $35.
The applicant's signature indicates, among other things, that he or she is knowledgeable of state code.
Out-of-State Advanced Practitioners
Individuals who were originally licensed in 2012 or earlier may be considered for licensure even if they do not have graduate degrees (http://www.legis.state.wv.us/WVCODE/code.cfm?chap=30&art=7#1).
The RN Board does, however, impose additional requirements on applicants who do not have recent experience. Those who have not practiced during the prior two-year period will need to complete 12 contact hours of coursework in pharmacotherapeutics and 12 contact hours of coursework in clinical management; this coursework must be from the prior two years. Those who have not practiced during the prior five-year period will need to complete an approved refresher course or orientation program as well as 45 hours of pharmacotherapeutics coursework.
APRN License Renewal
APRNs must provide evidence of continuing education as well as current certification/ recertification.
Additional Information
Information about advanced practice requirements is available from the Virginia Board of Examiners for Registered Professional Nurses. The RN Board can be reached by email at 'rnboard at wv.gov' or by telephone at 304-558-3596 or 877-743-6877.
Requirements change periodically. There were revisions in 2013.
The state's advanced practice professional organizations are additional sources of information:
<!- mfunc search_btn -> <!- /mfunc search_btn ->
Find Nursing Licensure Requirements in Your State: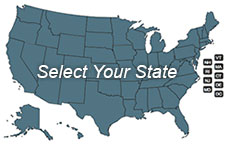 Learn about becoming a Registered Nurse, LPN or LVN in your state:
To View Full U.S. Map Click Here.