Advanced Practice Nurse Prescriber (APNP) Requirements in Wisconsin
Wisconsin defines advanced practice nurses as RNs who have met educational requirements and achieved national certification. Advanced practice nurses are eligible for credentialing as Advanced Practice Nurse Prescribers (APNPs); this status allows them to prescribe drugs or devices. The state recognizes four roles: nurse practitioner, clinical nurse specialist, certified nurse midwife, and certified registered nurse anesthetist.
The state has additional legislation pertaining to nurse midwives; nurse midwives must apply for state licensure in their specialty area.
APNPs and nurse midwives must hold licensure as registered nurses. Wisconsin is a member of the nurse license compact and recognizes multi-state licenses issued by other compact states. An advanced practice nurse from a non-compact state may apply simultaneously for Wisconsin RN and APNP credentialing.
<!- mfunc feat_school ->
Featured Programs:
Sponsored School(s)
<!- /mfunc feat_school ->
Select a Wisconsin Advanced Practice Nurse Prescriber Topic:
APNP Education and Certification Requirements
The Prospective APNP must earn a master's degree through a regionally accredited institution. According to state administrative code, the master's may be in nursing or a related health discipline. The graduate will, however, also need to meet requirements set by his or her certification agency. These vary by certification agency and specialty. The certification agency may note that the program must be specifically designed to prepare the nurse for a particular advanced practice role and population and may mandate particular accreditations. Among the typical requirements are coursework in advanced assessment and pharmacology and 500 supervised clinical hours in the practice area (Nurse Practitioner programs in Wisconsin).
The master's degree requirement does not apply to advanced practice nurses who earned certification by July 1, 1998.
The licensing agency will look for 45 hours of recent coursework in pharmacology/ therapeutics.
The prospective APNP must pursue national certification. There are a number of approved organizations; selection will depend on specialty. The following certification agencies are listed in the current application packet:
American Association of Critical-Care Nurses
American Academy of Nurse Practitioners
American Association of Nurse Anesthetists
American College of Nurse-Midwives
American Nurses Credentialing Center
National Certification Board of Pediatric Nurse Practitioners and Nurses**
National Certification Corporation
The American Association of Critical Care Nurses (AACN) Certification Corporation is an Adult Gerontology Acute Care Nurse Practitioner recognized certification body.
**The National Certification Board of Pediatric Nurse Practitioners and Nurses is now the Pediatric Nursing Certification Board.
Jurisprudence Examination Requirement
A Wisconsin APNP must pass a jurisprudence examination, or test of state laws and rules (https://dsps.wi.gov/Pages/Professions/APNP/Default.aspx). This step is completed after application submission. The test is untimed; an applicant may use a personal computer that has Internet Explorer and complete the questions at his or her convenience. However, an applicant who scores less than 85% will be required to remit an additional fee for examination retake. Currently, the fee is $75.
<!- mfunc search_btn -> <!- /mfunc search_btn ->
Malpractice Insurance Requirement
APNPs are required to hold malpractice insurance unless they fall under an exemption category described in state code. Some advanced practice nurses are exempted on the basis of governmental employment.
The APNP Application Process
Advanced practice application forms can be downloaded from the website of the Wisconsin Department of Safety and Professional Services (https://dsps.wi.gov/Pages/Professions/APNP/Default.aspx).
The licensing agency will need primary source verification that he or she 1) holds national certification and 2) possesses a qualifying master's degree. The applicant will use Form 2367 to document his or her master's. In cases where the school is no longer in operation, the applicant is directed to inquire of his or her state Department of Public Instruction where records are housed.
The licensing agency requires official verification from all states where the applicant has had prescriptive authority. Form 741 is to be submitted directly to the licensing agency.
The applicant can use transcripts or certificates to verify recent pharmocotherapeutics coursework.
Applicants who answer "yes" to questions about criminal background or other potentially disqualifying life circumstances will need to provide additional supporting documentation.
An initial applicant pays $75 for the credential and $75 for the jurisprudence examination.
Applications are mailed to the Board of Nursing in Madison.
Once information has been entered into the system, applicants will receive emails with information that will allow them to track the application process. This initial step typically takes seven to fifteen business days, but can take significantly longer during peak times.
APNPs who anticipate the need to prescribe controlled substances will also apply for DEA numbers. The Wisconsin Board refers them to the Drug Enforcement Administration.
Maintenance/ Renewal
The APNP will need to maintain certification through his or her certification agency. This typically involves meeting continuing education/ continuing competency requirements.
The APNP will also need to meet Wisconsin continuing education requirements. He or she will need to average at least eight contact hours a year of clinical pharmacology/ therapeutics coursework. This coursework is to be taken through the certifying agency (https://dsps.wi.gov/Pages/Professions/APNP/CE.aspx).
Wisconsin APNP credentials are renewed biennially. The professional will submit evidence of required insurance on an annual basis.
Nurse Midwife Licensing
A nurse–midwife is to complete a program that has been approved by American College of Nurse Midwives (ACNM), then seek national certification (http://165.189.64.111/Default.aspx?Page=6c82293e-ad36-4809-9bc2-fa36a9f66659). State code references certification by the ACNM. However, the Certification Council of American College of Nurse Midwives is now the American Midwifery Certification Board (http://www.midwife.org/Certification).
A graduate may be issued a temporary permit which allows for practice pending certification.
A nurse midwife will need liability malpractice insurance unless exempted.
Application forms are available from the Wisconsin Department of Safety and Professional Services (http://165.189.64.111/Default.aspx?Page=4a2e07cb-3545-48bd-97dc-e4af761071fb).
Additional Information
Information about advanced practice licensure is available from the Department of Safety and Professional Services (https://dsps.wi.gov/Pages/Professions/APNP/Default.aspx). The Department can be reached by telephone at (608) 266-2112.
State professional organizations include the Wisconsin Nurses Association, the Wisconsin Association of Nurse Anesthetists (http://wiana.com), and the Wisconsin Affiliate of the American College of Nurse Midwives (http://wisconsin.midwife.org).
<!- mfunc search_btn -> <!- /mfunc search_btn ->
Find Nursing Licensure Requirements in Your State: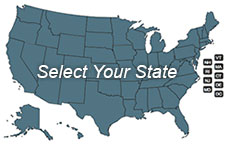 Learn about becoming a Registered Nurse, LPN or LVN in your state:
To View Full U.S. Map Click Here.