RN Careers in Arkansas: Becoming an RN
There are more career options in nursing than many realize. Organizations in Arkansas, though, are heavily vested in people realizing the opportunities that nursing affords – and in helping ensure the state an adequate supply of nurses. There is particular need for nursing professionals with expertise beyond the entry level.
<!- mfunc feat_school ->
Featured Programs:
Sponsored School(s)
<!- /mfunc feat_school ->
Practice Settings and Roles
The hospital is, nationwide, the most common work setting for registered nurses. Hospital positions are diverse. The following is a recent sampling:
Pre-Op RN
RN-Cardiac Cath
Geriatric Inpatient Unit
IV Therapy Specialist
Triage Nurse
RN-Wellness
RN-Practice Coach
RN-Medical Oncology and Transplant
Neonatal/ Perinatal Outreach Nurse
Many of these positions would be classified as staff nurse. They provide direct care in a traditional manner. Some nurses provide direct services but in a different way. Their primary role may be to provide case management and discharge planning.
Magnet hospital status is awarded by the American Nurses Credentialing Center, largely on the basis of nursing quality. What nurses have to say about the facility matters! Arkansas boasts two magnet hospitals as of 2017: CHI St. Vincent Infirmary and Arkansas Children's Hospital, both in Little Rock.
Arkansas Children's is one of the largest children's hospitals in the country; this makes for many varied roles. Nursing positions are classified at RN I, II, or III levels. RN I is novice. RN II represents the full professional level. A nurse at the RN III level has expertise in a specialty area; this is to be demonstrated through certification. The organization offers an 18-week residency program. Wellness programs and on-site daycare help employees balance work and life. Arkansas Children's has produced videos to give prospective nurses a sense of what it's like to work on different units (http://www.archildrens.org/careers/open-positions/open-nursing-positions).
<!- mfunc search_btn -> <!- /mfunc search_btn ->
Long-Term Care
Registered nurses also perform technical and supervisory duties in long-term care settings. Among the exciting developments in this arena are improved dementia treatment and person-centered care. Arkansas Culture Change is a resource (https://arkansasculturechange.com/).
The American Health Care Association and the Center for Medicare and Medicaid Services represent two different windows into program quality.
Becoming an Arkansas RN
The prospective RN will need to complete an approved program (RN programs in Arkansas). Programs prepare generalists. The degree may be at the associate's or diploma level or higher. Bachelor of Science (BSN) nursing degrees include some additional coursework applicable to positions of leadership and high responsibility.
The graduate will need to pass the NCLEX-RN, a standardized licensing examination. The NCLEX is designed to assess basic competence at the professional nursing level. NCLEX scores are among the factors the Board considers when determining program approval status.
Meeting Career Goals
Expertise is developed through experience and through additional education. While associate and bachelor's level professional nursing programs both prepare nurses for the same level of licensing, there are differences in opportunities. According to the Arkansas Center for Nursing, a person who completes only an Associate Degree in Nursing, or ADN, may have a more limited set of work settings (doctor's offices, long-term care facilities, mental health). Some of these settings, of course, have very high need for dedicated staff. Nurses who have their sights on hospital employment will often do better if they further their education. The bachelor's degree is not a legal requirement for working as a nurse in hospital in-patient settings, but some employers do require it.
Starting with a BSN can also be a good idea if one wants to take their practice to the highest levels. It is possible to go straight from the basic RN level to the Master of Science (MSN) level. Still, as the Arkansas Center for Nursing notes, the BSN can facilitate the transition. There are many nursing positions at the advanced level — and a number of organizations encouraging advancement. Graduate level advanced clinical roles include nurse practitioner, nurse midwife, nurse anesthetist, and clinical nurse specialist. Often advanced practice nurses carry out duties traditionally carried out by MDs. A special license is required. Expanding the scope of Advanced Practice Registered Nurses (APRNs) has been a focus of the Arkansas Nurses Association.
There are other advanced nursing roles that do not require APRN licensing. The Arkansas Center for Nursing classifies them as administrator, educator, researcher, clinical nurse leader, and informatics.
Specialized positions exist at the RN level as well. An experienced nurse can pursue third party certification in his or her specialty area. This is not as fundamental. Specialty certification is not required to practice at the RN level. However, some employers will seek it.
Average RN Salary and Career Outlook in Arkansas
The RN profession has been projected to see 15% growth in Arkansas between 2014 and 2024.
Arkansas registered nurses earned an average of $27.71 an hour in 2016 — $57,630 for a year of full-time work. Those at the 10th percentile earned $19.89 while those at the 90th percentile earned $36.97.
In addition to salary, major medical centers can offer some very generous benefits packages. Chi St. Vincent Infirmary, for example, notes flexible dependent spending accounts, paid jury duty, adoption assistance, and 401(k) and 457(b) plans among the perks. Employees are also eligible for assistance in attaining higher degrees.
<!- mfunc search_btn -> <!- /mfunc search_btn ->
Find Nursing Licensure Requirements in Your State: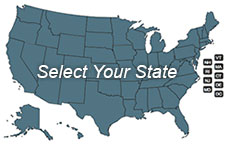 Learn about becoming a Registered Nurse, LPN or LVN in your state:
To View Full U.S. Map Click Here.