Becoming an RN in California: RN Career Paths
Registered nurses (RNs) make up the largest group of healthcare workers in California. 330,000 peopl e hold RN licenses in the state. Is this too many? Far from it! Nurses take on so many roles.
<!- mfunc feat_school ->
Featured Programs:
Sponsored School(s)
<!- /mfunc feat_school ->
Becoming a California RN
RN status depends on education and examination. The first step is usually completion of a degree program (RN Programs in California). However, California allows nurses who already hold credentialing as Licensed Vocational Nurses to move up to RN status after completing 30 additional semester hours of nursing. Non-degreed California RNs licensed through this pathway should be aware though, that moving out-of-state could mean their RN license is no longer recognized.
California RNs, like those in other states, take the NCLEX-RN examination.
Some organizations offer residencies or transition to practice programs. These do not affect licensing status. However, they can have a bearing on whether one stays on the job!
Job Settings and Roles
The California Board of Registered Nursing surveys a sampling of licensees every two years. The 2016 survey found that approximately two-thirds worked in acute care hospital settings. Of, these, a majority were in inpatient care or the emergency department, but there were other settings possible; a substantial minority of hospital RNs served an outpatient population.
Non-hospital ambulatory settings such as doctor's office and surgical centers comprised 8.1% of work settings. Skilled nursing, extended care, and rehabilitation settings together comprised 5.1%; home health, another 3.4%. Other settings included schools, drug and alcohol treatment centers, public health departments, and dialysis centers, among others.
A little over half of the respondents categorized their primary role as staff nurse/direct care provider. More than 15% had combined charge nurse and direct care responsibilities. More than 9% identified as management at some level . 4% had made it as far as nurse practitioner; a smaller percentage were in other graduate level advanced practice roles: nurse midwife, nurse anesthetist, clinical nurse specialist. 5.5% identified themselves as case managers, care coordinators, or discharge planners. This is a role that has been on an upward trend with some increase during each two-year period since 2006. Among the other roles cited were school nurse, public health nurse, quality improvement nurse, clinical or service setting nurse, and telenurse.
Hospital wards tend to be specialized, and to some degree, nursing roles in these settings are, too. The following is a recent sampling of units for which RNs were sought:
Emergency Department
Labor and Delivery
Intensive Care Unit –Coronary
Behavioral Health Inpatient
Pediatrics
Burn Intensive Care Unit
Hospitals hire nurses for roles like case management and bed control (patient flow). They even hire RNs to manage employee health issues.
<!- mfunc search_btn -> <!- /mfunc search_btn ->
Public Health Nursing
California certifies public health nurses. This role requires education at at least the bachelor's level. A nurse who possesses a California RN license but whose bachelor's degree is in a field other than nursing can pursue additional qualifying coursework.
Positions in public health settings can be quite diverse. NBC Bay Area recently called attention to a serious problem — homeless newborns and pregnant women — and to those working to better their lives. Among those quoted: an RN who was responsible for connecting pregnant women who were homeless with needed resources. The article noted that the nurse spent much of her time on the San Francisco streets (https://www.nbcbayarea.com/news/local/Number-Homeless-Pregnant-Women-Newborns-on-the-Rise-in-San-Francisco-457596843.html). These are, after all, the places her clientele calls home.
Placer County has produced a video showing what it's like to be a public health nurse (https://www.placer.ca.gov/departments/public-health/public-health-nursing).
Premier California Hospitals
California has a number of premier hospitals, desirable from an employment standpoint as well as a patient one.
The American Nurses Credentialing Center awards magnet status. California boasts fully 33 magnet hospitals. Among them are the following:
Cedars-Sinai Medical Center in Los Angeles
Kaiser Permanente Irvine Medical Center
MemorialCare Long Beach Medical Center (including Miller Children's & Women's Hospital Long Beach)
Sharp Grossmont Hospital in La Mesa
University of California, San Francisco Medical Center
Valley Children's Hospital in Madera
Indeed.com has placed Stanford Health Care at #10 on its list of best U.S. hospitals to work for.
Dignity Health, MemorialCare Health System, Providence Holy Cross Medical Center, Scripps Health, Sharp Healthcare, and St. Joseph Health all make the Becker's Hospital Review of best hospitals and medical centers to work for.
Career Outlook and Average RN Salary in California
The 2016 California Employer Report found at least moderate demand for nurses at almost all hospitals surveyed (https://rnworkforce.ucsf.edu/demand-data). Demand for experienced nurses is higher, but demand for new nurses has increased over the past several years.
California registered nursing occupational levels have been predicted to increase 17.3% between 2014 and 2024.
California, with a mean annual wage of $101,750, was the highest paying state in the nation for registered nurses in 2016. In fact, the ten highest paid cities were all in California. The San Francisco metropolitan area tops the list, followed by the Santa Cruz-Watsonville area.
Fortune, meanwhile, reported on the top cities nationwide for nurses to earn money, taking into account both salary and cost of living (https://www.forbes.com/sites/karstenstrauss/2017/03/09/15-great-cities-for-nurses-in-2017/#11fe28ccf47d). The list looks a little different – San Francisco and Santa Cruz no longer make the list — but California is still very well represented. The top three were all in the San Joaquin Valley area of California: Fresno, Bakersfield, and Modesto. Number 4, Sacramento, was not far away. Riverside, Oxnard, San Jose, Los Angeles, and San Diego also made it into the top 15.
And then there are the intangibles! The 2016 survey found overall job satisfaction among California RNs. RNs found their interactions with patients very rewarding and were also quite satisfied with relationships with other health professionals.
<!- mfunc search_btn -> <!- /mfunc search_btn ->
Find Nursing Licensure Requirements in Your State: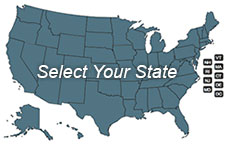 Learn about becoming a Registered Nurse, LPN or LVN in your state:
To View Full U.S. Map Click Here.