RN Careers in Colorado: Becoming an RN
The Center for Nursing Excellence, Colorado's nursing workforce center, considers 65 an important number. At issue are the number of nurses who are approaching 65 and the number of residents who are approaching 65; the former will at some point be leaving the workforce while the latter will likely need more care as they grow older. Many people in Colorado — as elsewhere — are concerned with maintaining an adequate nursing workforce on into the future.
As for Colorado's healthcare organizations, they want more than an adequate group of nurses. They want an exceptional one.
<!- mfunc feat_school ->
Featured Programs:
Sponsored School(s)
<!- /mfunc feat_school ->
The Need for Registered Nurses in Colorado
Colorado may be headed for a nursing shortage (https://www.csbj.com/2016/03/25/colorado-nursing-shortage-looms/). This doesn't mean that all nursing jobs will be hard to fill. The more basic RN positions can be filled by new grads. It can be more difficult to find professionals who have developed themselves beyond the entry-level and have some experience. Some parts of the state may be more challenged than others.
Becoming a Colorado RN
Nursing is a licensed profession. In Colorado, nurses are licensed by the Colorado Department of Regulatory Agencies. RN licensure depends on completion of an approved program. Colorado professional nursing programs are offered at the associate and baccalaureate level (RN programs in Colorado). There is no difference from a licensing standpoint. Both include the required content to pass the NCLEX licensing examination and carry out nursing duties at the RN level. The Bachelor of Science in Nursing (BSN), however, represents in some ways a broader and deeper education; many employers require it, at least for some positions.
The Colorado Center for Nursing Excellence reports that 65% of Colorado have their highest degree at the bachelor's level; an additional 5% are master's educated. For those hired in urban areas by the state's major employers, the percentage with baccalaureate education is actually far higher. It's in the rural areas where average education is lower. 80% of the professional nurses employed by the state's major health systems have nursing education at the BSN level.
Premier institutions can offer a lot, but they also ask a lot in terms of education as well as attitude. Sometimes they value third party specialty certification as well. The following are among the many positions listed by the University of Colorado Medical Center in late 2017:
Registered Nurse – Medical/Surgical (BSN Preferred)
Registered Nurse – Dialysis (BSN Preferred)
Registered Nurse – Transplant Medicine (BSN preferred)
Registered Nurse – Oncology Nurse Navigator (BSN and Oncology Certified Nurse credentialing preferred)
Case Manager Registered Nurse (BSN required, MSN preferred)
Many positions require experience. However, the premier institutions do hire new grads and do have programs in place to help them transition.
<!- mfunc search_btn -> <!- /mfunc search_btn ->
RN Work Settings and Roles
According to the most recent data, 59% of the state's RNs are employed by hospitals while 21% are employed by ambulatory care facilities such as community clinics and doctor's offices; an additional 6% are employed by nursing facilities and residential care facilities (http://www.coloradonursingcenter.org/colorados-nursing-shortage/).
There are eight major medical systems doing a huge share of the hiring. Within these and other organizations, RNs take on many roles.
Of concern to the Colorado Center for Nursing Excellence and individual healthcare associations: turnover rates. The 2017 'snapshot' noted a 12% vacancy rate (http://www.coloradonursingcenter.org/center-publications/). Organizations are thinking hard about how to not only hire bright new faces but keep them for the long-term.
The large systems can often provide generous benefits and little extras to keep the stress down. The Medical Center of Aurora, for example, has plenty of programs in place to help employees maintain and improve their own health; among them are bonuses for quitting smoking or losing weight and resources to help them meet their goals. The organization also notes fitness membership discounts and on-site massage therapy.
The need for well-prepared nurses is also high in areas outside the reach of the major players. Federal programs offer financial incentive to work in areas where the need is great. Programs such as the Interprofessional Collaborative Practice (IPCP) Training and Development Program, begun as a partnership between the Center for Nursing Excellence and the Colorado Community Health Network, have sought to address the challenges of providing care to underserved areas.
The modern healthcare arena includes many higher level nursing positions that require education at the graduate level. Some nurses know at the start that this is where they want to go with their careers. Others are, in a sense, discovered. Among those profiled in the Colorado Center for Excellence 2016 Annual Report: a nurse who had already progressed to a position with a high level of responsibility when he met someone from the Center; she not only encouraged him to become a family nurse practitioner who could serve rural and under-served areas but took away the barriers of cost and convenience. An educational partnership was set up so that he and other talent could more easily take courses while remaining on the job. Grant money was secured.
Public Health Nursing
Public health nursing represents a small segment but a very important one. The public health nursing role has expanded beyond just one of direct care provision. Public health nurses use tools to promote health. Among their functions are educating people on health issues, linking people with health resources, developing policy, monitoring health status at the community level, and evaluating the effectiveness of programs at the population level. Monitoring health status could include actions such as investigating a reported outbreak of whooping cough at a day care center, validating it, and using data to contain its spread. The Public Health Nurses Association of Colorado has provided a brochure, describing the career (https://www.colorado.gov/pacific/sites/default/files/OPP_PHN-Brochure.pdf).
Average RN Salary in Colorado
Colorado registered nurses made a mean wage of $33.92 an hour in 2016. 80% made between $25.16 and $46.19.
Related:
Medical Assistant Requirements in Colorado
<!- mfunc search_btn -> <!- /mfunc search_btn ->
Find Nursing Licensure Requirements in Your State: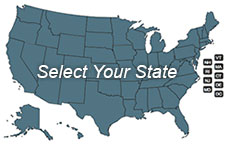 Learn about becoming a Registered Nurse, LPN or LVN in your state:
To View Full U.S. Map Click Here.