RN Careers in Delaware: Becoming an RN
The Delaware Nurses Association reports that RNs are involved in nearly every healthcare encounter; the organization recommends that leaders take action to ensure an adequate nursing workforce into the future (http://www.denurses.org/Top-Menu-Category/Delaware-Nursing-Workforce). It doesn't take a position of leadership, though, to make a difference. Individuals also have a role in ensuring the state's healthcare future. What can they do if they believe they have the skill set? They can take advantage of the many opportunities that are out there in nursing!
<!- mfunc feat_school ->
Featured Programs:
Sponsored School(s)
<!- /mfunc feat_school ->
Delaware RN Roles
The Delaware Nurses Association and the Delaware Board of Nursing together conducted a survey of the state's nursing workforce in 2014 (http://www.denurses.org). They found that approximately 45% of Delaware RNs were employed by hospitals. Ambulatory care settings employed another 9%. Nearly 7% were employed by nursing homes and extended care facilities; home health employed approximately another 4%. Work settings included community health and hospice, among others. Less than 1% of the state's RNs were employed in assisted living – however, this still made it a viable option.
Delaware deviates from the norm in several areas. More than 4% reported practicing in academic settings.
Approximately 42% of Delaware's registered nurses identified themselves as staff or general duty nurses. The next highest category was advanced practice nurse, followed by supervisor or administrator, educator, discharge planner or case manager, and faculty. Quality assurance/ infection control and researcher or consultant each accounted for less than 2% of RN roles.
Hospital nurses are hired to work on very diverse units. The following represent job postings in late 2017:
Intensive Care Unit
Pediatric Sleep Unit
Adolescent Psychiatric Unit
Cardiac Cath Lab
Medical Surgical/ Bariatric Center
Operating Room
Cardiovascular Stepdown Unit
Hospital roles can be as specialized and diverse as neurosciences navigator, pediatric diabetes/ endocrine nurse, informaticist, and readmission preventionist. A recently posted informaticist position sought a BSN with experience in both clinical care and information systems.
Nurses in other settings may also have expertise in specialized or narrow areas. One recent position was for a trach/ ventilator services nurse; the ad was placed by an organization that offered healthcare services in the home. Another was for an RN for a day habituation program serving individuals with disabilities and acquired brain injuries.
The following are among the diverse RN roles for which candidates were sought in late 2017:
Corporate Health Nurse
Clinical Care Reviewer
Assisted Living Director
<!- mfunc search_btn -> <!- /mfunc search_btn ->
Becoming an RN and Progressing to Higher Levels
A person will need to be licensed by the Delaware Board of nursing unless he or she holds licensure through another Nurse Compact state. Licensure entails completion of an approved program (RN programs in Delaware)and satisfactory performance on a licensing examination. Currently, Delaware has entry-level RN programs at the diploma, associate, and bachelor's level; the diploma program is under the banner of a medical center. There is one Delaware program specifically for individuals who are already credentialed as LPNs or paramedics.
Delaware RNs are an educated group. The 2014 survey found that more than 20% of respondents held a Master of Science in Nursing (MSN); another 5% held master's degrees in other fields. A significant proportion of nurses with graduate degrees were in advance practice –more than 12% of all respondents. The total number with master's degrees was nearly double the national average (then 10.4%).
Approximately 34% of Delaware nurses had, as their highest degree, the Bachelor of Science in Nursing (lower than the national average). Another 5% held bachelor's degrees in other fields, though their professional nursing education was at a lower level. Approximately 23% counted the associate's as their highest degree (again lower than the national average).
As for the rest? Approximately 9% had diplomas. More than 3% held doctoral degrees, whether in nursing or another field. It is becoming increasingly common nationwide for nurse practitioners to hold the Doctor of Nursing Practice.
Magnet hospitals are known for seeking nurses with relatively high educational levels. Bayhealth notes that all its nursing positions are RN with nursing degrees at the BSN or MSN level preferred is a clinical nurse specialist on units. Nemours/Alfred I. duPont Hospital for Children states that 70% of their Delaware nurses have achieved at least a BSN.
Medical centers often have programs in place to help their employees achieve more. Cristiana Health Care System, for example, offers a subsidized MSN program.
Third party specialty certifications can be an asset for experienced nurses. Bayhealth cites the following among the many certifications its nurses hold: medical/ surgical, home health, critical care, neonatal intensive care.
Premier Delaware Facilities
Delaware is home to several renowned healthcare facilities. The state has three magnet hospitals: Bayhealth in Dover, and Christiana Health Care System and Nemours/Alfred I. duPont Hospital for Children, both in Wilmington.
Premier facilities are often able to provide a number of programs to help employees balance work with other life responsibilities – and to stay healthy themselves. Cristiana, for example, boasts on-site fitness facilities, lactation rooms, preventative health services, a wellness program discount, flex time, and crisis leave bank.
Exceptional Care for Children is a skilled nursing facility that serves a pediatric population, one that by and large, is dependent on modern technologies for survival. Exceptional Care offers a generous benefits package, but the biggest perk, employees tend to say, is the kids.
Career Outlook and Average RN Salary in Delaware
Delaware has the third highest concentration of RN jobs in the nation (https://www.bls.gov/oes/current/oes291141.htm).
Delaware registered nurses made an average of $34.05 an hour in 2016 or $70,820 for 52 weeks of full-time work. These Bureau of Labor Statistics figures include some master's level nursing positions, but do not include the following advanced practice roles, nurse practitioner, nurse midwife, nurse anesthetist. Graduate level nurses employed in these roles can expect to make considerably more.
Resources
Nursing License Requirements in Delaware
Medical Assistant Requirements in Delaware
<!- mfunc search_btn -> <!- /mfunc search_btn ->
Find Nursing Licensure Requirements in Your State: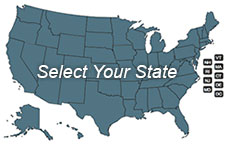 Learn about becoming a Registered Nurse, LPN or LVN in your state:
To View Full U.S. Map Click Here.