Nursing Education and Career Paths in Indiana: Becoming an RN
Registered nursing has been placed at the top of the list of Hoosier Hot Jobs (https://netsolutions.dwd.in.gov/hh50/jobList.aspx); the list is for well-paying jobs that are seeing strong growth. The level of demand for new nurses will vary, but there will always be a need for professional nurses with compassion and expertise, and chances are they will always command a solid wage.
Nurses represent the largest category of healthcare worker. Registered nursing is also known as professional nursing; RNs have more nursing education than Licensed Practical Nurses and can take on more duties.
<!- mfunc feat_school ->
Featured Programs:
Sponsored School(s)
<!- /mfunc feat_school ->
Becoming an Indiana RN
In order to become an RN, a person will need to graduate from a college of nursing, perform satisfactorily on the licensing examination, and pass a background check.
Programs may be offered at the associate's, diploma, or bachelor's level (See: RN Programs in Indiana). State code allows for programs as short as two years, but all must meet a list of curricular and clinical standards. 60% of Indiana nurses hold degrees at the baccalaureate level or higher. The Bowen Center for Health Workforce notes that Indiana is still not at the level that the Institute of Medicine recommended that the nation reach by 2020. State code notes one curricular area for which bachelor's programs must include theoretical and clinical instruction but associate's programs are not required to: community nursing. It's in hospital settings, though, that nurses most often encounter a Bachelor of Science (BSN) hiring preference; this is a result of the high need for nurses as well as the high demands placed by the job.
A nurse – or prospective nurse — can tailor his or her experience to particular roles. Experts recommend determining what type of position one is interested in early on. The dean of Purdue University Northwest's College of Nursing notes that the profession isn't all about blood and guts (http://www.nwitimes.com/business/jobs-and-employment/tips-for-getting-a-job-in-health-care-in-northwest/collection_5fee6ffc-b3d1-5901-a363-0d1017892dac.html#3). Among the many alternatives to acute care are mental health centers, preventative medicine, and rehab.
Margaret Mary Health, for example, utilizes an RN as pediatric manager in its early evaluation hub for children with autism and developmental delays. Her role is to connect families with resources and serve as care manager (http://www.batesvilleheraldtribune.com/news/local_news/mmh-opens-autism-early-evaluation-hub/article_28418db6-cf35-11e7-98cc-630840961de4.html).
Even nurses interested in developmental issues or health promotion can expect a broad generalist education with some 'blood and guts', however. Nursing programs include a strong foundation in biological sciences, including anatomy and physiology, and clinical experiences in adult care, pediatric care, geriatric care, and obstetric nursing.
All Indiana registered nursing students can expect some clinical experience in psychiatric nursing as well.
RN Work Settings and Specialties
The hospital is the primary work setting for 59.1% of Indiana RNs. Just 8.9% consider their primary work setting to be ambulatory care. 7.4% work in nursing homes, assisted living facilities, and extended care facilities; another 6% work in home health. Community health, public health, school health services, academic settings, and insurance settings each comprise a small portion of the market. There are other settings possible.
More than 20% of RNs consider their specialty to be acute or critical care – this represents the largest single category. Medical surgical represents 12%.Oncology is considered a separate specialty, comprising 2.8% of the state's registered nurses. Other common categories include gerontology/ geriatrics, pediatrics or neonatal, adult or family health, maternal and child health, and mental health or substance abuse.
<!- mfunc search_btn -> <!- /mfunc search_btn ->
Working for Large Hospitals and Medical Centers
Nurses who work for large hospitals and medical centers take on many varied roles, more specialized even than the categories reflected on re-licensure surveys. Parkview lists the following specializations, among others:
Surgical Trauma Intensive Care Unit (STICU)
IV Team
Telemetry
Flight Services
Psychiatric Mental Health
While staff nurse/ direct care roles are most common, many are possible. The following are among the positions posted on the website of one of Indiana's magnet hospitals in December of 2017:
Staff Registered Nurse – Surgical Unit
Registered Nurse – Emergency Department
RN/Case Manager – Transitions of Care
Radiology Staff RN
Registered Nurse – Sexual Abuse Nurse Examiner (SANE)
Registered Nurse IV Therapy Oncology Infusion
RN House Supervisor
The state boasts some premier institutions. Eskenazi Health in Indianapolis makes the Becker Hospital Review list of top places to work in healthcare. It is a safety-net hospital. Indiana has 23 magnet hospitals. The Parkview Health and Indiana University systems together account for quite a few.
RN Advancement Opportunities
Professional nurses may take on different roles across the course of their careers, especially if they further their education. Advanced practice represents the highest level of clinical nursing; Advanced Practice Nurses (APNs) can serve as healthcare providers. The Brown County Democrats recently profiled a nurse who went from providing services to mothers and children in the WIC program to serving as a school nurse to acting as nurse practitioner (http://www.bcdemocrat.com/2017/12/15/doing_it_with_a_smile_familiar_face_returns_to_brown_county_to_treat_patients/).
There are other graduate-level nursing roles outside advanced practice. Some nurses provide clinical leadership at the point of care. Some go into macro roles. Some become faculty, educating the next generation of nurses.
Going Where the Need is Greatest
The low number of RNs in rural areas is not proportionate to population. There tend to be fewer RNs for every 1,000 people in rural areas of Indiana than in urban ones. This varies by county, though; detailed information is available in the re-licensure survey report.
Career Outlook and Average RN Salary in Indiana
In 2015, the Indiana Department of Workforce Development predicted the need for RNs would increase 17.7% by 2022 (https://www.ic4n.org/wp-content/uploads/2017/06/2017_RN_Workforce_Fact_Sheet.pdf).
Indiana nurses averaged $28.87 an hour in 2016, according to the Bureau of Labor Statistics. Those at the 20th percentile made $20.42 while those at the 90th percentile made $38.54. These figures do not include most APN roles, including nurse practitioners – these nurses make considerably more.
The greatest number worked 37 to 40 hours a week.
Related Articles:
Medical Assistant Certification Requirements in Indiana
<!- mfunc search_btn -> <!- /mfunc search_btn ->
Find Nursing Licensure Requirements in Your State: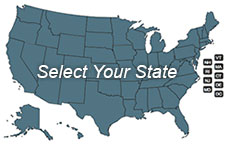 Learn about becoming a Registered Nurse, LPN or LVN in your state:
To View Full U.S. Map Click Here.