Registered Nursing Career Paths in Iowa: Becoming an RN
In 2017, Iowa registered nurses (RNs) are very much in the news: from statewide shortages and the steps organizations are taking to combat them to the good things that nurses are doing to promote a healthy Iowa.
In order to practice as a nurse, one must be licensed. RNs are professional-level nurses; they have more theoretical knowledge and nursing training than Licensed Practical Nurses. They begin with a generalist education (RN Programs in Iowa) and develop expertise across the months and years of practice. Professional nursing degrees are granted at different levels. An associate level program is enough to qualify one to take the NCLEX-RN.
<!- mfunc feat_school ->
Featured Programs:
Sponsored School(s)
<!- /mfunc feat_school ->
RN Work Settings and Roles
The Iowa Center for Nursing Workforce maintains detailed information about the state's pool of registered nurses (https://nursing.iowa.gov/home/iowa-center-nursing-workforce). 48% of Iowa RNs work in hospitals. Clinics and offices provide the primary worksite for another 17%. 11% work in long-term care settings; an additional 6% work in home health.
15% of RNs categorize their specialty as medical surgical nursing and 13% as acute care. 11% report geriatrics.
There's a lot of innovation going on in the world of professional nursing. Nurses educate and empower as well as medicate and perform procedures. The Gazette reports that the Visiting Nurses Association (an organization long known for provision of home health services) now utilizes nurses to teach seniors habits that keep them from having falls. The photograph depicts an RN assisting an older woman with balance exercising in a group setting (http://www.thegazette.com/subject/news/health/nurses-now-teaching-program-in-iowa-city-to-help-seniors-from-falling-20170530).
Some organizations are even bringing healthcare – and nursing – onsite to the workplace. The Des Moines Register recently profiled one such organization (https://www.desmoinesregister.com/story/money/agriculture/2017/11/07/sukup-adds-onsite-health-clinic-free-premiums-hawaii-trip-employee-perk/838200001/0).
One will find RNs across settings contributing their ideas. For example, one Iowa nurse, working in a facility that was trying to reduce infant chemical exposure, suggested the possibility of using coconut oil for diaper rash. A research study was initiated.
<!- mfunc search_btn -> <!- /mfunc search_btn ->
The Role of the First Assistant
Iowa has set some additional requirements for RNs who work in the operating room as first assistants. They build competency through completion of a formal program in the first assistant role (https://nursing.iowa.gov/practice/position-statements-and-papers-adopted-iowa-board-nursing/registered-nurse-first-assistant). The Board encourages maintenance of professional certification. Certification as a Certified Registered Nurse First Assistant (CRNFA) is granted by the Association of periOperative Registered Nurses (AORN).
Iowa first assistants can carry out technical duties like suturing, wound management, and even cutting of tissue. They also provide preoperative nursing assessments and postoperative patient management.
The Need for Nurses in Iowa
2017 finds Iowa in a nursing shortage with even premier institutions doing some scrambling (http://whotv.com/2017/03/14/iowa-one-of-many-states-facing-nursing-shortages/).
Not all positions are equally difficult to fill. Among the areas of need is Sexual Assault Nurse Examiner (SANE) nurse (http://siouxcityjournal.com/lifestyles/health-med-fit/st-luke-s-to-offer-training-to-reduce-shortage-of/article_68c183fe-5f23-53cb-9693-faa97e342f0e.html). Without an adequate supply of these specially prepared professionals, victims may need to either travel long distances or be examined by professionals without optimal training.
Prisons are also feeling the scarcity. In some cases, they're turning to LPNs to fill positions.
In hospital settings, it's often the positions that need expertise beyond the entry-level — for example operating room — that are hard to fill. Here travel nurses fill in the gap. They go where there's need and make more than their counterparts for the hours they put in. This role can be attractive to young nurses and empty nesters. It can be an opportunity to save. One reason a nurse might want to save isfurther education. He or she may, for example, want to go to graduate school and become a nurse practitioner.
The University of Iowa Health notes medical/surgical and pediatric as well as neuroscience and perioperative among its areas of need.
RN Education and Advancement
Large medical centers often do count educational assistance among the perks. It's a win-win situation. Needs are high at the higher levels of practice. The Institute of Medicine set a goal of having 80% of nurses educated at the bachelor's level by 2020 – the state is still a ways off. According to data released in 2016, 48% of Iowa's RNs had education at the bachelor's level or higher; this is below the national average. The number is going up, though.
Notably, 10% of the state's RNs have degrees at the master's level. 1% have doctoral degrees; in most cases, the doctoral degree is in nursing.
The University of Iowa Hospitals and Clinic position descriptions to tend include the notation that a bachelor's or master's is desirable, but the organization notes that there are opportunities for ADNs; they are expected to achieve the BSN within five years. The organization cites flexible scheduling and mentorship as well as assistance with tuition.
The University of Iowa Health was selected as fifth best healthcare employer nationwide in 2017. Perhaps more impressive, it was rated as the fourteenth best employer overall. It is one of seven magnet hospitals in Iowa. These facilities are magnets for nurses as well as patients. The honor is awarded by the American Nurses Credentialing Center after stringent review.
Average RN Salary and Long-Term Projections
The Bureau of Labor Statistics reports that Iowa registered nurses averaged $27.06 in 2016. Potentially, this is $56,290 a year.
The Iowa nursing workforce center notes a $20.27 entry level wage. 1,280 openings a year have been projected for the 2014 to 2024 decade.
Related Articles:
Medical Assistant Certification Requirements in iowa
<!- mfunc search_btn -> <!- /mfunc search_btn ->
Find Nursing Licensure Requirements in Your State: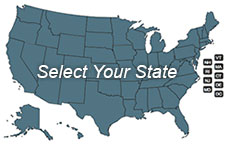 Learn about becoming a Registered Nurse, LPN or LVN in your state:
To View Full U.S. Map Click Here.