Registered Nursing Career Paths in Kentucky: Becoming an RN
Kentucky needs registered nurses. Some believe the state is on the cusp of a shortage.
Organizations are finding better ways to ease the transition to practice and build up expertise in their novice nurses. Still, some of the most difficult positions to fill are those that require specialized expert-level knowledge.
There will always be a need for registered nurses, though the level of demand will vary. It is those who have proved themselves and moved well beyond the novice level who are most immune to the ups and downs of the economy. Some good news for future nurses: Professional nursing includes many diverse specialties for individuals with different interests and skill sets.
<!- mfunc feat_school ->
Featured Programs:
Sponsored School(s)
<!- /mfunc feat_school ->
Becoming a Kentucky RN
The path begins with a nursing degree. The Kentucky Board of Nursing notes two educational pathways: the associate's degree and the bachelor's degree (RN Programs in Kentucky). There are some differences in the roles that a nurse is prepared to take on; the Board has provided a summary (https://kbn.ky.gov/pon/Pages/types.aspx).
There can be advantages to both routes. A nursing baccalaureate (BSN) qualifies a person for more positions while an associate's (ADN) can allow for quicker entry. ADN and BSN graduates both take the NCLEX-RN licensing examination. A person isn't limited to staying at one level for their entire career. At this time, there are a number of Kentucky employers offering their employees financial assistance in obtaining higher healthcare education and degrees.
For some, academic progression in nursing continues on to the graduate level.
RN Roles
The RN license carries a greater scope of duty – and more opportunities – than the LPN one. State code notes that specialized knowledge and judgment are utilized at the RN level. The Board periodically issues advisory statements that clarify what nurses at this level can do (https://kbn.ky.gov/practice/Pages/aos.aspx).
Hospital inpatient is by far the most common primary work setting for Kentucky's registered nurses. The following settings are also common, each employing thousands of Kentucky RNs:
Long-term, extended care, and rehabilitative facilities
Ambulatory care
Offices and clinics
Home health and hospice
Insurance, managed care, and HMOs
One will also find more than a thousand RNs in each of the following: mental health facilities, public and community health, and academic nursing education.
These figures include advanced practice nurses, which the Kentucky Board considers to be advanced RNs. Advanced practice nurses have a much expanded scope of practice and, in most cases, a higher level of education.
<!- mfunc search_btn -> <!- /mfunc search_btn ->
Role-Specific Nursing Training
A nurse can generally expect setting-specific training at the employment level; this may be termed orientation. The employer may exert considerable discretion.
Nurses in some RN-level positions must meet additional state requirements. The Kentucky Board of Nursing credentials sexual assault nurse examiners (SANE nurses). A nurse who seeks this credential will need to complete a SANE educational course that has been approved by the Kentucky Board. Training is designed to prepare nurses as forensic examiners for victims fourteen and older. Nurses who have had similar training in other states will need a little state-specific Kentucky training.
Operating room roles/ surgeon assistance are addressed in state code and in advisory opinion. A Registered Nurse First Assistant is an RN who has completed a post-basic program that includes internship and who has achieved professional certification. The Board opines that all RNs who carry out "first assistant acts" maintain documentation that they have had adequate training; professional certification would be one pathway.
Kentucky Health Care Facilities
Kentucky has six magnet hospitals. The Baptist Health system operates two: a Lexington facility and a Louisville facility. Lexington boasts a second magnet facility: University of Kentucky HealthCare.2017 finds even the premier facilities with a number of direct care RN openings. Among them are the following:
Acute Care/ Telemetry
Cardiac Cath Lab
Neuro Intensive Care Unit
Surgical Services
Renal Dialysis
Emergency Department
Coronary Care
Kentucky Baptist Health positions tend to indicate varying levels of BSN preference. This is often the case with magnet hospitals (and with other acute care facilities). In December of 2017, one will find a number of positions at the Lexington facility that note that the requirement is for a BSN or, alternatively, an ADN and willingness to achieve the BSN within a set time period.
Nurses can also find exemplary organizations outside acute care. Bluegrass Care Navigators makes Modern Healthcare's list of best places to work in healthcare. It is a nonprofit serving the very ill. The organization has moved somewhat beyond the original mission of hospice care.
Large health systems that are known for their hospitals may also provide post-acute care. Baptist Health, for example, also hires RNs to provide home health services. Some RNs who provide home health services have specialized roles in infusion or wound care. There is currently some stated preference for the BSN even in Baptist Health home health positions.
Nationwide, settings outside acute care are often considered more ADN-friendly.
Average Salary
Kentucky registered nurses made an average of $28.76 in 2016. The Bureau of Labor Statistics, unlike the Kentucky Board, has excluded nurse practitioners from general RN data; nurse practitioner is a more financially lucrative role.
<!- mfunc search_btn -> <!- /mfunc search_btn ->
Find Nursing Licensure Requirements in Your State: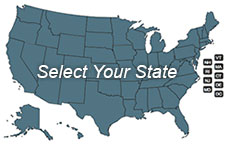 Learn about becoming a Registered Nurse, LPN or LVN in your state:
To View Full U.S. Map Click Here.