Louisiana Nursing Career Paths: Become an RN
Registered nursing is one of the projected top three jobs for Baton Rouge in 2018. Baton Rouge is not alone. Registered nursing is listed as a five-star occupation by the Louisiana Workforce Commission; this takes into account wages as well as current and future prospects.
Nursing has a lot to offer the person with the right skill set. And that person, too, has a lot to offer!
<!- mfunc feat_school ->
Featured Programs:
Sponsored School(s)
<!- /mfunc feat_school ->
Becoming a Louisiana RN
RNs demonstrate competency through education and examination. They must also merit trust. Louisiana has standards in place for participation in clinical practice at the student level.
Students graduate with an academic degree (RN Programs in Louisiana). There were 25 approved Louisiana RN programs during the 2015 to 2016 year: 13 associate's programs, 12 baccalaureate programs, and one diploma program. Graduates must pass the NCLEX-RN to achieve licensure.
After receiving a professional nursing license, a person can call himself or herself an RN and work under the RN scope of practice in a variety of settings. Some roles will require additional training or experience, however.
When determining whether something is in a nurse's scope of practice, one consideration is whether the nurse in question actually has the education and preparation to carry it out.
The Board has issued declaratory statements about particular critical roles: for example, what experience and educational level an RN should have to work as a neonatal transplant nurse and what type of credentialing qualifies a nurse to work as first assistant in the operating room (https://www.lsbn.state.la.us/NursingPractice/ScopeofPractice.aspx).
RN Specialties and Work Settings
The Louisiana Center for Nursing maintains data about the state's nursing workforce.
The 2014 snapshot provides information about work setting. Hospitals employ by far the largest subset of RNs in Louisiana (as nationwide). Ambulatory care settings and clinics together comprise the next largest subset. Third is home health.
At the time of the survey, 63% of Louisiana RNs were employed as staff nurses, 10% as nurse managers. Many other roles are possible, including consultant.
The Board's 2014 annual report includes a breakdown of nursing setting by parish. The 2015 snapshot includes the percentage of Missouri RNs employed in particular specialty areas:
Medical surgical: 12%
Acute care/ critical care: 11%
Emergency room/ trauma: 7%
Adult, adult family health, or primary care: 6%
Home health: 5%
Cardiology: 4%
Geriatrics/ gerontology: 4%
Mental health: 4%
Anesthesia: 3%
School health: 2%
Women's health: 2%
Oncology 2%
The Board released data specifically focused on new grads in 2013. 74.2% were employed in hospitals, 6.8% in long-term care.
The following is a sampling of units for which nurses were sought in 2017:
Telemetry
Recovery room emergency department
Neonatal intensive care unit
Flight nurse
Medical surgical
Critical care unit
Mother baby
Among the roles candidates were sought for were infection preventionist, employee health program coordinator, and nurse liaison.
Late 2017 finds premier organizations offering hefty sign-on bonuses to experienced nurses. Our Lady of the Lake in Baton Rouge was offering a 10,000 sign-on bonus to nurses who had experience in medical-surgical, operating room, and emergency room and were ready to make a two year commitment to the organization.
East Jefferson General also noted up to $10,000 in bonuses for experienced nurses.
<!- mfunc search_btn -> <!- /mfunc search_btn ->
Nursing Staffing
Nursing is a high demand profession. There has been some concern in recent years about nursing fatigue, often coming as a result of overtime expectations. The Louisiana Board has issued a declaratory statement addressing these issues (https://www.lsbn.state.la.us/Licensure%2CRenewals/AdvancedPracticeRegisteredNurse/DeclaratoryStatements.aspx).
Organizations now often utilize travel nurses to meet staff needs. This is another way for nurses to earn extra money: by going where their skills are need most!
There is a focus on retention as well as hiring. Healthcare organizations often boast more than just the traditional benefits; they've got programs in place to help their employees stay healthy and manage other life responsibilities.
Magnet hospitals can be very attractive workplaces for nurses. Louisiana boasts four magnet hospitals:
East Jefferson General Hospital in Metaine
Ochsner Medical Center in New Orleans
Our Lady of the Lake Regional Medical Center and Woman's Hospital, both in Baton Rouge
Some registered nurses get hired by major medical centers early on. Our Lady of the Lake is among those recruiting new nurses. December 2017 finds the organization advertising a med surg/ progressive care residency to new graduates ready to make a two-year commitment. A hire would have the opportunity to gain experience in different 'med surg' units, including oncology, neurology, and nephrology and could even be eligible for $2,000 in retention bonus moneys after two years.
The Nurse Family Partnership
Nursing affords multiple opportunities to work with babies and children. One crucial one: home visits. Louisiana was among the first states to implement the Nurse Family Partnership. Nurses visit new mothers – many of them teenagers themselves — beginning in the prenatal stage and continuing until the time the child is two. Louisiana data indicates immediate promising results: The program results in fewer emergency room visits. There's also evidence that the impacts are much longer lasting. The goals are lofty: better adjusted children who will do better in school and are likely to end up in prison down the line.
100 Great Nurses
Louisiana does more than celebrate its great hospitals. It celebrates its great nurses. The Great 100 Nurses Foundation honors 100 Louisiana nurses each year. The Foundation had its roots in Louisiana more than 30 years ago and has expanded operations to several other Southern states. ,/p>
Average Salary
Louisiana registered nurses averaged $30.47 an hour in 2016. New graduates can expect to earn less. The Louisiana Workforce Commission lists $20.82 as the entry-level rate, $30.47 as the typical rate, and $40.30 as the rate for experienced RNs.
There is a good deal of variability even among new grads.. A 2013 survey found the greatest number of new graduates were in the $19-21 and $22-24 an hour ranges, but there were significant numbers of outliers on both ends.
Further Reading
The Times-Picayune recently profiled five nurses and the diverse paths their careers have taken them (http://www.nola.com/business/index.ssf/2017/07/new_orleans_nurse_career_advic.html).
Related Articles:
Medical Assistant Certification Requirements in Louisiana
<!- mfunc search_btn -> <!- /mfunc search_btn ->
Find Nursing Licensure Requirements in Your State: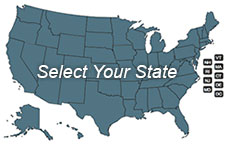 Learn about becoming a Registered Nurse, LPN or LVN in your state:
To View Full U.S. Map Click Here.