RN Career Paths in Mississippi
Mississippi is home to innovative healthcare organizations and close-knit communities. Like many, it's challenged with bringing health to all, no matter how remote their location or how great their health challenges. Fortunately, registered nurses are trained for a variety of roles. They provide care to the acutely and chronically ill and aid in disease management and prevention. RNs staff hospital inpatient wards, outpatient clinics, emergency departments, as well as many community settings. They take on leadership roles in long-term care and home health agencies.
The nursing profession exhibits a trend opposite to what is seem in some other positions: There is high demand at relatively high levels and plenty of incentive to advance. RNs are more plentiful than LPNs on a state and national level; Mississippi RNs outnumber their LPN counterparts by well over 3 times. A person can achieve RN status with a degree at the associate's level. It doesn't take a BSN but some career options do. After completion of an RN program in Mississippi, a graduate takes the NCLEX-RN.
<!- mfunc feat_school ->
Featured Programs:
Sponsored School(s)
<!- /mfunc feat_school ->
Hospital Employment
Hospitals are the largest employer nationwide. Positions are very varied, depending on the size of the facility, the unit, and the role that the RN is hired into. The following is a look at several very different facilities:
Mississippi Baptist Medical Center: Mississippi boasts one magnet hospital, Mississippi Baptist Medical Center in Jackson (http://mbhs.org/locations/baptist-medical-center/). Magnet status, awarded by the American Nurses Credentialing Center, is easier for large facilities to obtain. Even so, it is a major accomplishment, and the self-study undergone as part of the journey can lead to significant improvements. Like other magnets, Mississippi Baptist Medical Center provides nurses with opportunities to not only further their own careers but advance healthcare. The organization has multiple shared governance councils. It also has a career ladder in place.
Sometimes a single nurse makes a crucial impact. The 2017 nursing annual report includes an anecdote of a BSN and Critical Care Unit Education Coordinator who attended a continuing education event on prevention of ventilator-associated pneumonia. She learned that a particular oral hygiene product could be helpful: one that was different than the hydrogen peroxide product that was currently being used for patient care. Not only that, she networked to find an economical kit for her unit.
The annual report also provides evidence of nursing excellence on a wide level, with high performance in multiple nurse-sensitive quality indicators and specific goals set and achieved in the area of Central line Associated Blood Stream Infections.
A large facility with 538 inpatient beds, Mississippi Baptist Medical Center offers opportunities for nurses to specialize. Many staff nursing positions are listed simply as 'medical'. A number, though, are more specialized: cardiac stepdown, orthopedics, oncology, neuroscience.
Winston Medical Center: Winston Medical Center (http://www.winstonmedical.org) was the winner of the 2017 Outstanding Mississippi Small Rural Hospital Award, awarded by the Mississippi Hospital Association to a facility with under 100 beds that has gone beyond expectations and served its community in vital ways.
Winston was nearly destroyed by a tornado in 2014 – or so it seemed. A temporary facility was up and running within a few weeks. Three years later, a new facility opened, conceived from the ground up to better serve the community. The nursing facility had been expanded to enhance resident quality of life. Planners looked at nursing homes that followed innovative person-centered models like the Green House for ideas.
Some nurses are drawn to rural hospitals because of the sense of community – though it's not usually tested to quite this level.
Green County Hospital: Green County Hospital is a critical access hospital, or CAH: very small and, as the certification implies, critical. CAHs provide emergency care in remote areas. Many Mississippi CAHs are at the 25-bed limit that facilities with this status adhere to. The smallest, Greene County Hospital has only three acute care beds, according to Flex Team Monitoring. This seems almost too small to function – but a visit to the website reveals a different story (http://www.georgeregional.com/Greene-Rural-Health-Center). The hospital shares a site with a 60-bed nursing home. Community members enjoy outpatient services at the onsite clinic. Greene County Hospital is staffed by two Certified Family Nurse Practitioners — nurses who have clinical education at the graduate level. The website lists 'swing beds' – beds that can be used for different levels of care, dependent on need.
<!- mfunc search_btn -> <!- /mfunc search_btn ->
Nursing Home Employment
Although nursing homes employ more nursing assistants and LPNs, RN staffing is crucial. RNs may occupy very high level positions in these organizations. Mississippi regulations lay down minimum requirements, requiring RN staffing during daytime shifts, an RN as Director of Nursing and (for very large facilities) an RN as Assistant Director of Nursing. Some positions, such as charge nurse and treatment nurse, may be filled by RN or LPN. If the facility cares for ventilator-dependent residents, there is an additional need for highly trained staff persons, which may include RNs.
A scan of job postings in early 2018 reveals Mississippi nursing facilities advertising for the following positions: Director of Nursing, Assistant Director of Nursing, treatment RN, restorative nurse, supervisor, resident care manager. Restorative nurses have a role in helping residents regain functions.
Nurses in leadership positions at long-term care facilities can do more than just run the facilities. They re-envision nursing homes from the standpoint of resident quality of life and staff satisfaction and staying power.
Career Outlook and Average RN Salary in Mississippi
Mississippi has been projected to see 14% RN occupational growth during the 2014 to 2024 decade.
Mississippi registered nurses earned an average of $27.41 an hour in 2016. The Bureau of Labor Statistics equates this to an annual figure of $57,010.
Find Nursing Licensure Requirements in Your State: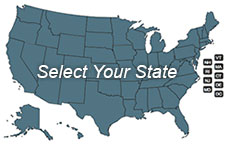 Learn about becoming a Registered Nurse, LPN or LVN in your state:
To View Full U.S. Map Click Here.