RN Career Paths in Missouri: Becoming an RN in Missouri
The Missouri Hospital Association, in its 2017 Workforce Report, paints a troubling picture: Missouri hospitals need nurses. They need them badly and they need them now.
Chances are good that there will be a lot of openings, too, in the coming years. Age is a concern — not just the age of the population but the age of the nursing workforce. A Snapshot of Missouri's Health Care Workforce, also published by the MHA in 2017, noted that 33% of Missouri's RNs were over age 55, 22% over age 60. Hospitals will need experienced nurses to move into these roles.
The survey included primarily hospitals, but a limited number of other facilities such as clinics. Interestingly, the highest vacancy rate was in the role of staff nurse – staff nurses provide direct care on a wide range of units. Here the vacancy rate was 15.9%. The vacancy rate for mental health nurses was slightly lower at 12.3%.
<!- mfunc feat_school ->
Featured Programs:
Sponsored School(s)
<!- /mfunc feat_school ->
Professional RN programs in Missouri typically take at least two years; often it's four years. In some economies, even the typical or average new graduate is gold; in other economies, there can be more work in securing that first position. But there are some RNs that are gold perennially. They have experience, expertise, education, and empathy.
Boone Hospital: Spotlighting Nurses
The Boone Hospital blog highlights the work of some of its noteworthy employees, many of whom are nurses. Some have found their calling right there on the floor, others in leadership roles, still others out in the community.
The March 2015 entry spotlighted an oncology nurse who knew cancer care was her passion from the time she did her clinical rounds as an associate degree student (https://www.boone.org/MyBooneHealth-Blog/PID/788/ev/1/CategoryID/22/CategoryName/Employee-of-the-Month). The night shift has provided its share of meaningful experiences. She has the opportunity to do things not only for patients but for their family members, some of whom are also spending the night at the hospital (and are also in pain). While providing a patient's loved one with a cup of coffee or tea in the middle of the night may not be an official part of the RN job description, as far as this nurse is concerned, it is.
The February 2015 employee of the month was a Bachelor of Science (BSN) nurse who went from being a floor nurse in Cardiothoracic Surgery unit to being outcomes coordinator. She works with members of different disciplines to create discharge plans. By collaborating with professionals in other units she learns new ways to improve care; some innovations involve technology. Like many other experienced nurses, this outcomes coordinator spends a part of her time educating others.
A February 2017 write-up takes a different angle: It describes the outreach that a particular RN has done in her own community; she is credited with helping eliminate health disparities among local African Americans. The nurse founded a wellness program at her church years ago. Those involved provide health screenings and educational programming; they take a moment during the service to let people know about health issues they might not be aware of but that place them at risk. This year her church helped other churches by carrying out screenings and giving them support in initiating their own programs. For this nurse, health mindedness is personal. When a change in position — and pacing — led her to put on weight, she took advantage of wellness programs available through her hospital. Boone is scarcely alone in offering wellness programs among the perks.
<!- mfunc search_btn -> <!- /mfunc search_btn ->
Missouri Institutions Rising to the Challenge
Boone, located in Columbia, is one of six Missouri magnet hospitals. The others are Saint Luke's Hospital and The Children's Mercy Hospital, both located in Kansas City, and Barnes-Jewish Hospital, Missouri Baptist Medical Center , and St. Louis Children's Hospital, all located in St. Louis. Magnet recognition is awarded by the American Nurses Credentialing Center. The recognition has served to highlight the interrelatedness between favorable nursing employment conditions and patient care quality.
MHA data emphasizes the need to support people in staying in the nursing field (not just entering it). Among the options are new employee orientation, flexible scheduling, workplace culture investment, employee recognition, and tuition reimbursement. The MHA is itself involved in financing tuition reimbursement.
Advancement is also important. Some graduate level roles also had high vacancy rates: notably nurse practitioner at 11.4%.
Public Health Nursing
Hospital nursing is the most common RN practice setting nationwide, but it is far from the only one. Some roles in skilled nursing and home health settings require the skills of a registered nurse.
One area where Missouri is actively recruiting: public health nursing. Testimonials describe the variety of experiences as well as the satisfaction of helping others. Public health nurses may provide care, educate populations that are considered 'at risk', connect people with resources, and work with other leaders to affect change on a macro level. The Missouri Council for Public Health Nursing has provided links to resources as well as training opportunities. The Public Health Nursing Expo 2018, held in Jefferson City, will focus on nurses' role in childhood obesity, among other topics.
A World of Opportunity
The following is a sampling of Missouri nursing positions:
Telephonic RN Case Manager
RN-Charge Nurse (Senior Living Center)
GI/ Pain RN
Clinical Implementation Nurse
RN- Cardio Step Down
Director of Operations (Home Care Agency)
RN-Trauma
RN – Behavioral Health
RN-Clinic Office
Registered Nurse (Developmental Disabilities Treatment Center)
RN Staff Nurse
Infusion Nurse
Occupational Health Nurse
RN Director of Outpatient and Surgical Services
Average Salary and Career Outlook
Missouri has been predicted to see 25,304 openings across the 2014 to 2024 decade; more than 15,000 are classified as replacement. Currently hiring needs are different from one region to the next. The Southeast region tops the list for vacancies, followed by St. Louis.
Missouri RNs enjoyed average earnings of $29.25 an hour in 2016; the Bureau of Labor Statistics equates this to an annual salary of $60,830.
<!- mfunc search_btn -> <!- /mfunc search_btn ->
Find Nursing Licensure Requirements in Your State: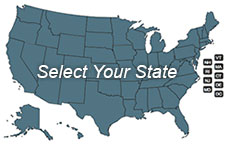 Learn about becoming a Registered Nurse, LPN or LVN in your state:
To View Full U.S. Map Click Here.