RN Careers in New York: Becoming an RN
There are more Registered Professional Nurses in New York than any other type of healthcare worker, and they are integral to healthcare in many settings. They assess patient condition and carry out procedures bedside and in the operating room. They also act as care managers, case finders, and patient educators.
Hospitals are, nationwide, the most common workplace. However, many RNs work in sub-acute settings such as nursing homes. Others work in ambulatory care settings or community settings. As healthcare evolves, the distribution of jobs changes. It is likely that it will continue to change in the coming years. However, the increasing complexity of healthcare means plenty of very specialized roles – and this translates to plenty of choices.
<!- mfunc feat_school ->
Featured Programs:
Sponsored School(s)
<!- /mfunc feat_school ->
RN Scope of Practice
The scope of practice for RNs and other nurses is set down in state code. RNs have a greater scope than Licensed Practical Nurses (LPNs). One needs the higher license to carry out patient assessment/ nursing diagnosis (http://www.op.nysed.gov/prof/nurse/nurse-scope-lpn-rn.htm). Nursing diagnoses are not medical diagnoses but they require the nurse to take in a lot of information and apply critical thinking. RNs must differentiate between signs and signals that indicate desired treatment response and those that indicate something is amiss.
Nursing Supply and Demand
The University of Albany, School of Public Health, Center for Health Workforce Studies wrote in a 2016 report that the New York nursing supply and demand were relatively balanced. The demand for RNs would go up between 2015 and 2025 but the supply was expected to increase in synch, fueled with new graduates. Chances are there would be changes in how jobs were distributed. The aging population would likely result in significantly increased demand for nursing home and residential services. If healthcare reforms were successful and preventable hospitalizations were indeed significantly reduced, then there would be a shift from acute care to ambulatory care and office settings. The Center for Health Workforce Studies notes, however, that there are a lot of unknowns. Economic conditions can, for example, foster early or late retirement.
Nurses with expertise can be in high demand even when the market isn't tight.
Premier New York Facilities
New York has 26 magnet hospitals. Among them are the following:
Cohen Children's Medical Center
Hospital for Special Surgery
Rochester General Hospital
The state has one Pathway Designated facility: Mercy Medical Center in Rockville Centre.
Perusing job ads for premier facilities in 2018, one will find that many positions favor those with experience. Even magnets, though, do hire new graduates. Sometimes graduates are hired to begin work in structured residency programs. Programs typically include mentoring as well as educational programming; some note simulation.
Residencies provide early experience in specialty areas. South Nassau Communities Hospital, for example, has listed the following programs;
Emergency Department
Critical Care
Telemetry
Perioperative
Candidates would include among their application materials essays describing their passion for one of the programs offered.
The Northwell Health Nursing Fellowship Program lists Emergency Care, Critical Care, and Perioperative; additionally it includes pediatrics.
<!- mfunc search_btn -> <!- /mfunc search_btn ->
Nurses as Researchers
Many nurses are actively involved in research. Some nurses are hired into research positions; others develop research interests as a natural extension of their patient care work. They're not all PhDs or advanced practitioners. Memorial Sloan Kettering Cancer Center recently profiled a BSN who was working to alleviate a burn-like reaction that adds to the discomfort of radiation therapy (https://www.mskcc.org/blog/msk-nurse-researchers-are-studying-ways-improve-cancer-care).
RNs in Skilled Nursing and Home Health Settings
While home health and skilled nursing facilities employ many nursing staff with education below the RN level, they need RNs. There are tasks an individual with lower credentialing can't legally do, at least without RN supervision. One example: IVs. An LPN who has had appropriate training can take on many IV-related duties in long-term settings, but the RN bears responsibility (http://www.op.nysed.gov/prof/nurse/nurse-lpn-iv-longterm.htm). The LPN, moreover, would not be expected to perform the duties in a setting where there was no on-site supervision (e.g. home care).
Sometimes RNs take on very high level positions in these settings. Mount Sinai, for example, advertised in early 2018 for an RN Care Coordinator who could be an on-site liaison for an initiative designed to prevent avoidable hospitalizations among long-stay nursing home residents. The care coordinator would educate and coach other staff in using evidence-based strategies to identify and treat issues before they reach the stage where hospitalization would be required. Duties could include identifying resources, doing case reviews of transfers, maintaining various types of documentation, and spending some time on-call.
Home health is an arena that has seen increased demand in recent years. This reflects the trend toward managing health conditions in the least restrictive setting.
Becoming a New York RN
RNs must complete diploma or degree programs (RN programs in New York), then pass a licensing exam. One can enter the field with an associate's degree or diploma in professional nursing. However, New York has passed 'BSN in Ten' legislation that will go into effect in 2019. New York RNs will ultimately need to complete four-year degrees in order to stay licensed.
The BSN will become the norm; there will also be a need for nurses beyond this level. New York issues Clinical Nurse Specialist and Nurse Practitioner Credentials. These are higher than the RN but build on RN credentialing.
Average Salary
New York registered nurses averaged $38.86 an hour in 2016. The Bureau of Labor Statistics equates this to an annual salary of $80,830. Salaries vary more from division to division within the state than they do in most parts of the country. The following are averages for New York metropolitan areas:
Albany/ Schenectady/ Troy: $30.76 or $63,990
Buffalo/ Cheektowaga/ Niagara Falls: $34.40 or $71,540
Nassau County/ Suffolk County Metropolitan Division: $41.21 or $85,720
New York/ Jersey City/ White Plains (encompassing parts of New Jersey): $42.36 or $88,100
New York/ Newark/ Jersey City: $41.75 or $86,850
Rochester: $30.07 or $62,550
<!- mfunc search_btn -> <!- /mfunc search_btn ->
Find Nursing Licensure Requirements in Your State: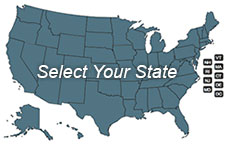 Learn about becoming a Registered Nurse, LPN or LVN in your state:
To View Full U.S. Map Click Here.