RN Careers in Pennsylvania: Becoming an RN
A professional nursing career can be very rewarding – just ask Pennsylvania nurses! Approximately 9 in 10 Pennsylvania RNs report satisfaction with their career choice, according to data published on the Board of Nursing website.
Often it's direct service that provides the greatest reward. People who choose nursing like to provide care. They like to see patients smile. In an age of healthcare reform, however, registered nurses have even more reason to feel good about what they do. A study co-authored by a Pennsylvania RN/ University of Pennsylvania nursing professor found that nurses were advancing health on a wide scale; they were creating innovative care models that addressed Culture of Health action areas, as identified by the Robert Wood Johnson Foundation (https://campaignforaction.org/study-nurses-models-of-care-match-culture-of-health).
<!- mfunc feat_school ->
Featured Programs:
Sponsored School(s)
<!- /mfunc feat_school ->
Common RN Career Paths
Nationwide there are more RNs employed in hospital settings than any other setting. They assess and monitor patients, provide bedside care, and assist in the operating room. They also act as part of treatment teams and often play a key role in care coordination and discharge planning. Both the unit and the role can be quite specialized.
RNs also work in the full range of other healthcare settings. They often have positions of considerable responsibility in long-term care settings: creating and modifying treatment plans, supervising and directing other nursing staff, implementing quality control.
A majority of the state's RNs do indeed work in hospital settings; 55% according to the most recent data released by the Board. The next largest group (9%) work in the combined areas of nursing home, extended care, and assisted living facilities.
Ambulatory care and home health are the next most common settings; each is primary workplace for 7% of the state's employed RNs. School health services, academic settings, and insurance claims and benefits employ about 3% each. The next most common setting is community health. Public health, occupational health, and correctional institutions each serve as primary workplace for about 1% of the state's RNs.
The Board notes that RNs can complete their basic nursing education as part of an associate, diploma, or bachelor's program (RN programs in Pennsylvania). They may progress to graduate study and advanced practice.
The Pennsylvania Board surveyed RNs who renewed their licenses in the 2012 to 2013 renewal cycle and published the results in 2015. As of 2018, this data stands as the most current portrait of the state's RN workforce.
<!- mfunc search_btn -> <!- /mfunc search_btn ->
Premier Pennsylvania Health Facilities
Pennsylvania has some large hospitals and some very well-regarded ones. They often have many specialized units and may be nationally ranked in one or more specialties. Some hospitals are themselves specialty; they may exist for the purpose of providing pediatric care or oncology care. Even in these settings, duties vary by unit. Fox Chase Cancer Center, for example, utilizes RNs in areas such as surgical oncology and ICU. It also employs plenty of nurse navigators.
Magnet status is a nurse-centric recognition of hospital quality. It is awarded by the American Nurses Credentialing Center. Fully 29 of the 471 magnet hospitals are located in Pennsylvania. Some health systems — Main Line Health, Pinnacle Health, UPMC — boast three or more magnet hospitals. The following are among Pennsylvania's other magnet facilities:
Geisinger Medical Center
Hospital of the University of Pennsylvania in Philadelphia
Penn State Health Milton S. Hershey Medical Center in Hershey
West Penn Hospital in Pittsburg
Philadelphia boasts two magnet children's specialty hospitals, St. Christopher's Hospital for Children and The Children's Hospital of Philadelphia.
Hospitals may provide far more than inpatient acute care services. They may, for example, have their own home health services for people who are discharged from acute care. Lehigh Valley Health Network Home Health Services in Allentown is considered magnet. In many cases, though, long-term care organizations and home care organizations look elsewhere for recognition of excellence (and for guidance in achieving excellence).
The ANCC Pathway to Excellence program recognizes long-term care facilities as well as hospitals; it signals a nurse-friendly environment. Mercy Life-West Philadelphia, a Program of All-inclusive Care for the Elderly (PACE), has been awarded Pathway to Excellence status. The program helps seniors with complex medical and psychosocial problems — disadvantaged in many ways — live outside nursing homes. Mercy Life also achieved a NICHE (Nurses Improving Care for Healthsystem Elders) Designation and has been featured as part of the Edge Runners program.
Registered nurses are just about everywhere. The Pennsylvania Board notes that they can be involved in public policy, healthcare consultation, and research. Pentech is known as a maker of specialty medical supplies; the organization provides nurses who can perform specialty patient support services in the home. Delco News Network writes of a Delco woman and the RN who visits occasionally to check on the Medtronic SynchroMed Pump that delivers medication to her spine and helps her live better with cerebral palsy (http://www.delconewsnetwork.com/ridleytowntalk/news/secane-woman-calls-longtime-home-health-care-nurse-her-angel/article_2533bba7-1cd8-5d97-90d2-9328699cf750.html); the nurse also checks on the woman herself and whether she seems to be benefiting from an appropriate dose.
Pentech also received Pathway to Excellence recognition. The organization made it onto the 2017 best places to work in Pennsylvania list.
Researchers from Pennsylvania and Maryland have found evidence that nursing work environment, as measured by Pathway to Excellence criteria, could result in fewer missed opportunities for care — for example, times when patient education was indicated but not given (https://www.nursing.upenn.edu/live/news/875-study-provides-first-evidence-for-american-nurses).
Nursing Innovations
Nurses are not just employees of innovative companies; they are themselves innovators. The American Academy of Nurses spotlights nursing innovation through its Edge Runners program (http://www.aannet.org/initiatives/edge-runners). Pennsylvania is well represented.
Average Salary
Pennsylvania RNs averaged $33.06 or $68,770 a year in 2017, according to the Bureau of Labor Statistics.
<!- mfunc search_btn -> <!- /mfunc search_btn ->
Find Nursing Licensure Requirements in Your State: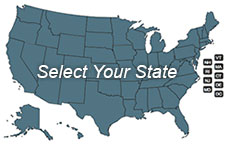 Learn about becoming a Registered Nurse, LPN or LVN in your state:
To View Full U.S. Map Click Here.