RN Career Paths in Utah: Become an RN
Healthcare employers in Utah want the best RNs they can lure — and they want to keep them. Utah will need many nurses in the coming years. Fortunately, it has the capacity to produce many. Who will they be and where will their careers take them?
<!- mfunc feat_school ->
Featured Programs:
Sponsored School(s)
<!- /mfunc feat_school ->
Becoming an RN
A prospective registered nurse must complete a pre-licensure education program (RN programs in Utah) and pass the NCLEX-RN. The required professional nursing content can be met through different types of degree program.
Bachelor of Science (BSN) nurses are more likely to be hired into particular roles. They represent a greater proportion of the nurses in hospital settings. Associate of Science (ADN) nurses, meanwhile, represent a greater proportion of the nurses in long-term care and home health settings.
ADNs can still progress to managerial positions. In some settings, notably long-term care, many direct care roles are assumed by nursing staff with credentials below the RN level. RNs, though, make sure patients are getting appropriate care.
Younger nurses are more likely to hold the higher degree.
Utah Work Settings
The Utah Medical Education Council (UMEC) acts as Utah's nursing workforce center; it surveys both RNs and employers to get a picture of supply and demand (https://nursing.utahmec.org/).
A majority of Utah nurses are hospital nurses: 61% (compared to 56% for the nation as a whole). RNs are the predominant nursing staff in these settings, representing 77%. (The next highest segment is nursing assistants, who carry out more limited duties under direction.)
RN positions are diverse. They represent different levels of care: general, critical, surgery. RNs also have different specialties. Many report general medical, critical care, and emergency department but other more specialized foci are possible; cardiac, oncology, chronic care, and neurology are among the more common. RNs employed at large hospitals will find many types of unit, each employing teams of nurses – in short, a lot of specialization.
Utah has multiple hospitals that have achieved recognition at the state and national levels. Intermountain Medical Center and the University of Utah Healthcare are large facilities which have enjoyed high rankings. Utah has one Pathway designated facility: Timpanogos Regional Hospital. This designation is awarded by the American Nurses Credentialing Center and reflects a work environment supportive of nursing staff.
The most common RN role is staff nurse. Nurse managers are also utilized in abundance. Many titles and specialized roles are possible.
The next largest single employment category is home health and hospice. Currently, this segment is only 7%. However, this is a sector where needs are high. While home health and hospice services are often provided by the same organization, they are not necessarily provided by the same nurse. Skill sets – and passions – may be a little different. First Choice has described the role of hospice nurse (http://www.fchhh.com/hospice-team-nursing-services.php). Among the duties are working with the doctor to mitigate pain and alleviate symptoms, administering medication, helping family members learn to provide care, offering emotional support to patient and family alike, and helping loved ones know what to expect when death is imminent.
Adults who are receiving hospices services are no longer actively seeking treatment. It's about comfort and quality of life in the final months of life. Home health, on the other hand, is available to qualifying people who are on the path to recovery. Home health RNs may take on different roles. First Choice notes diabetes self-management and wound care among special services delivered by skilled nurses (http://www.fchhh.com/home-health-specialized-services.php).
<!- mfunc search_btn -> <!- /mfunc search_btn ->
Nearly half (48%) of Utah RNs report that they work mainly with adult populations. Despite Utah's relatively young population, the next largest population focus is geriatrics. Nearly as many RNs report newborn care as pediatric (7% vs. 9%). Some select multiple age groups or report that they do not have direct care roles.
Meeting Healthcare Demand
UMEC surveyed Utah employers in 2015.
All employment groups analyzed (including psychiatric hospitals, skilled nursing and long-term care, assisted living, home health and hospice, and public health) had the potential to increase active capacity for RNs in the short-term. This was determined using a formula that took into account vacancies and new budgeted positions. (Basically, it meant facilities would be seeking to hire – in some cases, quite a lot!)
The largest potential change in active capacity was in home health and hospice: 21%. The lowest was in the hospitals and medical center category: 8%. Given the large numbers employed in these settings, though, this reflects a lot of jobs. There could be a large increase were facilities actually to hire for all the positions that were budgeted. (Often they have interim staff in their unfilled positions; some utilize travel nurses.)
UMEC asked different types of organizations which positions were most difficult to fill. Notably, case managers and discharge planners showed up on three of the five "hardest to fill" lists. Hospitals and medical centers — the largest sector — reported case managers and discharge planners, critical care nurses, and labor and delivery/ post-partum nurses, as especially difficult. Skilled nursing and long-term care facilities reported rehabilitation, primary care, and case managers and discharge planners. Home health and hospice reported hospice, case managers and discharge planners, and nurse administrators.
Career Outlook
Demand data can change from year to year, but considering the changing demographics, healthcare organizations should have many positions to fill in the coming years.
Utah is a unique microcosm in the world of nursing. The general population is a little younger than the national average, and so is the population of nurses. Utah has significantly fewer nurses when figured on a per-population basis than the national average. The occupation should see a large increase, percentage-wise, in the coming years. 32.6% occupational growth has been projected for the 2014 to 2024 decade.
Utah RN Salary
UMEC reported that nearly half of full-time RNs made between $40,000 and 70,000. More than half of part-time employees made more than $30,000. This is based on 2014 figures.
The Bureau of Labor Statistics figured an hourly mean wage of $29.98 for Utah RNs during 2016 and an annual mean wage of $62,360; the is based on 52 40-hour weeks. (The average full-time Utah RN actually works 36 hours. Hospital nurses often work three twelve-hour shifts.)
When healthcare organizations can, they seek to offer generous benefits packages. What do RNs seek in terms of benefits? According to UMEC, 46% list schedule flexibility among their top preferred benefits. 42% list health insurance, and 37%, facility reputation. All these were selected more frequently than base salary.
<!- mfunc search_btn -> <!- /mfunc search_btn ->
Find Nursing Licensure Requirements in Your State: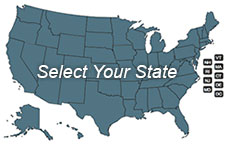 Learn about becoming a Registered Nurse, LPN or LVN in your state:
To View Full U.S. Map Click Here.