Wisconsin RN Career Options: Becoming an RN
Wisconsin's RN workforce is, in the words of the Wisconsin Hospital Association, over 71,000 strong (http://www.wisconsincenterfornursing.org). Registered nursing is a huge and critical part of the healthcare workforce: one that state organizations are monitoring closely. Many nurses are retiring. Many more are expected to retire in the coming years. The state needs compassionate and savvy healthcare professionals to step into their shoes (RN programs in Wisconsin). It also needs nurses to fill emerging roles and ones that are on the rise.
<!- mfunc feat_school ->
Featured Programs:
Sponsored School(s)
<!- /mfunc feat_school ->
What is an RN?
RNs have practice standards that include the full nursing process: assessment, planning, intervention, and evaluation. Interventions include a range of technical duties and caregiving activities. RNs may perform interventions directly or delegate them to others, depending on tasks and circumstances.
In short, RNs have a lot of responsibility and a lot of knowledge. A person achieves first time licensure by completing a program that is approved by the Wisconsin Board and then passing the NCLEX licensing examination at the RN level.
Hospital and Ambulatory Care Employment
Hospital settings are still dominant, though recent years have seen a slight decline relative to total RN employment. The most recent data puts the number of nurses in hospital settings at 52.4%.
Wisconsin has more than 50 small critical access facilities. It also has some large facilities, ranked in multiple specialties.
There are 11 magnet hospitals in the state. Three facilities have been designated as Pathways organizations. One of them, Waupun Memorial, is a critical access facility. It has only 25 acute care beds, but a number of outpatient services are also available. While Pathways organizations do not have to meet all requirements magnet hospitals do, they are recognized as nurse-friendly.
Ambulatory care is the second most common setting for Wisconsin RNs.
Diverse Areas of Clinical Practice
Renewing RNs also provide information about their areas of specialized knowledge and experience. Many states ask nurses to report their primary specialty. Wisconsin allows its nurses to select multiple specialties – indeed, all clinical areas where they have had at least two years of experience, whether volunteer or paid. Fully 36.1% cited expertise with medical-surgical nursing; medical-surgical is a relatively broad specialty for which hospitals routinely hire RNs. The next most common were intensive care/ acute/ critical care (24.3%) and geriatrics/ gerontology (19.8%). Cardiac care, adult health, surgery/ perioperative, emergency trauma, home health, and hospice/ palliative constituted other very common clinical areas.11% noted expertise in parish, community, or faith nursing.
<!- mfunc search_btn -> <!- /mfunc search_btn ->
Home Health Employment
5.6% of the state's registered nurses were employed in home health at the time of the 2016 RN Workforce Summary.
State rule delineates the role of registered nurses in home health serves (http://docs.legis.wisconsin.gov/code/admin_code/dhs/110/133/14 RNs are responsible for overall care coordination). Among the duties are carrying out the initial patient evaluation, re-evaluating patient needs on a regular basis, providing specialized care, and supervising other staff who perform nursing duties. Home health agencies may provide many services, including complex wound care.
Home care is an area that can be hard hit during times of shortage.
Traditional and Emerging Roles
61.8% of RNs reported their role as staff nurse. The next highest was case manager 8.8%.
New roles are emerging. There is general consensus that healthcare, as it has been traditionally conceived, is not adequate or efficient. Practitioners need to manage health issues proactively at different stages, not just when clients show up in need of acute care. Practitioners need to work together across disciplines and settings.
The Wisconsin Hospital Association provided information about emerging healthcare roles in 2014. The scope covered healthcare in general, not just nursing. Care coordinator was in second place, behind only ICD-10 coder. (Notably the survey was completed as U.S. was preparing to implement the new coding system). Among the other roles noted was patient care navigator. The Wisconsin Hospital Association notes that actual job responsibilities for these types of roles vary a good deal from position to position.
Extended Care Facilities
9.4% of Wisconsin RNs cited extended care as their primary work setting. Nursing homes must have RNs on board. All must employ an RN as Director of Nursing. Other RN staffing requirements will depend on size of facility. Facilities may of course go well above the minimum and may conceive of innovative new roles.
One recent posting was for wellness coordinator for a nursing facility that was organized around a person-centered/ household model. Among the skills and attributes noted: valuing patient-directed care and being able to model positive attitudes. The list also included some technical skills such as making sure that laws and standards were followed and making sense of various documents including x-rays and medical reports.
Advancement and Innovation
Some registered nurses pursue graduate education and become Advanced Practice Nurses. Of these, Nurse Practitioner is the most common career path. The next most common Wisconsin APN role is nurse anesthetist.
Professionals find different ways to live their passions. The Hub-City Times recently profiled an RN who opened a very small assisted living facility (https://www.hubcitytimes.com/2017/07/03/winter-haven/). Her motivation was her own grandmother, who had moved to a large nursing home after she was no longer able to live at home. The nurse felt that her grandmother had become a number, that she didn't need to be there… and that things didn't need to be the way they were.
Average Salary
Wisconsin registered nurses averaged $32.66 an hour in 2016. The Bureau of Labor Statistics equates this to a $67,930 annual salary.
The most recent workforce report noted that 71.8% of Wisconsin RNs were paid annually while 26.9% were on salary. (1.9% reported that their primary nursing worksite site was one where they performed services on a volunteer basis.)
The Wisconsin Hospital Association noted a rise in RN vacancy rates in 2015. It appears that the market is getting tighter and that pockets of shortage are appearing.
<!- mfunc search_btn -> <!- /mfunc search_btn ->
Find Nursing Licensure Requirements in Your State: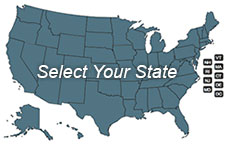 Learn about becoming a Registered Nurse, LPN or LVN in your state:
To View Full U.S. Map Click Here.