Choosing an RN Program in Illinois
An Illinois nursing student must enroll in an approved program. This leaves a lot of options. Students may enroll in associate (ADN) or baccalaureate (BSN) programs. Prospective nurses who already have degrees in other fields have additional options including accelerated bachelor's programs or direct entry master's (MSN) programs.
Accreditation by the Commission for Education in Nursing (ACEN) or Commission on Collegiate Nursing Education (CCNE) is desirable, especially if a nurse may articulate to a higher program later. Accreditation is often considered among the admission criteria when nurses apply for a higher level program. Here are some other criteria to keep in mind.
<!- mfunc feat_school ->
Featured Programs:
Sponsored School(s)
<!- /mfunc feat_school ->
NCLEX-RN Pass Rates in Illinois
Graduates must pass the NCLEX-RN to be licensed. Thus pass rates are seen as an indicator of program quality. In fact, the Illinois licensing agency uses first time pass rates as one criteria for continued approval. Programs must maintain a 75% pass rate. Those that fall below one year are issued a warning letter. Those that fall below for two consecutive years are reduced to probationary approval status. Five years of pass rate data is available (http://nursing.illinois.gov/PreLeducation.asp).
Admission Requirements
Illinois, like many states, doesn't have the facilities to educate all the nurses it will need in the coming decades. This may change however. In 2008, the state participated in a nationwide summit on expanding nursing program capacity (http://nursing.illinois.gov/PDF/072010EdCapSimRpt.pdf). For the time being, though, expect programs to be even more competitive than they need to be to turn out qualified candidates.
Expectations will vary according to program reputation as well as program level. Some Illinois BSN programs attract students from around the nation. At some of the more renowned programs, competitive candidates may be in the top 15% of their class. (Depending on prior academic achievement, a high school graduate may be guaranteed admission in some BSN programs, provided GPA is maintained.)
At the associate level, too, some schools are moving away from waitlists in favor of a competitive admission process. Programs may consider prior healthcare experience in addition to grades. Schools may favor county residents or even students who have taken prerequisite coursework at the institution.
<!- mfunc search_btn -> <!- /mfunc search_btn ->
Preparation for Employment
Prospective students may also consider gainful employment data. Some schools boast 100% job placement rates. Job placement rates reflect several things including the admission policies of the institution and the strength of career placement.
Financing Nursing School in Illinois
Costs vary a good deal. Community colleges may charge different rates according to whether one is a resident of the particular county, a resident of the state, or neither.
Financial aid is available. Illinois has its own loan scholarship: The Nursing Education Scholarship. Funding comes with a commitment to work in the state. (Otherwise financial repayment will be required.) Many other sources of financial aid, from merit-based private scholarships to Federal Pell Grants, come without this obligation.
The Illinois Center for Nursing has put together an extensive resource of financial aid options (http://nursing.illinois.gov/financial.asp).
Beyond the Nursing Degree
Illinois RNs average $66,260, according to the Bureau of Labor Statistics (http://www.bls.gov/oes/current/oes291141.htm). Novice nurses generally make less. Wages also vary somewhat from one metropolitan area to another. Individual schools may provide salary information about their graduates. Black Hawk College, for example, reports that local graduates of the ADN program make $40,000 to $52,000 (https://www.bhc.edu/department/nursing/).
Of course there's the issue of landing that first job! Nationwide, new licensees with higher degrees (BSN or MSN) have an easier time entering the job market. The reputation of the individual school also has some bearing on job prospects.
Resources
RN License Requirements in Illinois
American Nurses Association – Illinois
Related Content:
Becoming a Medical Assistant in Illinois
Find Nursing Licensure Requirements in Your State: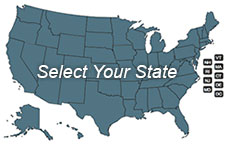 Learn about becoming a Registered Nurse, LPN or LVN in your state:
To View Full U.S. Map Click Here.