Choosing an RN Program in Minnesota
Minnesota has approved more than 40 professional nursing programs . Some are designed for special populations like individuals who already hold licensure as LPNs. Most, though, are open to anyone with a high school diploma who can meet admission standards. Here is a guide to selection.
Degree Options
Professional nursing students in Minnesota can choose either of two degree options: associate (sometimes termed ADN) or baccalaureate (sometimes termed BSN). Students who previously earned degrees in other fields have the option of entering the field with a master's (or MSN). There are also specialized tracks within some baccalaureate programs. These allow the academic-minded to progress through pre-licensure coursework at an accelerated pace.
<!- mfunc feat_school ->
Featured Programs:
Sponsored School(s)
<!- /mfunc feat_school ->
Minnesota has a mandated articulation plan that makes it easy for nurses educated at the ADN level to continue their education; they can expect to enter BSN programs with nursing credits.
Nationwide, many positions are reserved for nurses with baccalaureate degrees. How easy it is to enter the nursing field with an ADN depends partly on the local economy at that point in time.
NCLEX-RN Pass Rates in Minnesota
Since all registered nursing candidates are required to take the NCLEX-RN licensing examination, first time pass rates are seen as one indication of how well a program is doing preparing its students. The Minnesota Board publishes pass rates (https://mn.gov/boards/nursing/education/approved-professional-nursing-programs/).
Minnesota also places programs that post pass rates below under special oversight. If rates do not improve, the program risks closure. However, the minimum required by Minnesota is slightly lower than that required by some other states.
Students should be aware that pass rate reflects some things besides instructional quality. For example, one must consider the academic preparedness of the students admitted to the program.
<!- mfunc search_btn -> <!- /mfunc search_btn ->
Accreditation
Minnesota does not currently require nursing programs to hold national accreditation through the Accreditation Commission for Education in Nursing (http://acenursing.org) or the Commission on Collegiate Nursing Education, but, beginning in 2016, will require all to seek it.
According to the Board's 2012 report, all baccalaureate programs held accreditation, though some at the lower levels did not. Nationwide, nursing accreditation takes on more importance at the baccalaureate level as many graduate nursing programs will only consider graduates of accredited programs.
Nursing accreditation is separate from institutional (school-level) accreditation.
Mobility Programs
A number of Minnesota programs are designed for LPNs bridging to RN status. These are considered pre-licensure programs and are under Board regulation. The amount of credit granted varies slightly from program to program. The 2012 report notes that students in LPN to RN programs overall performed lower than those in traditional tracks.
RN to BSN programs, meanwhile, are not under Board regulation.
Paying for Nursing School
Nursing students finance their education in a variety of ways, using scholarships, grants, and loans. Pell Grants are widely available to students who have financial need. Some schools choose to participate in the Federal Supplemental Educational Opportunity Grant (FSEOG) program; this is an additional grant available to those students who show the greatest financial need. Tax credits also help make education affordable.
Schools are a good source of information about nursing-specific scholarships. Some future RNs apply for loan scholarships through the HRSA. These become scholarships if a service obligation is met.
An RN salary can justify some debt load. The Bureau of Labor Statistics cites $70,780 as the average salary for a Minnesota RN. Students should be aware that entry-level salaries are typically lower – and that securing the first position proves challenging for some. A program's gainful employment report may contain the following information: completion rate, placement rate, and average debt load.
Resources
RN License Requirements in Minnesota
Find Nursing Licensure Requirements in Your State: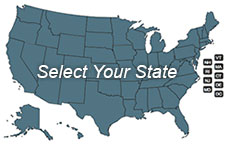 Learn about becoming a Registered Nurse, LPN or LVN in your state:
To View Full U.S. Map Click Here.