Choosing an RN Program in New Hampshire
You can begin your professional nursing career in New Hampshire with a degree from an approved pre-licensure program. The New Hampshire Board of Nursing has a list of in-state options. Programs are offered by a variety of institutions, from private university to community college to healthcare facility.
Degree Options
You may do your pre-licensure professional nursing program at the associate's or bachelor's level. A Bachelor of Science (BSN) may be completed in four years. An Associate Degree in Nursing (ADN) will generally take more than two years if you include the time spent taking prerequisite courses.
<!- mfunc feat_school ->
Featured Programs:
Sponsored School(s)
<!- /mfunc feat_school ->
Both degrees include a similar curriculum in basic nursing. The BSN gives you more of a foundation in applying nursing research; it also includes coursework in nursing leadership. Chances are that whatever your degree, you will start below the average New Hampshire salary (reported by the Bureau of Labor Statistics as $63,920 in 2012). The BSN, though, may get you there sooner.
Mobility
You may also want to consider articulation options and partnerships between schools. Some associate level programs form partnerships with baccalaureate programs. This process may streamline the process of moving from ADN to BSN. Ultimately, your costs may be less than they would be if you went straight for a traditional BSN.
Accreditation
While state approval is more fundamental than accreditation, you may also want to consider the accreditation of your program and school. The Accreditation Commission for Education in Nursing (ACEN) and the Commission on Collegiate Nursing Education (CCNE) are programmatic accrediting agencies. If you continue your nursing education to the graduate level, it is very likely that you will be asked to present transcripts from an accredited program.
If you pursue graduate education in some other health field, institutional accreditation may be more important. While national and regional accreditation are both valid for many purposes including eligibility for financial aid, regional accreditation is generally regarded as more prestigious. Some graduate schools require it.
<!- mfunc search_btn -> <!- /mfunc search_btn ->
NCLEX Pass Rates in New Hampshire
After you graduate, you will need to pass the NCLEX board examination. NCLEX pass rates are one indicator of program quality. However, they can reflect other things besides instruction; higher standards for admission and graduation can lead to higher pass rates.
It's also important to remember that pass rates vary from year to year. The New Hampshire Board has made ten years of pass rate data available (http://www.nh.gov/nursing/educational/documents/nclex2004-2013.pdf)
The Admission Process
Some schools will grant you admission if you meet the stated requirements. The downside is that you may be placed on a waiting list.
Other schools use a point system to determine who makes the cut. They may place students who are qualified but have slightly lower totals onto a waitlist. In this case, though, the waitlist is a list of alternatives and will likely not carry over from semester to semester.
Financial Considerations
A search through the New Hampshire Employment Security site reveals that a number of New Hampshire community colleges cite the cost of an Associate Degree in Nursing somewhere between $14,000 and $20,000. Other options, including private schools and public universities, will typically cost more.
Financial aid may bring a degree within reach. Financial aid opportunities will vary somewhat from institution to institution, though some options, like the federal Pell Grant, will be ubiquitous.
Nursing departments can often point you toward many potential scholarship sources. Some require service commitment; the majority, however, do not.
Resources
RN License Requirements in New Hampshire
New Hampshire Board of Nursing
New Hampshire Nurses Association
Find Nursing Licensure Requirements in Your State: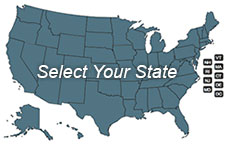 Learn about becoming a Registered Nurse, LPN or LVN in your state:
To View Full U.S. Map Click Here.