Choosing an RN Program in North Dakota
Selecting a professional nursing program? One of your decisions will be which degree to earn. A prospective nurse can sit for the RN licensing examination with either an associate or baccalaureate (BSN) degree. The American Association of Colleges of Nursing reports that many healthcare facilities prefer hiring BSNs. However, North Dakota has plenty of pathways for nursing articulation, and a student does not have to do their education all at once.
North Dakota schools offer nursing education at different levels as part of a career ladder model. They understand that different positions require different competencies. The North Dakota Center for Nursing notes that the BSN can bring a nurse a step closer to advanced practice. The organization has provided opportunities for prospective nurses to ask questions of nurses who are already out in the field.
<!- mfunc feat_school ->
Featured Programs:
Sponsored School(s)
<!- /mfunc feat_school ->
Most North Dakota associate programs confer an Associate of Applied Science (AAS). They include a limited amount of general education coursework.
Some schools provide multiple associate level options, depending on whether a student is planning to transfer to a four-year institution. A student who is planning to go straight through for a BSN can begin their nursing education in another locale.
RN Program Accreditation
Although North Dakota does not require programs approved within its borders to seek accreditation through a nationally recognized agency, there can be advantages to completing a program that holds such accreditation. Associate level RN programs may be accredited by the Accreditation Commission for Education in Nursing (ACEN). Baccalaureate level orograms may be accredited by either the ACEN or the Commission on Collegiate Nursing Education (CCNE). North Dakota boasts multiple accredited programs.
Attending an accredited program is of particular value to students who are considering earning higher degrees down the line. Since North Dakota has a statewide articulation program. RNs who stay within the state will generally not have a problem articulating from the associate to baccalaureate level (http://www.aacn.nche.edu/media-relations/fact-sheets/articulation-agreements). However, accreditation may be an issue for some students who move out of state.
<!- mfunc search_btn -> <!- /mfunc search_btn ->
NCLEX-RN Pass Rates
North Dakota pass rates for registered nursing programs are above the national average. There is a fair amount of variance from program to program. A prospective student can see five years of pass rates by downloading the most recent copy of the nursing education annual report (https://www.ndbon.org/publications/annual_report.asp).
Although the situation is not as grave in North Dakota as it is in some locales, the 2011 to 2012 nursing education annual report reveals that schools had somewhat more qualified applicants than they were actually able to admit.
The Board publishes, as part of its annual report, a school-by-school breakdown of number of applicants and number of accepted students. (Those reading the report should be aware that RN applicants are classified as "basic" or advanced standing; an individual who does not have prior nursing education at a lower level is classified as basic.)
Out-of-State Nursing Programs
It is an option to attend an out-of-state school and do one's clinical placement in North Dakota. The Board has procedures in place for schools that are supervising nursing students in North Dakota facilities. It has published a list of recognized schools (https://www.ndbon.org/Education/Academic/DistanceNsgEdProg.asp).
Financing Nursing School
North Dakota has its own nurse education loan scholarship program (https://www.ndbon.org/Education/NursingEdLoan/Overview.asp). Recipients who fulfill their service commitment by working in a North Dakota facility will not need to make monetary repayment. Additional state scholarship opportunities are found on the site of the North Dakota Nursing Education Consortium (http://dakotanursing.org/scholarships.asp).
In addition, nursing students are eligible for general financial aid like the Pell Grant.
Resources
RN License Requirements in North Dakota
North Dakota Board of Nursing https://www.ndbon.org/
North Dakota Nurses Association http://www.ndna.org/
North Dakota Center for Nursing https://www.ndcenterfornursing.org/nurse/#
<!- mfunc search_btn -> <!- /mfunc search_btn ->
Find Nursing Licensure Requirements in Your State: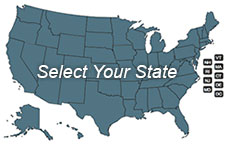 Learn about becoming a Registered Nurse, LPN or LVN in your state:
To View Full U.S. Map Click Here.