What can you expect to get out of a BSN completion program? RN to BSN Programs in Nebraska
The ADN is an important pathway into professional nursing, but key organizations like the American Nurses Association and the American Association of Colleges of Nursing believe that it shouldn't be the terminal degree. Many healthcare services are being decentralized and moved into the greater community. Nurses working in these settings need fine tuned health assessment skills and the ability to act as coordinators and collaborators.
<!- mfunc feat_school ->
Featured Programs:
Sponsored School(s)
<!- /mfunc feat_school ->
The higher degree is especially important for nurses who are working in public or community health settings, but it also has value to those who work in hospitals. Multiple studies have found that institutions with a higher percentage of baccalaureate trained nurses have fewer adverse events. For this reason, healthcare facilities tend to have BSN-preferred or BSN-required positions.
What can you expect in a BSN completion program? Programs that are accredited through CCNE follow the standards put forth in the Essentials of Baccalaureate Education for Professional Nursing. Essentials include evidence-based practice, population health, organizational and system level leadership, and interprofessional communication. A liberal arts background is also deemed a necessity.
Within this framework, there is a fair amount of variation. There may be nursing electives in your program. You may even get the opportunity to choose a minor in an area like nutrition or gerontology.
There is much less field work than in a pre-licensure program. Most programs do include one or more short practicum experiences, but it is possible to enroll in one that doesn't have a clinical requirement. (ADN and diploma programs usually don't emphasize community or public health nursing, so these are areas where it can be beneficial to spend some time out in the field.)
<!- mfunc search_btn -> <!- /mfunc search_btn ->
BSN Career Mobility
Many registered nurses pursue their baccalaureate degrees in order to increase their employment options. Clinical positions in specialty wards sometimes request both baccalaureate level education and certification. Education can also help you if you want to move into roles beyond the bedside. Positions in case management and risk assessment generally prefer the BSN. Lower level nursing management positions also favor the bachelor's, particularly at institutions that have magnet recognition or are pursuing it. Nebraska has five magnet hospitals, located in the cities of Omaha and Lincoln.
A BSN can also aide you if you want to move into occupational health, health education, or other positions in the larger community. It may not be often that a position for flight nurse opens up — but this is yet another position that is apt to ask for that four year degree.
RN to BSN Program Considerations
You may choose a traditional, online, or hybrid program (the latter being a blend of the first two). If you do go for a traditional program, it may be possible to do your classes in a block one day a week. If you choose distance learning, you may still have the opportunity to do field experiences in your community. In short, programs are more flexible than you might have guessed!
Program length is variable. It is common to take classes over a two or three year period, but there are one year accelerated options available as well. You may do your general education requirements at a different institution than your core nursing courses. There are a lot of options out there — it's about finding what works best for you.
Don't let the cost scare you; it may not all come out of your paycheck. Facilities like Children's Hospital and Medical Center and Alegent Health offer tuition reimbursement to their employees. There are some scholarships available for post-licensure students, as well. Some medical centers also have partnerships with specific colleges. Those who work at Methodist, for example, can apply for a sponsorship at Nebraska Methodist College.
RN to BSN Programs in Nebraska
BryanLGH College of Health Sciences
Clarkson College
College of Saint Mary
Midland Lutheran College
Nebraska Methodist College
Nebraska Wesleyan University
Union College
University of Nebraska Medical Center
<!- mfunc search_btn -> <!- /mfunc search_btn ->
Find Nursing Licensure Requirements in Your State: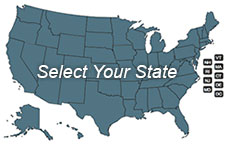 Learn about becoming a Registered Nurse, LPN or LVN in your state:
To View Full U.S. Map Click Here.