Is a BSN Worth it? RN to BSN Programs in South Carolina
There are lots of reasons that a diploma or ADN level nurse might consider taking courses toward a BSN. The higher degree can enhance job skills and prepare them for a wider range of roles in our changing healthcare system. Many nursing and healthcare organizations have come out in support of the baccalaureate. There is, according to the American Association of Colleges of Nursing, a body of evidence demonstrating better patient outcomes in facilities that employ a lot of baccalaureate prepared nurses. BSN nurses also have more preparation for nursing roles in the larger community/ public health.
<!- mfunc feat_school ->
Featured Programs:
Sponsored School(s)
<!- /mfunc feat_school ->
What can you expect from a BS for RNs course? Most programs are accredited through either CCNE or the NLNAC. They cover concepts like nursing assessment and health promotion. You will get an introduction to a range of roles, including public health and organizational and systems management. You may need to do practicum work in one or more on the following areas: community or public health, nursing leadership, or health assessment. BSN courses are, in general, much more likely to include field experiences outside of the traditional hospital setting.
Some programs include electives as well. Most nursing programs at the baccalaureate level are for generalists, but you may be able to choose a minor or area of concentration.
BSN Career Mobility
Many positions favor candidates at the baccalaureate level. One is patient educator; another is unit or staff educator. You could also become a case manager, care manager, or a navigator. A navigator is, in the words of Bon Secours St. Francis Health system, "a self-directed individual". Navigators work with patients with very serious illnesses; they may be awaiting a transplant or undergoing treatment for cancer. Duties include coordinating care and acting as a contact person.
Some BSN students see advanced practice in their future, but aren't quite ready to enroll in a master's program. If this is you, you may opt to enroll in a BSN program that allows you to substitute some courses at the graduate level for some in the standard baccalaureate track. The other option is to look for a school with a solid academic record that lets you complete your studies in the timeframe you choose. It can also help to find an RN level position in the ward or specialty that interests you. Your BSN can be an asset for applying for a range of jobs at premier hospitals. South Carolina has two facilities with magnet designation, Bon Secours in Charleston and Spartanburg Regional Medical Center.
According to the AACN, employers like the South Carolina Department of Health and Environmental Control offer higher compensation for nurses who have completed their baccalaureate degrees.
<!- mfunc search_btn -> <!- /mfunc search_btn ->
RN to BSN Program Considerations
How long does it take to complete an RN to BSN course? The time frame is largely up to you. You may choose to be full-time or part-time. Some nurses choose to do an accelerated program and manage to finish in one calendar year.
BS for RN courses are designed to meet the needs of working professionals. You can choose to attend classes in a traditional school setting or to do classwork online at your home or place of employment. You may also opt for a hybrid course. Hybrid courses include some face-to-face learning experiences, but may be conducted primarily through distance learning.
In an online program, you are not required to attend classes on campus, but you may be asked to put in some clinical hours at a healthcare facility near you. Web-enhanced learning may bear more resemblance to face-to-face learning than it does to the old style of correspondence course. There may be online discussions; you may also put together Powerpoint presentations and other multimedia works. What will it take to be accepted into a program? You will likely be asked to show a South Carolina license, but you will not necessarily need work experience as an RN.
RN to BSN Programs in South Carolina
Charleston Southern University
Clemson University
Francis Marion University
Lander University
South Carolina State University
University of South Carolina (multiple locations)
Find Nursing Licensure Requirements in Your State: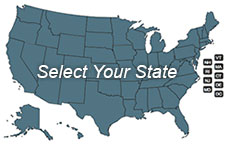 Learn about becoming a Registered Nurse, LPN or LVN in your state:
To View Full U.S. Map Click Here.