Nurse Practitioner Programs in Connecticut
Connecticut's nurse practitioners provide primary care or deliver advanced nursing services in specialty areas. The scope of practice includes diagnosing and treating alterations in health status and prescribing medications and other therapeutic interventions.
Connecticut is a full practice state, according to the American Academy of Nurse Practitioners. This hasn't always been the case. In 2014, the state passed a law to grant nurse practitioners independence. Connecticut is among the states that does not have ongoing requirements for collaboration or supervision. This move has been applauded by many who are concerned with increasing healthcare access (https://www.fairfield.edu/media/fairfielduniversitywebsite/documents/academic/son_pulse_f14.pdf). Some physicians were opposed. Others saw benefit. The CT Mirror ran several articles by a physician who supported the move; he described how it could ease the primary care shortage and allow patients more time with their providers and how it fit within the changing landscape of primary care. The doctor noted that even today's primary care physicians weren't like those of a bygone error who did everything from remove one's appendix to deliver their babies (https://ctmirror.org/2014/02/12/its-pragmatic-aprns-should-be-able-to-practice-independent-of-doctors/).
<!- mfunc feat_school ->
Featured Programs:
Sponsored School(s)
<!- /mfunc feat_school ->
For those Connecticut nurses who are interested in delivering babies, there a women's health nurse practitioner/ nurse midwife option available. A more common specialty nationwide, though, is family practice.
Unlike doctors, advanced practice nurses often do their qualifying education in stages. The foundation is an RN degree; indeed one must first be licensed as an RN. The nurse will later take his or her education to at least the master's level, often the doctoral level. The nurse practitioner may specialize, in some sense, at the onset. He or she won't have the diversity of experiences that a future doctor will have. A nurse practitioner can have a very broad role like family practice or a narrower one such as pediatrics. A student will select his or her program with a path in mind but can do additional certificates later. Clinical experience is carried out in the field but theory is often online. Those who prefer traditional forms of education will find options.
Independence doesn't start right away. The nurse practitioner will need three years of physician collaboration: a total of 2,000 hours. It will be necessary to maintain some documentation (https://portal.ct.gov/DPH/Practitioner-Licensing–Investigations/APRN/APRN-Practice).
A nurse practitioner will provide basic information to the Department of Public Health for a practitioner profile.
Nurse practitioners have continuing education requirements.
Some practitioners continue to work in collaboration with other healthcare professionals. In some practice areas, it is the norm for health professionals to work in teams. This is a different thing than the ongoing collaborative practice requirement in place in some parts of the country. (More: Nurse Practitioner requirements in Connecticut)
<!- mfunc search_btn -> <!- /mfunc search_btn ->
Nurse Practitioner Programs in Connecticut
#1: The Yale School of Nursing DNP program is ranked #10 in the nation by U.S. News and World Report. Students can pursue any of the following: family nurse practitioner, adult/ gerontology primary care, adult/ gerontology acute care, psychiatric/ mental health, or combined women's health nurse practitioner/ nurse midwife studies.
#2: The University of Connecticut offers preparation for adult-gerontology primary care nurse practitioner, adult-gerontology acute care, family nurse practitioner, and neonatal roles.
#3: Fairfield University offers MSN and DNP programs in two high needs areas: family nurse practitioner and psychiatric nurse practitioner.
APRN Educational Standards and Options
A prospective nurse practitioner will need to earn a master's degree that is accepted by a recognized certifying body as qualifying for advanced practice nursing. The American Nurses' Association, the Nurses' Association of the American College of Obstetricians and Gynecologists Certification Corporation, and the National Board of Pediatric Nurse Practitioners are specifically referenced in the practice act; the document notes that other certifying agencies may be accepted.
In some cases, students do an additional supportive concentration like oncology.
The student will need at least 30 hours of advanced pharmacology education that is intended for advanced practice nursing.
Programmatic accreditation can be very important. Connecticut boasts multiple master and doctoral level programs that are accredited by the CCNE. Prospective students can locate them using the CCNE directory. The CCNE sets standards for programs and holds them to them. Standards encompass faculty and program resources, curriculum, and, of course, outcomes. Pass rates on national certifying examinations are among the considerations. In recent years, the CCNE has begun accrediting post-master certificate programs as well as degree programs – a Connecticut student can find options to meet his or her circumstances.
Students sometimes have the option of completing certification-qualifying coursework at the master's level and then continuing on for a Doctor of Nursing Practice (DNP). A student who pursues a DNP can deepen his or her clinical research skills. Yale notes that DNP projects can entail any of the following (among others): practice change initiatives, program evaluation and design, policy case reports and analyses, implementation and evaluation of technologies that improve care, collaboration with clinical researchers.
Some schools have transitioned all their nurse practitioner programs to the doctoral level.
Some graduates have the option of a post-graduate residency. NPR has addressed opportunities in this arena, providing a snapshot of Connecticut healthcare at its best (https://www.npr.org/sections/health-shots/2018/07/03/624721718/more-nurse-practitioners-are-pursuing-residency-training-to-hone-skills).
NP Salary in Connecticut
Connecticut is the fifth highest paying state in the nation. The state's nurse practitioners earn an average $56.97 an hour (potentially about $118,500 a year).
Resources
The Connecticut Advanced Practice Registered Nurse Society is a professional resource. The organization has sub-committee for psychiatric advanced practice nurses.
<!- mfunc search_btn -> <!- /mfunc search_btn ->
Find Nursing Licensure Requirements in Your State: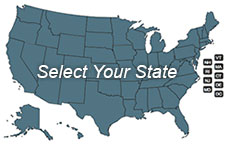 Learn about becoming a Registered Nurse, LPN or LVN in your state:
To View Full U.S. Map Click Here.