Connecticut Advanced Practice Nursing
Connecticut advanced practice nurses (APRNs) are licensed by the Connecticut Department of Public Health (DPH). Advanced practice nurses are credentialed on the basis of education and third party certification. Connecticut recognizes a number of certifications in the advanced practice roles of nurse practitioner, clinical nurse specialist, and nurse anesthetist. Connecticut also recognizes nurse midwives though they have a separate application process and slightly different set of requirements.
In 2014, Connecticut passed a law allowing independent practice by advanced practice nurses. However, they must practice under collaboration with a physician for at least their first three years.
<!- mfunc feat_school ->
Featured Programs:
Sponsored School(s)
<!- /mfunc feat_school ->
Select a Connecticut Advanced Practice Nurse Topic:
APRN Education Requirements in CT
A nurse practitioner, clinical nurse specialist, or nurse anesthetist is statutorily required to earn a master's degree in nursing or a in a related field that is recognized as certification-qualifying (Nurse Practitioner programs in Connecticut). Nurses who were credentialed in the distant past constitute an exception. (The qualifying date is December 31, 1994 for all three specialties.)
The APRN will need 30 hours of education in pharmacology for advanced practice.
The APRN must pursue national certification. Currently, Connecticut approves certifications issued by the following organizations:
American Association of Nurse Anesthetists
Pediatric Nursing Certification Board
American Nurses Credentialing Center
National Certification Corporation for the Obstetric, Gynecologic and Neonatal Nursing Specialties
American Academy of Nurse Practitioners
Oncology Nursing Certification Corporation
American Association of Critical-Care Nurses
An advanced practice nurse must also hold licensing as a registered nurse. Connecticut is not a party to the Nurse Licensure Compact; advanced practice nurses will need to hold Connecticut RN licensure, whatever their state of residence.
Temporary APRN Practice Pending Certification
A registered nurse who has graduated from a qualifying advanced practice program and applied to take the certifying examination may work under supervision pending examination; the maximum timeframe is 120 days. Requirements are described in Section 20-101 of the Nurse Practice Act.
<!- mfunc search_btn -> <!- /mfunc search_btn ->
Additional APRN Requirements
The advanced practice nurse will work under collaboration for at least three years and until such time as he or she has accrued 2,000 practice hours. The collaborator must be a physician.
In most cases, an advanced practice nurse is required to hold liability insurance. An AANA-certified nurse who works under direction may be exempted. Insurance requirements are describe in Section 20-94c.of the Nurse Practice Act (https://www.cga.ct.gov/2015/pub/Chap_378.htm).
The APRN Application Process
APRN application materials can be downloaded from the website of the Department of Public Health (http://www.ct.gov/dph/cwp/view.asp?a=3121&q=389400&dphNav_GID=1821); the same application is used by clinical nurse specialists, nurse anesthetists and nurse practitioners.
DPH will require a number of primary source documents. Post-basic nursing education is to be documented by official transcripts, sent straight from the issuing institution.
Pharmacology coursework is to be verified by the dean or director of the program; the Board has supplied a form for this purpose.
A nurse practitioner who has held licensing in any other state will need to provide verification. In some cases, the process can be carried out electronically through the National Council of State Boards of Nursing' NURSYS System. The licensing agency has provided a link to the NURSYS website (https://www.nursys.com/). In cases where electronic verification is not possible, the applicant will use a paper verification form supplied by the Connecticut Department of Health.
The applicant will provide official verification of a current certification. The Department of Public Health notes that it can receive certification electronically from one approved organization, AANA; the applicant will need to provide basic information about the license. The APRN application fee is $200.
Applicants who answer "yes" to any question about adverse professional history (for example, suspensions, investigations, or felony convictions) will be required to submit supporting documentation. The licensing agency will seek a personal statement as well as official documents such as court records.
The application form requires notarization. The applicant will tape a recent photograph.
An advanced practice nurse who has met collaboration requirements and wishes to practice independently is directed to notify the Commissioner of Public Health.
APRN Renewal Requirements
Licenses are renewed every other year.
In most cases, 50 contact hours will be required for each renewal period except the first one (http://www.ct.gov/dph/cwp/view.asp?a=3121&q=547876). A professional who has not been in active practice may be exempted. There are some other instances where a waiver of at least a portion of the continuing education requirement may be granted.
Continuing education is to include five contact hours of pharmacotherapeutics and one contact hour each in domestic violence, sexual assault, risk management, substance abuse, cultural competence, and disease (including HIV).
Nurse Midwife Requirements and Application Process
Nurse midwives must have 30 hours of pharmacology coursework intended to offer preparation for a nurse midwife role. They must hold certification through the American College of Nurse Midwives (http://www.ct.gov/dph/cwp/view.asp?a=3121&q=389420).
A nurse midwife must be eligible for Connecticut RN licensure. Internationally educated midwives who are not licensed as RNs in other U.S. states are required to take the Commission on Graduates of Foreign Nursing Schools (CGFNS) Examination.
The nurse midwife application can be downloaded from the DPH website (http://www.ct.gov/dph/cwp/view.asp?a=3121&q=389420).
Nurse midwives will need to document pharmacology coursework and ACNM certification.
Nurse midwives who have not held Connecticut RN licensure will need to have transcripts of nursing education sent to the licensing agency.
The agency requires verification of out-of-state licenses.
The nurse midwife application currently costs $100.
Additional Information
The Connecticut Board of Examiners in Nursing is under the banner of the Department of Public Health. Information about advanced practice nursing (http://www.ct.gov/dph/cwp/view.asp?a=3121&q=389400&dphNav_GID=1821) and nurse midwifery (http://www.ct.gov/dph/cwp/view.asp?a=3121&q=389420) is available from the Connecticut Department of Health . The licensing agency can be reached by telephone at (860) 509-7603 or by email at 'dph.nursingteam at ct.gov'.
State professional organizations include the following:
Connecticut Board of Examiners in Nursing
Connecticut Advanced Practice Registered Nurse Society (CTAPRNS)
Connecticut Association of Nurse Anesthetist
CTAPRNS has provided answers to frequently asked questions concerning the recent legislative changes.
<!- mfunc search_btn -> <!- /mfunc search_btn ->
Find Nursing Licensure Requirements in Your State: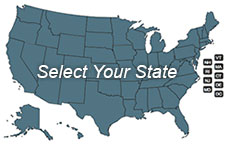 Learn about becoming a Registered Nurse, LPN or LVN in your state:
To View Full U.S. Map Click Here.