Nurse Practitioner Programs in District of Columbia
Washington DC's nurse practitioners help ensure quality healthcare for diverse patients. Though their training is different than that of primary care doctors, they can take on similar roles. Some work in teams to provide specialized care.
Nurse practitioners are a type of advanced practice nurses. As such, they have training well beyond those of the typical registered nurse; the additional education takes place at the graduate level. A nurse practitioner will have an area of specialization; this is identified with a fairly broad population group such as family practice or pediatric primary care.
<!- mfunc feat_school ->
Featured Programs:
Sponsored School(s)
<!- /mfunc feat_school ->
Nurse Practitioner Programs in DC
#1: George Washington University offers preparation for some of the most needed roles: adult-gerontology primary or acute care, psychiatric mental health, and family nurse practitioner. George Washington University is ranked #25 out of all DNP programs.
#2: Well-regarded Georgetown University prepares students for family nurse practitioner, adult-gerontology nurse practitioner, and women's health practitioner roles. There is even a combined nurse midwife and women's health nurse practitioner option for those who want a greater scope in maternal and reproductive care. Georgetown's DNP program is ranked #25.
#3: The Catholic University of America offers family and adult-gerontology primary care options, as well as pediatric primary and pediatric dual primary/ acute care options. The DNP program is ranked #42 in the nation. The online master's program is ranked #9.
#4: Yet another CCNE-accredited, DC-approved option, Howard University offers a family nurse practitioner program with master's and post-master options.
<!- mfunc search_btn -> <!- /mfunc search_btn ->
Becoming a Nurse Practitioner
Licensure as an RN is a prerequisite. DC certification is based on education and third party certification (More: Nurse Practitioner requirements in DC).
A prospective nurse practitioner must complete a program that corresponds to his or her practice and is approved by the DC Board or accredited by an acceptable national agency. The District of Columbia has an approval process for all nursing education programs operating within its borders; this includes advanced practice as well as pre-licensure programs.
All four approved DC programs hold accreditation by the Commission on Collegiate Nursing Education, or CCNE. One can visit the CCNE website to search for accredited programs in Virginia, Maryland, or other states around the nation (https://directory.ccnecommunity.org/reports/accprog.asp).
Full accreditation means a program has met standards for faculty, resources, and curriculum. Degrees are offered at the master's and doctoral level; the practice doctorate (DNP) is becoming increasingly common. A nurse practitioner curriculum will include core coursework appropriate to the level (master's or doctoral). There will be discrete courses in physiology, physical assessment, and pharmacology – what Georgetown University refers to as 'the three Ps'. These courses will be at the advanced level. The program will include coursework relevant to managing the health of the particular population. There will be at least 500 clinical hours, spent in direct patient contact. Some programs offer considerably more clinical time. They may, however, offer classes in a hybrid or online format.
The District of Columbia has a requirement that nurses who fulfill their APRN-qualifying clinical hours in Washington DC hold DC RN licensure. Out-of-state programs that place students in DC fall under DC regulation.
There are five certification agencies. The program will qualify its graduate nurses to test for one or more of the following:
Available American Nurses Credentialing Center Certifications:
Adult/Gerontology Acute Care Nurse Practitioner (AGACNP-BC)
Adult/Gerontology Primary Care Nurse Practitioner (AGPCNP-BC)
Family Nurse Practitioner (FNP-BC)
Pediatric Primary Care Nurse Practitioner (PPCNP-BC )
Family Psychiatric and Mental Health Nurse Practitioner (PMHNP-BC)
Available American Academy of Nurse Practitioners Certification Board Certifications:
Family Nurse Practitioner (NP-C)
Adult/Gerontology Primary Care Nurse Practitioner (NP-C)
Available National Certification Corporation Certifications
Women's Healthcare Nurse Practitioner (WHNP-BC)
NNP-BC Neonatal Nurse Practitioner (NNP-BC)
Available Pediatric Nursing Certification Board Certifications:
Pediatric Nurse Practitioner Primary Care (CPNP-PC )
Pediatric Nurse Practitioner Acute Care (CPNP-AC)
Available American Association of Critical Care Certification Corporation Certifications:
Adult/Gerontology Acute Care CNP (AG-ACNPC )
The Nurse Practitioner Association of the District of Columbia is a professional resource (https://npadc.enpnetwork.com/).
Nurse Practitioner Scope and Range of Practice
The AANP characterizes the District of Columbia as full practice. DC nurse practitioners carry out a wide range of duties necessary for primary care, including writing prescriptions, and they do so without mandated physician supervision or collaboration.
Many nurse practitioners care for underserved populations. DC may be metropolitan, but it has its share of underserved. The Department of Health notes the presence of multiple Health Professional Shortage Areas (HPSAs) and Medically Underserved Areas/ Populations (MUA/Ps) in DC (https://dchealth.dc.gov/service/shortage-designation). Nationwide, nurse practitioners have been integral in increasing access. Qualifying DC Advanced practice nurses are listed as eligible for participation in the 2018 Health Professional Loan Repayment Program. The most recent published list of eligible sites for primary care providers includes a number of health centers and clinics as well as organizations such as treatment and corrections facilities. Organizations such as Bread for the City, notably, have doctors, nurse practitioners, and other medical professionals on staff.
Some nurse practitioners work in innovative settings such as retail care. These, too, increase the likelihood that those in need of care will receive it in a timely manner before conditions worsen. Services are delivered by professionals who are very knowledgeable about management of common conditions. The Contemporary Clinic recently included an article by a DC family nurse practitioner about sunburn prevention (http://contemporaryclinic.pharmacytimes.com/journals/issue/2017/October2017/Sunburn-FAQs-in-Retail-Clinics).
Some nurse practitioners provide specialized nursing care. They may work as part of the healthcare teams in specialty units at major hospitals. Here the District of Columbia is well represented. It is home to highly ranked institutions such as MedStar Georgetown University Hospital.
Average Nurse Practitioner Salary in DC
DC nurse practitioners average $52.12 an hour or $108,400 for a full-time year in 2017.
<!- mfunc search_btn -> <!- /mfunc search_btn ->
Find Nursing Licensure Requirements in Your State: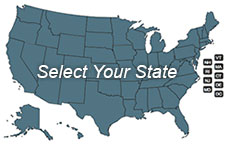 Learn about becoming a Registered Nurse, LPN or LVN in your state:
To View Full U.S. Map Click Here.