Advanced Practice Nursing – District of Columbia
The District of Columbia Department of Health (DOH) recognizes four advanced practice nursing roles:
Nurse Practitioner
Clinical Nurse Specialist
Nurse Midwife
Nurse Anesthetist
Advanced practice nurses are licensed to practice professional nursing and certificated to practice the particular advanced practice role that is consistent with their training. A clinical nurse specialist or nurse practitioner will have a particular population focus; this may be broad or narrow.
The nurse must hold DC RN licensing; DC is not a party to the nurse license compact. Out-of-state APNs, however, can be endorsed into DC.
<!- mfunc feat_school ->
Featured Programs:
Sponsored School(s)
<!- /mfunc feat_school ->
Select a DC Advanced Practice Nurse Topic:
NP Educational Requirements in DC
DC regulations require nurse midwives, nurse practitioners, and nurse anesthetists to have post-basic nursing education (Nurse Practitioner programs in DC). Educational programs are to be appropriately accredited. The usual accrediting agency for nurse midwife programs is the American College of Nurse Midwives (ACNM). The usual accrediting agency for nurse anesthetists is the Council on Accreditation of Nurse Anesthesia Education Programs.
Clinical nurse specialists must hold degrees at at least the master's level; they are to complete programs in their specialty area.
Certification Requirements
The prospective advanced practice nurse will go through a national certification process; the process will involve examination. DC regulations mandate that applicants pass an examination that meets a specific set of criteria. The application packet includes a list of current certifications that meet Board criteria. Currently, Certified Registered Nurse Anesthetists earn their certification through the American Association of Nurse Anesthetist, and Certified Nurse Midwives earn their certification through the American Midwifery Certification Board.
There are multiple approved certifying agencies for nurse practitioners. In many cases, certification will be determined by the specialty/ population focus. In some cases, the practitioner may have a choice between two certifying bodies. Approved certifications include the following:
American Nurses Credentialing Center
Acute Care NP
Adult NP
Adult/ Gerontology NP
Adult/ Gerontology Acute Care NP
Adult Psychiatric/ Mental Health NP
Family NP
Family Psychiatric/ Mental health NP
Pediatric NP
American Academy of Nurse Practitioners
Adult NP
Gerontology NP
Family NP
Pediatric Nursing Certification Board
Pediatric NP
Acute Care Pediatric NP
American Association of Critical Care Nurses
Acute Care NP
Adult/ Gero acute care NP
National Certification Corporation
Neonatal Health Care NP
Women's Health Care NP
The following certifications have been approved for clinical nurse specialists:
American Nurses Credentialing Center
Adult Psychiatric/Mental health CNS
Adult Health CNS
Advanced Public Health CNS
Child/Adolescent Psychiatric and Mental Health CNS
Gerontology CNS
Pediatric Clinical CNS
American Association of Critical Care Nurses
Adult Acute Care CNS
Adult Care CNS
Pediatric Acute Care CNS
Neonatal Acute Care CNS
The DC Board has also approved the Pediatric Primary Care Mental Health Specialist certification. According to the Pediatric Nursing Certification Board, the credential may be applicable to the CNS or Adult Family NP/ Pediatric NP role (http://www.pncb.org/ptistore/control/exams/mh/index).
<!- mfunc search_btn -> <!- /mfunc search_btn ->
Background Check Requirement
Applicants will need to have fingerprint-based criminal background checks unless they have previously had background checks made for the Health Regulation and Licensing Administration (http://doh.dc.gov/node/120532).
MorphoTrust (formerly L-1) is an approved vendor. Local applicants can have their fingerprints made electronically; there are sites in DC, Virginia, and Maryland. Applicants who do not live locally may have fingerprint cards scanned by MorphoTrust. In either case, applicants will initiate the process by registering. They may register online (http://www.l1enrollment.com/state/?st=dc) or call 1-877-783-4187. Applicants with questions about the background check process may call 202-442-9004.
The Application Process
License applications can be downloaded from the website of the Department of Health (http://doh.dc.gov/node/323062).
The licensing agency will require verification of national certification. The applicant may submit verification in a sealed envelope or have the certifying agency email it to either of the addresses found in the application packet.
Applicants are directed to provide two photographs and verification of any name changes.
Endorsement applicants will need to provide verification from the original state of credentialing. Those who are no longer licensed in the original state will also provide verification from the current state of licensure. Official verification is to be sent directly from the licensing agency. However, applicants are directed to also include a copy of the current license in the application package.
A professional who is already licensed as an RN will pay $230 with the APN certification. A professional who is simultaneously applying for RN and APN licensing will pay $375.
Internationally Educated Applicants
Internationally educated applicants must demonstrate English proficiency. If the applicant did not graduate from a program that used English as the primary language and does not have two years of recent experience in the United States, he or she will need to pass the TOEFL iBT or IELTS.
Renewal Requirements
Certificates are renewed every two years.
In order to renew the certificate, the individual will need to demonstrate current national certification. He or she will also need to provide evidence of 15 hours of continuing education; there must be a pharmacology component.
Additional Information
Information about advanced practice nursing is available from the DC Board of Nursing. The Board of Nursing is under the banner of the Department of Health. The DOH can be reached by telephone at (877) 672-2174 or by email at 'doh at dc.gov'.
DC's advanced practice professional associations include:
Nurse Practitioner Association of the District of Columbia
District of Columbia Affiliate of the American College of Nurse Midwives
District of Columbia Association of Nurse Anesthetists
<!- mfunc search_btn -> <!- /mfunc search_btn ->
Find Nursing Licensure Requirements in Your State: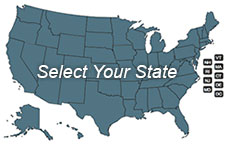 Learn about becoming a Registered Nurse, LPN or LVN in your state:
To View Full U.S. Map Click Here.