Nurse Practitioner Programs in Iowa
Iowa nurse practitioners do many of the things doctors do. They can carry out a range of duties related to primary care: performing physical examinations, ordering diagnostic tests, forming diagnoses, prescribing medications and devices, maintaining hospital privileges.
Iowa is among the states that grants nurse practitioners the most autonomy and the most latitude. Physician supervision is not mandatory. Nor is collaboration – though nurse practitioners often do collaborate.
<!- mfunc feat_school ->
Featured Programs:
Sponsored School(s)
<!- /mfunc feat_school ->
The Iowa Board uses the license title Advanced Registered Nurse Practitioner, or ARNP; this license category actually includes other types of advanced practice nurse such as nurse midwife and clinical nurse specialist. The state does distinguish between the roles, and when someone refers to a nurse practitioner, there's a good chance they mean just that! Nurse practitioner is likely the right role if one sees oneself in a primary care nursing role serving a relatively broad population (and doesn't have a special interest in maternity and perinatal care).
The NP role, moreover, is not all about primary care. Some nurse practitioner credentials are appropriate for acute care settings.
Iowa makes some distinction between nurse practitioners based on population focus (for example, adult-gerontology nurse practitioner or family nurse practitioner). One's national certification determines what sorts of duties one will carry out.
Iowa Nurse Practitioner Programs
#1: The University of Iowa boasts doctoral level programs in a range of specialties. Moreover, it's ranked #15 out of all DNP programs in the nation by U.S. News and World Report. The University of Iowa notes high rankings in multiple specialties. The program is mostly online.
#2: Clarke University, also nationally recognized, offers family nurse practitioner and psychiatric nurse practitioner DNP options. The post-master certificate psychiatric mental health program allows NPs to take on a new specialty relatively quickly, with 18 additional credits, 500 additional clinical hours.
#3: Briar Cliff University offers an online master's opportunity for family and adult-gerontology nurse practitioners. Each student will have one clinical experience with a population that is rural, multicultural, or underserved.
<!- mfunc search_btn -> <!- /mfunc search_btn ->
Becoming a Nurse Practitioner in Iowa
Nurse practitioner education builds on an RN foundation. The RN will complete an organized program. Either a master's or doctoral degree is acceptable. Programs often characterize course delivery as online or hybrid.
The program will qualify the graduate to take a certification examination through a recognized third party organization like the American Nurses Credentialing Center, American Academy of Nurse Practitioners, or the Pediatric Nursing Certification Board. The RN can expect a program that is appropriate to the clinical management of the particular population and that includes at least 500 clinical hours. The nurse practitioner must later meet continuing education requirements of the specific certification agency; current certification is a condition for renewal.
Nurse practitioners sometimes opt to pursue post-master certificates to add new population foci and expand their scope of practice.
The Iowa Board maintains a list of approved programs. Programs are listed under different categories depending on the degree awarded. A prospective student will find Iowa schools offering family nurse practitioner, psychiatric mental health, and adult-gerontology programs at the master's and doctoral levels. Neonatal and pediatric specialties are also available in-state but only at the doctoral level. Some programs are identified as primary care or acute care. In some cases, an Iowa nurse will be able to enroll in an out-of-state program but do his or her clinical hours in Iowa. Iowa allows out-of-state programs to place students in Iowa but does exercise a degree of regulatory authority.
The Iowa Board has provided prospective students with some basic questions to ask when considering an out-of-state program (https://nursing.iowa.gov/nursing-education-programs/nursing-education-regulation). Among the questions: Does the program hold accreditation through the Commission on Collegiate Nursing Education (CCNE) or the Accreditation Commission for Education in Nursing (ACEN)?
Those who opt for study at the doctoral level can expect 1,000 clinical hours and an in-depth project that can inform their clinical practice. (See: ARNP Requirements in Iowa)
Rural and Urban Positions
The latest BLS data suggests that in the Eastern part of the state, nurse practitioner jobs are more concentrated in some metropolitan areas (e.g. Iowa City). There is a difference nationwide in types of nurse practitioner roles that are common or typical in urban and rural communities. Urban centers are where the large hospitals and medical centers are concentrated. They also have clinics to serve various populations, some of whom are marginalized with regard to healthcare access. In rural areas, people often lack a nearby doctor; it's not uncommon for a nurse practitioner to be the sole healthcare professional on-site.
The Iowa Association of Rural Health Clinics has provided a description of one type of clinic: the rural health clinic (https://iarhc.org/resources/rural-health-clinic-101). Among the standards for these centers: that the clinic employ a nurse practitioner of physician assistant (PA) and that there is a PA, NP, or certified nurse practitioner there at least 50% of the time the facility is open. Rural health clinics offer fully six types of lab test, including blood sugar and pregnancy and a test for occult blood.
The Cedar Valley Monthly notes, in an article titled "Nurse Practitioners on the Rise in the Area, Iowa", some of the different ways nurse practitioners may be used (https://wcfcourier.com/business/local/nurse-practitioners-on-the-rise-in-area-iowa/article_1c6c8920-c54f-5273-844a-f4b8fa7aba27.html). The chancellor of Allen College in Waterloo is quoted as saying that many graduates take on roles in rural communities, offsetting physician shortage. Iowa has a large population of rural elderly for whom nurse practitioners are serving a vital need. A representative of Wheaton Franciscan Healthcare, which operates several Iowa hospitals, notes that some people who work for the organization as RNs return to take on clinic roles as ARNPs.
Supervising fluoroscopic X-rays is among the things that can potentially be within an Iowa nurse practitioner's scope, but there are minor additional course requirements.
<!- mfunc search_btn -> <!- /mfunc search_btn ->
Find Nursing Licensure Requirements in Your State: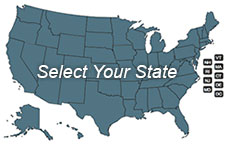 Learn about becoming a Registered Nurse, LPN or LVN in your state:
To View Full U.S. Map Click Here.