Advanced Registered Nurse Practitioner License Requirements in Iowa
Iowa's nurse practitioners and other advanced practice nurses are licensed as Advanced Registered Nurse Practitioners, or ARNPs. The Iowa Board of Nursing recognizes the following broad advanced practice roles:
Certified Nurse Practitioner
Certified Clinical Nurse Specialist
Certified Registered Nurse Anesthetist
Certified Nurse Midwife
ARNPs also hold licensure as registered nurses, or RNs. In some cases, RN licensing will not be held in Iowa, but in another nurse compact member state. This is the case when the nurse holds primary residency in another compact state. As of 2015, however, advanced practice licensing is still state-specific. The nurse will need to present his or her credentials to the Iowa Board in order to be recognized as an ARNP.
<!- mfunc feat_school ->
Featured Programs:
Sponsored School(s)
<!- /mfunc feat_school ->
Select an Iowa Advanced Registered Nurse Practitioner Topic:
ARNP Categories
Clinical nurse specialists and nurse practitioners may focus on particular segments of the population. The Iowa Board recognizes many categories. A clinical nurse specialist, for example, may be recognized in oncology, orthopedics, home health, or gerontology, among others. A nurse practitioner may be recognized in perinatal, school, or acute care, among others. However, prospective advanced practitioners should recognize that specialty categories are based on national certifications, and these change periodically; changes may come at the recommendation of national stakeholders. Some Board-recognized ARNP categories are based on certifications that are no longer available to new examinees.
Some certifications are grouped together into broader categories. 'Certified Psych/Mental Health Nurse Practitioner' and 'Psychiatric Mental Health Across the Lifespan CNP', for example, are both considered Category G.
ARNP Educational Requirements
Prospective advanced practitioners will need to complete 1) programs that develop practitioner skills, include nursing training in specialty areas, and culminate in conferral of master's degrees or 2) approved formal advanced practice programs that include appropriate clinical experiences. The licensing agency has provided a list of schools that have been specifically Board-approved. The list is accessible from the main 'ARNP' page of the Board website (https://nursing.iowa.gov/practice/advanced-registered-nurse-practitioner-role-scope). It includes some programs based in other states. There are a number of program options not listed. The licensing agency notes that advanced practice programs that culminate in doctoral degrees are also acceptable. (See: Nurse Practitioner programs in Iowa)
In addition to meeting the requirements of the South Dakota Board, the program will need to meet requirements set by the specialty certification organization in the student's intended practice area.
ARNP Certification Requirements
The advanced practice nurse must seek an advanced certification through a Board-recognized national certification agency. Certifying agency will depend on specialty, though there is some overlap between certifications offered by the American Nurses Credentialing Center and those offered by specialty certification agencies. Certification will be held through one (or more) of the following organizations:
American Academy of Nurse Practitioners
American Association of Critical Care Nurses
American Midwifery Certification Board
American Nurses Credentialing Center
Council of Certification of Nurse Anesthetists or Re-Certification of Nurse Anesthetists/ National Board of Certification and Recertification for Nurse Anesthetists
National Certification Board of Pediatric Nurse Practitioners and Nurses/ Pediatric Nursing Certification Board
National Certification Corporation for the Obstetric, Gynecologic, and Neonatal Nursing Specialties
Oncology Nursing Certification Corporation
The Iowa Board does not issue temporary permits to individuals who are going through the national certification process. However, as RNs who have advanced training, graduates are permitted to perform duties at the level of their training — but without prescriptive authority and without use of the protected title.
<!- mfunc search_btn -> <!- /mfunc search_btn ->
The ARNP Application Process
An advanced practice nurse will apply to the Iowa Board after meeting all requirements. The application may be submitted online through IBON Online Services (https://nursing.iowa.gov/online-services) or downloaded and mailed to the Board office in Des Moines.
The licensing agency mandates that transcripts be sent directly from the school.
The applicant will include a copy of his or her national certification; a copy of a certificate card can also be accepted.
An applicant who resides in another compact state will provide verification of a current RN license. Different states have different methods of issuing and verifying licenses, so documentation may take any of several forms: a copy of a paper document, a copy of verification obtained through the website of the other state's Board of Nursing, or a copy of nursys.com verification.
An applicant who has criminal or disciplinary history will need to provide sentencing orders or board documents.
The ARNP applicant will need to pay an $81 fee.
Applicants may contact the Board by email or telephone. They will use the email address 'newnurs at iowa.gov'.
An application file may be held open for a year.
Some ARNPs will need DEA numbers; this is part of the authorization process for a practitioner who will prescribe controlled substances. ARNP are referred to the Pharmacy Board for application materials (https://pharmacy.iowa.gov/).
ARNP License Renewal Requirements
Continuing education requirements are those of the certifying agency. The nurse will present evidence of current national certification to the Iowa Board at the time of renewal. He or she will renew RN licensure, then ARNP licensure (https://nursing.iowa.gov/licensure/advanced-registered-nurse-practitioner-licensure). An advanced practitioner licensed as an RN in another party state will provide evidence of a renewed licensing.
An ARNP who lives in a compact state that does not required separate RN licensing for advanced practitioners may instead document his or her advanced nursing license. The Board has provided a list of frequently asked questions that addresses different advanced practice licensing scenarios (https://nursing.iowa.gov/licensure/advanced-registered-nurse-practitioner/arnp-new-license-and-renewal-frequently-asked).
Additional Information
Information about advanced nurse practitioner licensing is available from the Iowa Board of Nursing (https://nursing.iowa.gov/practice/advanced-registered-nurse-practitioner-role-scope). The Board can be reached by telephone at (515) 281-3255.
The state's advanced practice professional associations serve as additional sources of information:
Iowa Association of Nurse Practitioners www.iowaanp.org
Iowa Nurse Practitioner Society www.iowanpsociety.org
Iowa Association of Nurse Anesthetists https://www.iowacrnas.com/
<!- mfunc search_btn -> <!- /mfunc search_btn ->
Find Nursing Licensure Requirements in Your State: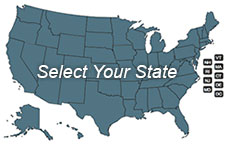 Learn about becoming a Registered Nurse, LPN or LVN in your state:
To View Full U.S. Map Click Here.