Nurse Practitioner Programs in Kansas
Kansas nurse practitioners have expanded nursing roles. They improve care and increase healthcare access. Nurse practitioner is considered an Advanced Practice Registered Nurse (APRN) role. It is an especially broad one; there are plenty of opportunities to specialize!
<!- mfunc feat_school ->
Featured Programs:
Sponsored School(s)
<!- /mfunc feat_school ->
Nurse Practitioner Programs in Kansas
#1: The University of Kansas has been designated as a Center for Excellence by the National League for Nursing in the "Enhance Student Learning and Professional Development" category. The UK affords nurses the opportunity to earn a DNP in any of three common, high needs nurse practitioner specialties: family, adult-geriatric/ psychiatric/ mental health. It is ranked #48 out of all DNP programs in the nation by US News and World Report.
#2: Wichita State University offers multiple DNP options – including the state's only adult-gerontology acute care program. WSU prepares acute care practitioners to serve far and wide.
#3: Fort Hays State University, Pittsburg State University, and Washburn University: three more options for earning a nurse practitioner credential that is CCNE accredited and Board-approved.
<!- mfunc search_btn -> <!- /mfunc search_btn ->
Nurse Practitioner Education and Training
Generally, a person becomes a nurse practitioner by completing a post-basic nursing program and a degree at at least the master's level. The student completes a program that offers specific preparation for the intended role. These basics have become the standard around the nation, though not all nurse practitioners will meet them, especially if they attained their credential in the distant past.
A student who is pursuing his or her education in Kansas will need to make sure the program is Board-approved. The Board has provided a list. It includes five schools, all of which also hold accreditation through the Commission on Collegiate Nursing Education (CCNE). The CCNE is the most common accrediting agency for nurse practitioner programs nationwide.
Kansas programs are required to be at least 45 semester hours. In actuality, they are often well over 70 semester hours and award clinically oriented degrees at the doctoral level (DNPs). (This is a level of education recommended by many stakeholders at the national level, though not mandated by state boards.)
Kansas has set minimum curricular standards; these often do reflect those of other standard setters. Kansas requires that applicants have courses in advanced health assessment, pathophysiology, and pharmacology. The CCNE requires both these as well. Kansas requires a minimum of 500 clinical hours; national standard setters have reached general consensus about this. (See: Nurse Practitioner requirements in Kansas)
Nurse Practitioner Roles and Duties
Nurse practitioners assess and diagnose. The scope of practice includes developing and managing plans of medical care and providing health services that are appropriate to the nurse practitioner's training. Preparation is not the same for all nurse practitioners. There are different tracks (e.g. family, pediatric, women's health) though a nurse practitioner may continue to increase his or her clinical competence beyond the initial qualifying program. Health promotion and disease prevention are noted in the scope. Nurse practitioners tend to take a holistic look at health – this one of the areas where individuals with nursing backgrounds may shine as healthcare providers! Of course there will be complex cases where they need to refer patients. A nurse practitioner's training is not as comprehensive as a medical doctor's
Often nurse practitioners work in primary care settings. They may instead work in psychiatric/ mental health units. Some nurse practitioners are expert clinicians in acute care settings. Wichita State University has provided a short video which shows a day in the life of an adult-gerontology acute care nurse practitioner, one who has the responsibility of managing a caseload of a dozen post-surgical patients – and of being an expert clinician and a point of contact for other nurses (http://webs.wichita.edu/?u=nursing&p=/graduate/specialization/). WSU notes that acute care nurse practitioners can work in a variety of settings, including specialty clinics like cardiology, oncology, and nephrology.
Kansas is considered a reduced practice state by the American Academy of Nurse Practitioners. This means nurse practitioners here are not as independent as those who work in the 23 'full practice' states. Kansas nurse practitioners work under collaborative agreements with physicians. This does not mean there needs to be a doctor in the immediate vicinity – or that the nurse practitioner must have his or her decisions rubber stamped. Nurse practitioners have moved up the ranks to the point where they do make a lot of independent decisions. Kansas nurse practitioners do follow written protocols when prescribing prescription-only medications — this is different than in some other states.
Rural and Urban Practice
Kansas nurse practitioners work in rural and urban areas. The Topeka area shows the highest job concentration; the Southeast and Northwest nonmetropolitan areas are not far behind.
Meeting the needs of rural and underserved populations is of concern to planners in Kansas as in many other states.
Among the possible work sites: the rural health clinic. Rural health clinics are required to utilize teams made up of 1) physicians and 2) other professionals such as nurse practitioners and nurse midwives who may be termed independently licensed providers. There must be a independently licensed provider on-site at least half the time.
The Kansas Recruitment and Retention Center helps healthcare organizations meet their need for providers, including APRNs — and it can help providers them, too (http://www.kumc.edu/community-engagement/rural-health/kansas-recruitment-and-retention-center.html). Providers enjoy free job search services.
The University of Kansas Medical Center has provided information about loan forgiveness and repayment programs (http://www.kumc.edu/community-engagement/rural-health/marketing-services.html). These are sometimes utilized to get healthcare professionals where they are needed most.
Kansas Nurse Practitioner Salary
Kansas nurse practitioner enjoyed average annual earnings of $97,870 (or $47.05 an hour) in 2017, according to the BLS.
<!- mfunc search_btn -> <!- /mfunc search_btn ->
Find Nursing Licensure Requirements in Your State: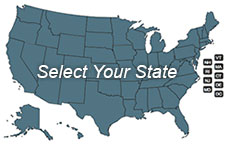 Learn about becoming a Registered Nurse, LPN or LVN in your state:
To View Full U.S. Map Click Here.