Advanced Practice Registered Nurse (APRN) Requirements in Kansas
Kansas Advanced Practice Registered Nurses (APRNs) are licensed by the Kansas State Board of Nursing. Four roles are recognized:
Registered Nurse Anesthetist
Certified Nurse Midwife
Nurse Practitioner
Clinical Nurse Specialist
APRNs are licensed on the basis of education; national certification is required only for nurse anesthetists.
A Kansas APRN must also be licensed as an RN in Kansas; Kansas is not party to the nurse license compact.
<!- mfunc feat_school ->
Featured Programs:
Sponsored School(s)
<!- /mfunc feat_school ->
Select a Kansas Advanced Practice Registered Nurse Topic:
Educational Requirements
Advanced practice nurses must complete formal post-basic programs that include required coursework. With the exception of nurse midwives, all prospective advanced practice nurses must complete nursing degree programs at the master's level or higher (Nurse Practitioner programs in Kansas). All prospective APRNs must have, as part of their program, a three credit hour course in advanced pharmacology. Clinical nurse specialists and nurse practitioners are to have three-credit courses in advanced physiology and advanced health assessment.
Programs must be approved by the Kansas Board. The Board maintains a list of approved programs; students can click on "graduate nursing school listings" (https://ksbn.kansas.gov/programs/). If the program is not located within Kansas, the Board will determine, at the time of application, whether it meets standards.
Practitioners who completed their education in the past are held to different standards. The requirement for a master's degree does not apply to those who completed degrees by July 1, 2002.
A clinical nurse specialist or nurse practitioner who completed a program at any point after July 1, 1994 will need to provide evidence of a degree at at least the baccalaureate level. A nurse midwife who completed a program after July 1, 2000 will need to provide evidence of a degree at at least the baccalaureate level.
Additional Requirements for Nurse Anesthetists
Nurse anesthetists (RNAs) must pursue certification through the Council on Certification of Nurse Anesthetists.
RNAs are also required to carry liability insurance. According to the National Council of State Boards of Nursing, nurse anesthetists are the only advanced practice specialty that is authorized for independent practice in Kansas.
Certification Options
Kansas, unlike the majority of U.S. states, does not currently require nurse practitioners, nurse midwives, or clinical nurse specialists to take certification exams. However, Board regulation states that an individual can be licensed in Kansas if he or she has been certified by an organization that has been judged to have standards that are at least equivalent.
Recognized certifications are listed in the application packet. Currently, they include the following:
American Nurses Credentialing Center (ANCC)
Acute care (NP)
Adult (NP)
Family (NP)
Gerontological (NP)
Pediatric (NP)
Psychiatric/ Mental Health (NP)
Adult Health (CNS)
Gerontology (CNS)
Psychiatric/ Mental Health (CNS)
Public/ Community Health (CNS)
American Association of Critical-Care Nurses (AACN)
Acute Care (NP)
Acute/ Critical Care (CNS)
American Association of Nurse Practitioners (AANP)
Adult (NP)
Family (NP)
Gerontologic (NP)
Pediatric Nursing Certification Board (PNCB)
Acute Care Pediatrics (NP)
Primary Care Pediatrics (NP)
National Certification Corporation (NCC)
Neonatal (NP)
Women's Health (NP)
American College of Nurse-Midwives (ACNM)
Midwifery (CNM)
Kansas regulations also state that a licensee can request that the Board consider a certification that has not yet been approved.
<!- mfunc search_btn -> <!- /mfunc search_btn ->
The Application Process
APRN applicants must have fingerprint-based background checks. They are to use fingerprint cards supplied by the Board. Fingerprints can be made at a law enforcement agency anywhere in the nation; the fingerprint card and waiver form are to be mailed directly from the law enforcement agency. The applicant also has the option of having fingerprints made at the Board office. An applicant may be excused from the fingerprint requirement if he or she had fingerprints made for nursing licensure within the previous six months (https://ksbn.kansas.gov/fingerprintorderform/).
Advance practice application packets are available from the State Board of Nursing (https://ksbn.kansas.gov/wp-content/uploads/Forms/APRN.pdf). The Board will require official transcripts. Nurse anesthetist applicants will need to verify having passed the required certification examination.
The license application fee is currently $75 for RNAs and $50 for other APRNs. RNAs who seek temporary permits will pay $110 for permit and license application; other APRNs will pay $100.
Application forms are to be mailed to the Board office in Topeka.
The Board reserves the right to require applicants educated outside Kansas to provide additional documentation if it is not clear after reviewing application materials that the program met Kansas approval standards.
Out-of-state licensees will need to submit an RN endorsement application as well as an APRN application.
An out-of-state licensees is considered to have met educational requirements if the other state had standards at least on a par with Kansas standards.
Foreign applicants may 785-296-2967 for information.
Temporary Permits
A temporary permit may be issued in when the applicant is waiting for academic credentials to be reviewed, waiting for his or her degree to post to the transcript, or waiting for the RN endorsement process to be complete. A nurse anesthetist may be authorized for temporary practice pending certification.
An applicant with disciplinary or criminal history may be denied a temporary permit. The Board notes that issuance of a temporary permit does not guarantee licensure.
APRN Renewal
Kansas requires all nursing licensees to complete 30 hours of continuing education. The licensing agency notes that an APRN must complete all required continuing education at the advanced practice level.
Additional Information
APRN information is available from the Kansas State Board of Nursing. The Board can be reached by email contact form (https://ksbn.kansas.gov/contact/) or by telephone at (785) 296-4929.
The following professional organizations serve as additional professional resources:
Kansas Affiliate of the American College of Nurse-Midwives
<!- mfunc search_btn -> <!- /mfunc search_btn ->
Find Nursing Licensure Requirements in Your State: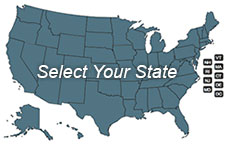 Learn about becoming a Registered Nurse, LPN or LVN in your state:
To View Full U.S. Map Click Here.