Nurse Practitioner Programs in Kentucky
Nurse practitioners may be nurses, but it's the physician shortage they can help offset! Kentucky's graduate level nurse practitioners are recognized as primary care providers. The additional education they pursue beyond the BSN – and the credentials they receive – allow them to function in a greatly expanded role.
Nurse practitioners have a different training than physicians. They reach the highest levels of practice via academic progression, with new degrees and clinical experiences building on old ones. All nurses must meet educational requirements for RN before they meet requirements for the higher credential. Their overall training is less, and it's not expected that they will manage cases as complex as those that a physician can manage. Like other healthcare providers, they make referrals.
<!- mfunc feat_school ->
Featured Programs:
Sponsored School(s)
<!- /mfunc feat_school ->
Many nurse practitioners have a broad population focus: family (or lifespan). Some focus on pediatric or adult-gerontology practice or on psychiatric/ mental health or women's health services. Neonatal is also a recognized specialty. Neonatal nurse practitioners tend to work as part of teams of professionals.
Nurse practitioner training is different, but studies demonstrate good outcomes, and there are situations where care can indeed be better. Experts sometimes note that nurse practitioners have training that allows them to focus more on wellness (https://www.courier-journal.com/story/life/wellness/health/2017/03/02/nurse-practitioners-easing-kentuckys-doctor-shortage/97589670/).
Nurse practitioners may deliver primary care in settings such as doctor's offices, outpatient clinics. rural health clinics, and school services. Some major healthcare organizations rely on them heavily. UK HealthCare, for example, has a long list of advanced practice nurses service providers – and a commitment to supporting their careers (https://inside.nku.edu/hcsw/health/nurse-practitioner-services.html).
<!- mfunc search_btn -> <!- /mfunc search_btn ->
Nurse Practitioner Programs in Kentucky
#1: The University of Kentucky offers a BSN to DNP option in multiple specialty areas. Their DNP program is ranked #26 in the nation by US News and World Report.
#2: Eastern Kentucky University has, among its offerings, a family nurse practitioner program specifically geared toward rural healthcare provision. EKU is ranked #23 for online nursing master's programs. The family nurse practitioner program boasts a 100% examination pass rate.
#2: Northern Kentucky University, ranked #28 out of all online nursing master's programs, offers four NP options: adult-gerontology primary care, adult-gerontology acute care, family nurse practitioner, and psychiatric mental health.
#3: Western Kentucky University, tying for #23 among online master's programs, offers an online master's in psychiatric/ mental health for nurses who have some experience with people with mental illness. Nurses who select this path can be practicing relatively quickly: The program is 43 units. There are other degree options, some in a more traditional setting.
#4: Frontier Nursing University isn't just about nurse midwifery! The school offers a women's health nurse practitioner program in addition to family and psychiatric/ mental health concentrations. Frontier students complete 675 clinical hours.
Kentucky APRN Scope of Practice
Kentucky is not classified as a full practice state by the American Academy of Nurse Practitioners. Kentucky nurse practitioners are not completely autonomous. However, they have made legislative gains in recent years, ones that some believe can improve access for the underserved. Kentucky nurse practitioners can attain independent prescriptive authority after a period of collaboration. Until then, they prescribe under formal collaborative agreements with doctors. The Board of Pharmacy has provided information about circumstances under which nurse practitioners can prescribe controlled substances (https://pharmacy.ky.gov/Pages/APRN-and-PA-Prescribing.aspx).
Look to the state's healthcare organizations, and one will find nurse practitioners taking responsibility for a wide range of health and disease related services, but with some legislative and organizational limitations. Northern Kentucky University, for example, offers nurse practitioner services as part of its student health and wellness program (https://inside.nku.edu/hcsw/health/nurse-practitioner-services.html). There's a lot their nurse practitioners can do for students: provide physical exams and women's health exams, diagnose and treat illnesses, assist with tobacco cessation, provide birth control evaluation, write prescriptions, provide travel evaluations, treat injuries, treat warts, and make referrals for physical therapy. But the school notes that their nurse practitioners can't write prescriptions for ADHD medicines.
Nurse Practitioner Preparation
An RN with nurse practitioner aspirations will earn a master's degree, post-master certificate, or doctoral degree. The nationwide consensus is that nurse practitioners need at least 500 hours of advanced clinical training as part of their education. Some students find their own preceptors and placements. They may have a wide variety of experiences.
The nurse practitioner program will qualify the graduate for national certification. The following certification organizations are recognized by the Kentucky Board and offer certifications that correspond with broad population foci, recognized around the nation:
<ul
American Association of Critical-Care Nurses Certification Association
American Association of Nurse Practitioners
American Nurses Credentialing Center
National Certification Corporation
Pediatric Nursing Certification Board
Stakeholders want to support talented nurses in remaining in the field as they further their education. Many programs are online. Moreover, a Kentucky student can enroll in a school located in another state and do his or her clinical hours in Kentucky. The Board notes that Kentucky is a National Council for State Authorization Reciprocity Agreements (NC-SARA) member (https://kbn.ky.gov/pon_resources/Pages/out-of-state-programs-seeking-to-utilize-kentucky-clinical-sites.aspx).
The prospective student will need to check with individual schools to see whether they are able to preceptor students residing in Kentucky. Some are open only to students in a limited geographic area.
Schools that are located in Kentucky must have Kentucky approval. A list can be downloaded from the Board website (https://kbn.ky.gov/pon/Pages/school.aspx). One of the things the state looks at when first granting developmental status: the school's five year plan for securing clinical sites and preceptors: How will the program ensure that students will have the clinical experiences they need?
Kentucky nurse practitioner programs are required to seek accreditation at the programmatic level. All Kentucky programs are accredited by the Commission on Collegiate Nursing Education (CCNE) or the Accreditation Commission for Education in Nursing (ACEN).
A growing number of programs award practice doctorates (DNPs). Projects at pioneering University of Kentucky have included the following, among many others: evaluation of a staff resilience program on a pediatric intensive care unit, identification of rural barriers to colorectal cancer screening , quality improvement focused on assessment and documentation of fall risk.
See: Advanced Practice Registered Nurse requirements in Kentucky
Rural and Urban Practice
Nurse practitioners work in rural and urban locales. BLS data shows the highest location quotient in Kentucky in the Eastern nonmetropolitan region; this is based on nurse practitioner jobs. Other nonmetropolitan regions of the state show lower job quotients.
Two professors from the University of Kentucky were recently awarded a grant to provide education and training to improve rural Kentucky healthcare (https://www.wtvq.com/2018/05/25/college-nursing-faculty-receives-1-7-million-improve-health-rural-kentucky/).
Kentucky Nurse Practitioner Salary
Kentucky nurse practitioners earned an average of $95,450 a year ($45.89 an hour) in 2018.
<!- mfunc search_btn -> <!- /mfunc search_btn ->
Find Nursing Licensure Requirements in Your State: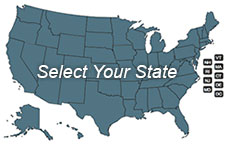 Learn about becoming a Registered Nurse, LPN or LVN in your state:
To View Full U.S. Map Click Here.