Advanced Practice Regstered Nurse License Requirements in Kentucky
Kentucky's Advanced Practice Registered Nurses (APRNs) are licensed by the Kentucky Board of Nursing. An APRN must also hold licensure as a registered nurse, either in Kentucky or another state that is party to the Nurse Licensure Compact.
<!- mfunc feat_school ->
Featured Programs:
Sponsored School(s)
<!- /mfunc feat_school ->
A Kentucky APRN will have one of the following designations:
Nurse Practitioner
Nurse Midwife
Nurse Anesthetist
Clinical Nurse Specialist
An APRN will also have a population focus. Midwife and anesthetist qualify as population foci. The following population foci have been approved for clinical nurse specialists and nurse practitioners (http://kbn.ky.gov/aprnlicenseinfo/Pages/default.aspx):
Adult
Family
Pediatric
Gerontological
Women's health
Neonatal
Acute care
Family psychiatric mental health
Adult psychiatric mental health
Child/ adolescent psychiatric mental health
Licensure is granted on the basis of education and national certification. Applicants must also clear state and federal background checks.
Select a Kentucky Advanced Practice Registered Nurse License Topic:
Kentucky APRN Educational Requirements
An advanced practice nurse must have post-basic nursing education; the APRN program must include clinical experience. Current students will need a master's degree, post-master certificate, or doctoral degree (See: Nurse Practitioner programs in Kentucky).
The master's requirement does not apply to those who completed qualifying education by July 1, 2005.
Certification Requirements
An advanced practitioner must seek an approved national certification and maintain it at all times. Choice of certifying agency will vary depending on role and population focus.
The Board recognizes the following certification agencies:
The American Association of Critical-Care Nurses (AACN)
The American Academy of Nurse Practitioners (AANPcert)
The American Midwifery Certification Board (AMCB)
The American Nurses Credentialing Center (ANCC)
The National Board of Certification & Recertification for Nurse Anesthetists (NBCRNA)
The National Certification Corporation (NCC)
The Pediatric Nursing Certification Board (PNCB)
Current Kentucky APRNs may maintain certification through the Oncology Nursing Certification Corporation; this option is not available to new APRNs (http://www.lrc.state.ky.us/kar/201/020/056.htm).
Background Check Requirement
Kentucky requires fingerprint-based background checks, even of those already licensed as RNs in Kentucky.
The federal background check is fingerprint-based. Applicants may request fingerprint cards from the Board (http://kbn.ky.gov/apply/Pages/courtnet.aspx). The Board has also provided instructions for entering information on the fingerprint card. The completed fingerprint card is mailed to the Kentucky State Police along with a $14.75 fee.
The state background check is name-based and may be requested online; results can be received electronically (http://kbn.ky.gov/apply/Pages/courtnet.aspx). The applicant may instead mail a written request along with the required fee (currently $20). In this case, the criminal history report will need to be submitted to the Kentucky Board; the timeframe will be longer.
<!- mfunc search_btn -> <!- /mfunc search_btn ->
The Application Process
A nurse already licensed as an RN in Kentucky (or other compact state) will follow the APRN application instructions (http://kbn.ky.gov/apply/Pages/APRN/aprnapps.aspx). An individual who is licensed in another jurisdiction or has allowed his or her nursing license to lapse will follow the APRN & RN application instructions (http://kbn.ky.gov/aprn/Pages/default.aspx).
The application can be submitted online. There are separate online forms for APRN (https://kbn.ky.gov/aprn/Pages/aprnapps.aspx) and APRN & RN (https://kbn.ky.gov/aprn/Pages/default.aspx#).
The Board will, in all instances, require documentation of post-basic education. In cases where advanced practice education was completed as part of a post-master certificate program, the Board will also seek transcripts of the qualifying master's degree (http://kbn.ky.gov/apply/Pages/transcripts.aspx). Nurse midwives and nurse anesthetists who completed their advanced practice education prior to 2005 may, if they choose, submit a diploma or certificate in lieu of official transcripts. Clinical nurse specialists and nurse practitioners who completed their education prior to 2005 will need to submit transcripts indicating the degree that was conferred.
Current certification must be documented. The Board can accept a copy of the certification card or certificate if it includes all required information (http://kbn.ky.gov/apply/Pages/natlcert.aspx).
An RN applying for APRN only pays $165.
Individuals who are simultaneously endorsing or reinstating an RN license will have additional documentation requirements as well as additional fees.
The licensing agency will allow some supporting documentation to be sent by fax.
Application status can be monitored online.
The review process is typically carried out within 14 days. In cases where there is disciplinary or criminal history, the review process may take considerably longer.
Temporary APRN Authorization
An endorsement applicant may be granted temporary authorization (TA) for both RN and APRN practice (http://kbn.ky.gov/aprn/Pages/ta_aprn.aspx).
Controlled Substance Authorizations
An APRN seeking prescriptive authority for controlled substances will need a collaborative agreement with a doctor. APRNs are not eligible until they have been licensed or otherwise credentialed as advanced practitioners for at least one year.
Collaborative practice documentation materials are available on the Board website (http://kbn.ky.gov/aprnlicenseinfo/Pages/default.aspx). The Board will require notification of collaborative agreement (http://kbn.ky.gov/practice/Pages/aprn_practice.aspx).
APRN Renewal
APRN licenses typically have the same expiration date as Kentucky RN licenses. The licensee will need to complete at least five contact hours of continuing education in pharmacology; those who prescribe controlled substances have more stringent requirements.
The advanced practice nurse will also need to complete whatever continuing education is mandated by his or her certifying agency; the third party certification may have a different renewal date. The nurse may need to complete additional mandatory courses during some renewal cycles to keep RN licensure current.
Renewal applications can be submitted online (http://kbn.ky.gov/Pages/renewal.aspx). APRNs who hold RN licensure in other compact states can use the 'APRN only' renewal link.
Additional Information
APRN licensing information is available from the Kentucky Board of Nursing (http://kbn.ky.gov/Pages/default.aspx). The Board can be reached by telephone at 502-429-3300. The Board has provided additional contact information for questions regarding APRN practice (http://kbn.ky.gov/practice/Pages/aprn_practice.aspx).
State professional organizations include the following:
Kentucky Coalition of Nurse Practitioners and Nurse Midwives http://www.kcnpnm.org/
Kentucky Association of Nurse Anesthetists http://www.kyana.org/
<!- mfunc search_btn -> <!- /mfunc search_btn ->
Find Nursing Licensure Requirements in Your State: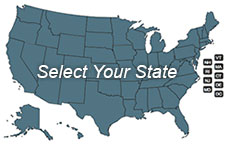 Learn about becoming a Registered Nurse, LPN or LVN in your state:
To View Full U.S. Map Click Here.