Nurse Practitioner Programs in Louisiana
Advance practice nurses are vital to Louisiana's health. So states the Louisiana Center for Nursing, Louisiana's workforce center (http://lcn.lsbn.state.la.us/NursingWorkforce.aspx). Nurse practitioner is one of four APRN designations and it is by far the most common one; NPs made up 60% of the APRNs living and working in Louisiana in 2013 and 80% of those graduating in 2015.
Increasing the number of NPs is about more than just increasing highly trained nurses. It's about increasing access to healthcare providers.
Nurse practitioners promote health and manage acute and chronic disease. The job includes prescribing medication. According to a 2014 report by the Center for Nursing, more than 95% of Louisiana NPs had prescriptive authority.
<!- mfunc feat_school ->
Featured Programs:
Sponsored School(s)
<!- /mfunc feat_school ->
Nurse Practitioner Programs in Louisiana
#1: Loyola University-New Orleans programs are highly ranked by several third party organizations, including US New and World Report. Loyola offers one NP track: nurse practitioner. It includes 720 hours of practicum.
#2:The Louisiana State University Health Sciences Center is designated as a National League for Nursing Center for Excellence in the 'promoting pedagogical expertise of faculty' category. LSU Health Sciences offers fully seven tracks, including pediatric primary care and pediatric acute care. Programs award a DNP.
#3: The University of Louisiana-Lafayette allows students to earn an MSN or DNP in conjunction with family nurse practitioner coursework.
#4: McNeese State University has family nurse practitioner and psychiatric/ mental health nurse practitioner options. McNeese enjoys some degree of recognition on the national level.
<!- mfunc search_btn -> <!- /mfunc search_btn ->
APRN Educational Foundations
A nurse who will be completing his or her nurse practitioner program in Louisiana must make sure that the program is approved by the Louisiana Board. Louisiana approves not only in-state programs but out-of-state programs. A majority of the approved out-of-state programs are in the South, but there are options as far away as Massachusetts or Arizona.
There are many options to accommodate working nurses. Programs may be offered primarily online. The student will, however, complete clinical hours in a healthcare setting. This can be a segway into post-graduate advanced practice. Northwestern State University has stated that their students are often hired at the place where they do their final semester of clinical practice – and that the placement merits a good deal of attention (https://www.rapidesfoundation.org/Newsroom/News/TabId/121/ArtMID/474/ArticleID/179/Grant-program-increasing-nurse-practitioners-in-Central-Louisiana.aspx).
A student will need to complete a program that meets Louisiana curricular standards wherever he or she chooses to go.
The program will qualify the student to take a third party certification exam. The particular examination will be determined by the population focus of the program. Louisiana recognizes the American Academy of Nurse Practitioners (AANP) Adult-Gerontology Primary Care Nurse Practitioner and Family Nurse Practitioner exams, the American Association of Critical-Care Nurses (AACN) Adult-Gerontology Acute Care Nurse Practitioner and Adult Acute Care Nurse Practitioner exams, the National Certification Corporation (NCC) Neonatal Nurse Practitioner and Woman's Health Care Nurse Practitioner exams, and the Pediatric Nursing Certification Board (PNCB) Pediatric Nurse Practitioner and Acute Care Pediatric Nurse Practitioner exams. Louisiana recognizes a number of certification examinations given by the American Nurses Credential Center (ANCC). In some cases, a student will have the option of taking an ANCC examination or an examination through another certifying agency. For example, a family nurse practitioner may take the ANCC exam or the AANP exam. The ANCC is the certifying agency if one's specialty is psychiatric/ mental health.
Among the expectations for a Doctor of Nursing practice: more clinical hours and an in-depth project Different schools may have a different process and set of expectations. Recent projects by DNP students at the Louisiana State University Health Sciences Center have covered a range of topics including assessing stroke risk in atrial fibrillation patients in primary care settings and implementing diabetic foot care examinations in internal medicine clinics.
More: (Nurse Practitioner Requirements in Louisiana)
Nurse Practitioner Roles and Job Settings
NP education takes place at the graduate level; it is an extension of RN education. Nurse practitioner education is geared toward the health management of particular populations. The broadest population focus is family; this provides preparation for work with patients across the lifespan. Other nurse practitioners are trained to care for pediatric populations, adult and gerontological populations, or neonatal populations. Still others focus on women's health or on populations with psychiatric/ mental health needs. While nurse practitioners most often deliver primary care services, some are trained as advanced nurses in acute care settings. The 2014 workforce report found that nearly two-thirds (65.8%) of Louisiana nurse practitioners reported family nurse practitioner as their population focus.
The following are the most common work settings, as reported by the Center for Nursing:
Outpatient Clinic: 20.3%
Physician's Office: 19.7%
Hospital: 17.6%
Rural Clinic: 8.5%
Private Clinic: 8.4%
There have been some changes in typical work setting over time. Nursing homes represent only a small portion of the workforce, but nursing home employment went up quite a bit between 2010 and 2014. The Center for Nursing also found substantial increases in emergency departments and rural health clinics.
Access and Diversity
Louisiana nurse practitioners are recognized in state code as primary care providers. The AANP classifies Louisiana as a reduced practice state, however; nurse practitioners work under collaborative agreements with physicians.
There are greater concentrations of APRNs in urban areas. Rural healthcare access is an issue. Organizations use incentives (stipends, loan repayment) as incentives.
A separate report by the Center for Nursing in 2014 highlighted the importance of diversity in healthcare delivery. The representation of different racial and ethnic groups is not the same in advanced practice nursing as in the population as a whole. Stakeholders would like to make the workforce more diverse.
On the urban front, Monroe has an especially high job concentration, according to the Bureau of Labor Statistics; this metropolitan area rounds out the list of top ten in the nation.
Average Nurse Practitioner Salary in Louisiana
The Bureau of Labor Statistics reports an average of $47.49 an hour ($98,780 a year) for Louisiana nurse practitioners in 2017.
The Central Louisiana nonmetropolitan area is on the list of top paying nonmetropolitan regions in the nation. The salary is listed by the BLS as $63.44 an hour ($131,950 a year). This is based on an employment of just 120.
<!- mfunc search_btn -> <!- /mfunc search_btn ->
Find Nursing Licensure Requirements in Your State: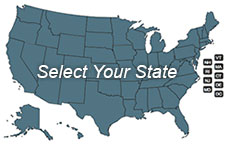 Learn about becoming a Registered Nurse, LPN or LVN in your state:
To View Full U.S. Map Click Here.