Advanced Practice Registered Nurse License Requirements in Louisiana
The Louisiana State Board of Nursing licenses the state's Advanced Practice Registered Nurses (APRNs). The Board recognizes four advanced practice roles:
Certified Nurse Practitioner
Clinical Nurse Specialist
Certified Registered Nurse Anesthetist
Certified Nurse Midwife
An advanced practice nurse will also have a population focus. A nurse practitioner, for example, may focus on adult, family, or pediatric populations; some nurse practitioners focus on mental health practice with one or more age groups.
APRNs are licensed on the basis of advanced education and national certification. To be eligible for APRN licensure, one must also be licensed as a registered nurse in Louisiana.
<!- mfunc feat_school ->
Featured Programs:
Sponsored School(s)
<!- /mfunc feat_school ->
Select a Louisiana Advanced Practice Nurse Topic:
APRN Educational Requirements
Prospective APRNs must complete graduate programs that prepare them for their respective roles and target populations. Programs are to meet Board curriculum guidelines. A program may award a master's degree, doctoral degree, or post-master certificate (Nurse Practitioner programs in Louisiana).
Some APRNs who earned degrees in the past are exempt from the graduate degree requirement. To be eligible for licensure with less than a master's degree, a nurse must have either graduated by December 31, 2005 or have been enrolled by that date and maintained continuous enrollment. The program must have been validated by a third party. It may have been explicitly approved by the Board of Nursing, accepted by a Board-approved national certifying agency, or offered by an institution of higher learning and accepted by a certification agency as examination-qualifying in the desired specialty.
APRN Certification Requirements
In almost all cases, an advanced practice nurse must pursue national certification through an accepted third party organization.
A nurse midwife will be certified by the American Midwifery Certification Board (AMCB); a nurse anesthetist will be certified by the National Board of Certification & Recertification for Nurse Anesthetists (NBCRNA).
Clinical nurse specialists may earn certification by the American Nurses Credentialing Center (ANCC) or the American Association of Critical-Care Nurses (AACN).
Approved ANCC certifications include the following:
Adult Health Clinical CNS
Adult-Gerontology Clinical CNS
Pediatric Clinical CNS
Child/ Adolescent Psychiatric Mental Health Clinical CNS
Adult Psychiatric Mental Health Clinical CNS
AACN certifications include the following:
Adult/ Gerontology Clinical CNS
Pediatric Clinical CNS
Neonatal Clinical CNS
Acute/ Critical Care in Adult, Pediatric, and Neonatal
Nurse practitioners may earn their certification through the ANCC, the AACN, the American Academy of Nurse Practitioners (AANP), the Pediatric Nursing Certification Board (PNCB), or the National Certification Corporation for the Obstetric, Gynecologic, and Neonatal Nursing Specialties (NCC).
Approved ANCC certifications include the following:
Adult NP
Family NP
Pediatric NP
Gerontological NP
Acute care NP
Adult-Gerontology Acute Care
Adult-Gerontology Primary Care
Adult-Psychiatric Mental Health
Psychiatric-Mental Health NP – Across Lifespan
Approved AANP certifications include the following:
Adult NP
Adult-Gerontology Primary Care NP
Family NP
Approved PNCP nurse practitioner certifications include Pediatric NP and Acute Care Pediatric NP.
Approved NCC certifications include Neonatal NP and Woman's Health Care NP.
Approved AACN certifications include Adult Acute Care NP and Adult-Gerontology Acute Care NP.
Examination availability changes periodically. The Louisiana Board can accept the ANCC Gerontological CNS and Public/Community Health CNS certifications though the examinations and certifications are no longer available to new applicants.
If there is no certification available in the appropriate advanced practice specialty, an APRN may be licensed by alternative ("Commensurate") means. He or she will need to accrue experience while working under a preceptor. The Board may credit up to 400 hours of clinical practicum. The remaining hours will be earned while working under a temporary permit.
<!- mfunc search_btn -> <!- /mfunc search_btn ->
The Application Process
Prospective APRNs must have fingerprint-based criminal background checks even if they have been fingerprinted for the Louisiana Board of Nursing in the past. An applicant will have fingerprints made in advance unless he or she opts to hand-deliver the application to the Board office in Baton Rouge and have fingerprints made there; the Board notes that this option is only available to current Louisiana RNs.
Fingerprints may be made at a local law enforcement office. The law enforcement office may provide standard FBI cards. If the cards will not be available at the intended site, the applicant may submit a fingerprint card request form to the Louisiana Board. The completed fingerprint cards and authorization forms will be included in the application packet.
Application packets can be downloaded from the Board website (http://www.lsbn.state.la.us/Licensure,Renewals/AdvancedPracticeRegisteredNurse.aspx). Packets include supplemental forms that are to be completed by third parties.
The education verification form is to be completed by a school official and mailed directly to the Board. Certification verification is to be sent directly from the certifying agency. The applicant may use the form found in the application packet; other formats are acceptable if they include all required information.
Transcripts are also to come directly from the source. If the student completed required coursework through more than one institution, both transcripts will be required.
The application fee is $140.75 unless the applicant is having fingerprints made at the Board office; in this case, the fee will be $150.75.
The application form is to be notarized.
A student may submit an application up to six weeks before degree conferral. However, the Board does not issue temporary permits for the purpose of allowing graduates to begin practice sooner.
Applicants are directed to read forms and instructions and call the licensing agency if they have unanswered questions. They may call (225) 755-7517 or (225) 755-7500 and ask to speak to the licensing analyst who handles advanced practice licenses.
Out-of-State Advanced Practice Nurses
An individual who holds, or has held, advanced practice licensing in another state will use the endorsement application. He or she will provide license verification from the original state of licensure and the most current state.
RN and APRN endorsement applications can be submitted together.
Temporary permits are issued in some instances, for example, when the advanced practitioner has been out of practice for two years.
Prescriptive Authority
Louisiana's advanced practice nurses apply separately for prescriptive authority. To qualify, an APRN will need three credit hours or 45 contact hours in each of the following:
Advanced pharmacotherapeutics
Advanced health assessment
Advanced physiology/ pathophysiology
An APRN who completed his or her program two or more years prior to making application for prescriptive authority will need to document experience. The APRN is directed to call the Board APRN Department.
An APRN must have one or more collaborating physicians.
APRNs apply for prescriptive authority only after the license has been issued.
Continued Competence
The APRN will need to meet continued competence requirements set by his or own certification agency.
A professional with Commensurate APRN status will provide evidence of continuing education directly to the Alabama Board.
Additional Information
The Louisiana State Board of Nursing (http://www.lsbn.state.la.us/Home.aspx) can be reached by telephone at (225) 755-7500. The Board has provided additional email and telephone contact information for APRNs (http://www.lsbn.state.la.us/Licensure,Renewals/AdvancedPracticeRegisteredNurse.aspx).
State professional organizations include the Louisiana Association of Nurse Practitioners (https://lanp.enpnetwork.com) and the Louisiana Association of Nurse Anesthetists (https://lanacrna.org).
<!- mfunc search_btn -> <!- /mfunc search_btn ->
Find Nursing Licensure Requirements in Your State: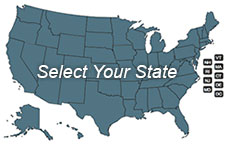 Learn about becoming a Registered Nurse, LPN or LVN in your state:
To View Full U.S. Map Click Here.