Nurse Practitioner Programs in Missouri
Missouri nurse practitioners are authorized to treat self-limiting illnesses. They may also serve as the initial point of contact for patients who require more complex care. Their job may include prescribing medications and non-pharmaceutical treatments.
Nurse practitioners work in both rural and urban settings. The University of Missouri-Kansas City lists the following among the possible work sites: community clinics, specialty practices, group clinical practices/HMOs, nurse-managed clinics, rural health clinics, urgent care or emergency room settings, and migrant clinics.
<!- mfunc feat_school ->
Featured Programs:
Sponsored School(s)
<!- /mfunc feat_school ->
Nurse Practitioner Programs in Missouri
#1: The University of Missouri-Kansas City offers multiple formats for some of its nurse practitioner tracks. RNs who opt for family or adult-gerontology can take their emphasis courses in Kansas City or online. Other specialties are offered online, but include a clinical residency. The UMKC online master's in nursing program is ranked #18 in the country by US News and World Report.
#2:The University of Missouri Sinclair School of Nursing offers multiple nurse practitioner options at the master's and DNP levels. The DNP program is ranked #48 in the country.
#3: Saint Louis University offers flexible options to earn one's nurse practitioner credential. Here students are individually paired with mentors. MSN students have the option to pursue research in areas that interest them. (Research is of course given greater emphasis at the DNP level.)
<!- mfunc search_btn -> <!- /mfunc search_btn ->
Educational Foundations
A Missouri nurse practitioner must hold an RN license and a Document of Recognition of Advanced Practice Registered Nurse, or APRN, status. A future nurse practitioner will need to complete a graduate program in his or her selected specialty. The program will include theory and practice; the minimum number of clinical practice hours is 500.Nurse practitioner students in Missouri and elsewhere ensure the appropriateness of their programs by selecting ones that are nationally accredited by recognized accrediting agencies.
The program will prepare its graduates to take certifying examinations through an approved third party organization – this is a requirement for APRN recognition in Missouri and in other locations. The Missouri Committee has provided a link to a document by the National Council of State Boards of Nursing which includes a list of examinations by the following organizations: the American Academy of Nurse Practitioners, the American Association of Critical Care Nurses, the American Nurses Credentialing Center, the National Certification Corporation, and the Pediatric Nursing Certification Board (https://pr.mo.gov/nursing-advanced-practice-nurse.asp). A few examinations noted on the list have since been retired, but the organizations continue to certify nurse practitioners.
Programs are distinguished by their population focus. Usually this is a broad demographic group. The Missouri Board has provided data about major categories of nurse practitioner. Family Nurse Practitioner was by far the largest category with a count of 4,754. Adult NP was next with 1,311. Pediatric NP came to a count of 733, Women's Health NP, 269, Acute Care NP, 349, and Neonatal NP, 268. (Adult NP, notably, is a category where third party organizations no longer issue new certifications. Nor do they issue them in gerontology; the new certification is in adult-gerontology.)
After graduation and credentialing, Missouri nurse practitioners practice under collaboration agreements with physicians. Missouri requires nurse practitioners to work on-site with their collaborating physician for a month.
Missouri nurse practitioners can attain prescriptive authority for controlled substances if they provide evidence of having had a pharmacology course that included the required content and preceptorship (or qualifying alternative education).
(Additional Details: Nurse Practitioner requirements in Missouri)
Urban and Rural Practice
According to a recent report, "Missouri's Nursing Workforce: 2015", urban areas had an APRN to resident ratio of 1:991, rural areas, only 1:1,249.
The Office of Primary Care and Rural Health, however, noted an overall uptick in the number of nurse practitioners and characterized it as a positive for the state's underserved; this uptick represents increasing recognition of NPs' capacity to act as primary care providers.
Nurse practitioners can indeed be part of the solution for rural healthcare. Organizations in the state are working to lessen obstacles. St. Louis Public Radio ran a story about the opportunities and obstacles of using nurse practitioners to offset physician shortage and healthcare disparity. The article spotlighted a clinic in Ozark County that uses a nurse practitioner to deliver care; the owner had to get past some major hurdles to place it there in the rural community where it was so needed (http://news.stlpublicradio.org/post/doctor-shortage-rural-missouri-are-advanced-practice-nurses-solution#stream/0). Fortunately, the owner was able was able to get a family friend to "come out of retirement" to be the required physician collaborator.
At the time the story ran, Missouri had a requirement that the physician be within 30 miles or 50 miles, depending on the status of the clinic. The new rule makes the maximum distance 75 miles; this is an emergency rule that went into effect immediately but will need further action to prevent expiry. Stakeholders continue to press for an easing of restrictions.
APRN Salary in Missouri and Market Conditions
Missouri nurse practitioners earned an average of $46.39 an hour ($96,490 a year for 52 40-hour weeks). The highest salaries in the state were reported in the Southeastern nonmetropolitan area, an area of high need.
There are organizations throughout the state seeking to hire nurse practitioners. A 2017 Missouri Hospital Association report looked specifically at those employed in hospital settings. The MHA found more than an 11% vacancy rate among nurse practitioners. Nurse practitioners rounded out the top ten list for hospital vacancies. Turnover rates, though, were lower than many other positions, indicating less job shopping.
Joplin has one of the highest job concentrations in the nation, though salaries lag slightly below the state average. For sheer numbers, there are the St. Louis and Kansas City areas.
The Missouri Primary Care Association has resources for healthcare professionals and healthcare organizations alike (https://www.mo-pca.org/recruitment-workforce-development).
<!- mfunc search_btn -> <!- /mfunc search_btn ->
Find Nursing Licensure Requirements in Your State: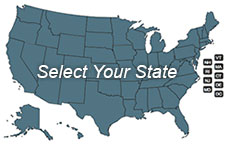 Learn about becoming a Registered Nurse, LPN or LVN in your state:
To View Full U.S. Map Click Here.