Advanced Practice Registered Nurse Requirements in Missouri
Missouri's Advanced Practice Registered Nurses are licensed as RNs and recognized as APRNs; the qualifying document is called a Document of Recognition. Nurses may be licensed in Mississippi or in another state that is party to the Nurse Licensure Compact, provided that the other state is their primary state of residence. APRN recognition, however, is state-specific.
APRNs are recognized based on national advanced practice certification. The certification is specific to the APRN's population focus. In order to be approved as a certification candidate, the graduate must meet educational requirements set by the certification agency.
A nurse may be granted temporary recognition after completion of an advanced nursing program (Nurse Practitioner programs in Missouri). By current definition, an advanced nursing program is a graduate program in an APRN specialty area that includes 500 hours of supervised clinical practice.
<!- mfunc feat_school ->
Featured Programs:
Sponsored School(s)
<!- /mfunc feat_school ->
The Missouri Board recognizes four APRN categories: nurse anesthetist, nurse midwife, nurse practitioner, and clinical nurse specialist. Nurse practitioners and clinical nurse specialists have 'specialty areas', for example, women's health or acute care; the specialty may be as broad as family practice.
Select a Missouri Advanced Practice Registered Nurse Topic:
APRN Certification Requirements and Options
All candidates for initial APRN recognition are required to pursue certification through approved national organizations. There are multiple certification organizations representing different categories and specialty areas.
Nurse anesthetists pursue certification through the National Board of Certification & Re-certification for Nurse Anesthetists. Nurse midwives pursue certification through the American Midwifery Certification Board.
Clinical nurse specialists pursue certification through the American Association of Critical-Care Nurses or the American Nurses Credentialing Center; the American Nurses Credentialing Center offers multiple CNS certifications, some focused primarily on physical health, others on psychiatric/ mental health.
Nurse practitioners may pursue certification through any of five organizations depending on area of specialization. Neonatal and women's health nurse practitioners are certified by the National Certification Corporation. Psychiatric and mental health nurse practitioners are certified by the American Nurses Credentialing Center. Family, adult, and adult-gerontological nurse practitioners may hold certification through the American Academy of Nurse Practitioners or the American Nurses Credentialing Center. Pediatric nurse practitioners may seek certification by the Pediatric Nursing Certification Board or the American Nurses Credentialing Center. Acute care nurses may hold certification through the American Association of Critical-Care Nurses, the American Nurses Credentialing Center, or the Pediatric Nursing Certification Board (depending on the populations with which they have expertise).
The Missouri Board has provided a document entitled Nationally Recognized Certifying Bodies Acceptable to the Missouri Board (http://pr.mo.gov/nursing-advanced-practice-nurse.asp). The document is national in scope and was prepared by the National Council of State Boards of Nursing. Candidates should be aware that there are periodic changes in certification availability.
Temporary Recognition
A new graduate may be authorized to practice for up to four months pending certification; the date is figured from the date of graduation. The individual must be a current RN. He or she is expected to take the first available certification examination and to notify the Board promptly of examination results. The graduate must submit an application; nurses are not allowed to work in advanced practice roles without recognition.
The APRN Application Process
APRN application materials can be downloaded from the Board website (http://pr.mo.gov/nursing-licensure.asp).
The applicant will provide a copy of his or her certification and sign a form authorizing communication between the certification agency and the Missouri Board.
Applicants with "yes" answers to screening questions are required to provide notarized statements of explanation.
Nurses who have ever practiced in any recognized advanced practice category are required to provide notarized statements about their practice.
The application itself requires notarization. There is a nonrefundable $150 fee.
Applicants may call 573-751-0073 for assistance with the submission process.
A new APRN can verify his or her Document of Recognition online. The Missouri Board does not issue paper credentials.
<!- mfunc search_btn -> <!- /mfunc search_btn ->
Controlled Substance Prescriptive Authority
Mississippi has set additional requirements for advanced practice nurses who prescribe controlled substances. The APRN must be able to document education and training in pharmacology. An APRN can meet the education requirement through pharmacology coursework that was integrated into the advanced practice program. The Missouri Board can instead accept a recent three semester hour advanced pharmacology course offered by an accredited school or 45 hours of recent continuing education.
The student must also have 300 hours of preceptorship. Preceptorship is to include training with medicines, drugs, and therapeutic devices. Eventually, the advanced practitioner will enter into a collaborative agreement with a physician who has an unrestricted DEA number and who is engaged in similar practice.
An advanced practice nurse cannot apply for prescriptive authority until he or she has 1,000 hours of experience (http://www.moga.mo.gov/mostatutes/stathtml/33500000191.html).
Required documents are available from the Board of Nursing (http://pr.mo.gov/nursing-advanced-practice-controlled.asp).
Maintaining APRN Status
The APRN will need to maintain both RN licensure and national certification status.
Currently, nationally certified APRNs are not required to submit advanced practice renewal applications to the Missouri Board. They do, however, need to renew their qualifying RN licenses. They also need to recertify with their certification agency and have verification sent to the Board. (The Board asks that APRNs recertify several months in advance of their expiration dates in order to allow time for communication.)
Certification agencies set continuing competency requirements. Nurses may visit the websites of individual certifying agencies to view the candidate handbooks.
APRNs who received their initial Missouri recognition prior to 2010 may not have pursued national certification. They will continue to present evidence of continuing education and APRN practice directly to the Missouri Board at required intervals.
Additional Information
The Missouri Board of Nursing (http://pr.mo.gov/nursing.asp) can be reached by telephone at 573-751-0681 or by email at 'nursing at pr.mo.gov'.
The following professional associations serve as additional resources:
Missouri Association of Nurse Anesthetists http://moana.org/
Missouri Nurses Association http://www.missourinurses.org/
Find Nursing Licensure Requirements in Your State: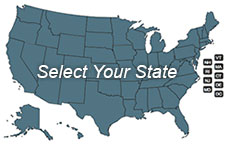 Learn about becoming a Registered Nurse, LPN or LVN in your state:
To View Full U.S. Map Click Here.