Nurse Practitioner Programs in Nebraska
Nebraska nurse practitioners are in the business of preventing and treating illness. They can order diagnostic tests and write prescriptions for medications and therapies.
Nurse practitioners hold third party certifications appropriate to their education, and these determine in part what duties they carry out. They are expected to maintain collaborative and referral networks. Many nurse practitioners are generalists; family nurse practitioner is a very common designation. Some NPs, though, have more specialized foci. Psychiatric/mental health nurse practitioners can (among many other duties) manage care for patients who have been committed to institutional settings.
<!- mfunc feat_school ->
Featured Programs:
Sponsored School(s)
<!- /mfunc feat_school ->
Nebraska nurse practitioners no longer need to maintain a practice agreement with a physician after the initial transition to practice period. This can make it easier to practice in rural and underserved areas (if that's what one desires). Scope of practice plays some role in determining typical work setting.
Nurse practitioners, though, make very different decisions about where to work. Nebraska's are in rural and non-rural settings, in hospitals as well as ambulatory care settings.
Nurse Practitioner Programs in Nebraska
#1: Creighton University offers the chance to earn credentials in any of a number of specialty areas – and a DNP to boot. One can seek an optional cardiology or oncology sub-specialization.
#2: The University of Nebraska Medical Center boasts a hospital partner that is a magnet; it has many other clinical partnerships located around Nebraska and receives considerable grant funding. UNMC offers multiple tracks at the MSN level.
#3: Clarkson College offers two of the more common specialties, family practice and adult-gerontology care, in an online format. Although taught at the master's level, the ACEN-accredited Clarkson program has a healthy focus on research. Students can expect to write a journal article. They will also complete a poster presentation based on their clinical experience.
#4: Nebraska Methodist College offers CCNE-accredited online adult-gerontology and family nurse practitioner options.
<!- mfunc search_btn -> <!- /mfunc search_btn ->
Educational Foundations
A nurse who wishes to advance to the nurse practitioner level will complete an accredited graduate program. The student will need a master's degree or doctoral degree, though some programs, designed for nurses who already hold master degrees, are taught at the post-master certificate level.
State code mandates that programs include biological, health, and behavioral sciences that are specifically related to the clinical area in which the NP will be practicing. State code further mandates that the program include discrete courses in pharmacology, assessment, and physiology; this has also been noted in the standards of the Commission on Collegiate Nursing Education (CCNE).
The CCNE and ACEN accrediting agencies ensure that the curriculum meets nationally recognized standards; these standards are set by professional agencies not governmental ones, but there is a good deal of consensus.
Nurse practitioner programs are often online or hybrid but do include a minimum of 500 clinical practice hours. Programs classified as online use distance means as the primary delivery means, but students may need to come to campus occasionally. Nebraska nurse practitioner students are not limited to Nebraska programs. It is possible to do one's program through an out-of-state university and still complete clinical experiences in Nebraska. Sometimes this means doing quite a bit of 'legwork' with regard to securing one's preceptorships. A perspective student will want to check the state authorization or program availability list.
Nebraska boasts three CCNE-accredited nurse practitioner programs. The state also has one nurse practitioner program accredited by the ACEN. A variety of tracks are offered at both the master's (MSN) and doctoral (DNP) levels. There are two in-state options to complete combined pediatric primary care/ pediatric acute care degrees. There is one in-state neonatal nurse practitioner option, at the DNP level. (Many states have none.)
MSN programs often require fewer than 50 semester hours beyond the bachelor's; the DNP option will likely mean 70 or more. Some programs are significantly longer. It's an individual decision whether one wants more than just the basics (i.e. the core master's and advanced practice nursing courses and the courses in managing healthcare needs for the target population). Many health organizations, though, have called for the DNP to become the standard in a time of burgeoning healthcare complexity. The more scholarship-driven programs can inform clinical care and also affect health on a population level. Doctoral level nurse practitioners are prepared to impact patient care and health promotion practices, making them more evidence-based. They can make contributions that allow organizations to improve healthcare access and deliver quality care under various constraints, including monetary ones.
Nurse practitioners do have the option of completing a DNP at a later stage – through a different school if they choose – though the commitment may be longer. DNP programs can emphasize a wide variety of nursing competencies.
Nebraska has become something of a model state, one of several that has, in the past several years, seen legislative gains for nurse practitioners. These gains have come at a time when the landscape is shifting but more slowly in some regions than others, with many SOP bills still failing to make it through. Nebraska leaders used their scientific knowledge: defining research-related terms and moving discussion from a side-by-side comparison of NP vs physician education requirements to a scientifically sound, evidenced-based comparison of outcomes (https://campaignforaction.org/wp-content/uploads/2016/07/Lessons-Learned-Gaining-Full-Practice-Authority-in-Nebraska.pdf).
Education is followed by formal transition to practice. A newly educated Nebraska nurse practitioner will accrue 2,000 hours of experience under a transition to practice agreement with a physician.
(Additional Details: Nurse Practitioner requirements in Nebraska)
Salary and Career Outlook
According to a 2017 supply and demand report, statewide APRN shortages expected through 2025. The following regions were expected to be particularly hard hit: Northeast, Central, Omaha, and Lincoln.
Underserved communities remain a focus of attention. The Nebraska Panhandle Area Health Education Center has been working for some years to train nurse practitioners for underserved areas. The University of Nebraska Medical Center recently received a grant for this purpose.
Nebraska nurse practitioners earned an average $48.04 an hour in 2017 ($99,930 for those working 40-hour weeks year-round).
<!- mfunc search_btn -> <!- /mfunc search_btn ->
Find Nursing Licensure Requirements in Your State: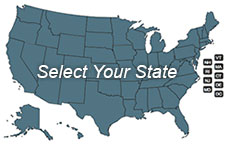 Learn about becoming a Registered Nurse, LPN or LVN in your state:
To View Full U.S. Map Click Here.