Advanced Practice Registered Nurse Requirements in Nebraska
Nebraska's Advanced Practice Registered Nurses are under the jurisdiction of the Nebraska Department of Health and Human Services.
Nebraska recognizes four advanced practice roles:
Nurse Practitioner (APRN-NP)
Clinical Nurse Specialist (APRN-CNS)
Certified Nurse Midwife (APRN-CNM)
Certified Registered Nurse Anesthetist (APRN-CRNA)
An APRN must hold an RN license; the Nebraska Board can accept either a Nebraska license or a multi-state license issued by another member of the Nurse Licensure Compact.
In most cases, an APRN must have met two post-RN requirements: 1) graduation-level nursing education (Nurse Practitioner programs in Nebraska) and 2) national certification in a specialty. There are some exceptions, based on date of program completion and/or area of specialty.
<!- mfunc feat_school ->
Featured Programs:
Sponsored School(s)
<!- /mfunc feat_school ->
APRNs may have additional requirements, based on license category.
Select a Nebraska Advanced Practice Registered Nurse Topic:
APRN-CNS Requirements
A prospective clinical nurse specialist may complete a master's or doctoral degree in a nursing specialty. A professional who already has a master's degree in nursing may instead complete a post-master certificate program designed as preparation for the clinical nurse specialist role.
The prospective APRN-CNS will go through an examination-based national certification process and then maintain certification through the certifying organization.
An APRN-CNS may hold certification through the American Nurses Credentialing Center, the American Association of Critical-Care Nurses, or the Oncology Nursing Certification Corporation. The accepted ONCC certification is the Advanced Oncology CNS examination; the ANCC and AACN both offer multiple approved certification options. Certification availability changes periodically. Current offerings are listed in the application packet.
The Board may allow alternate demonstration of competency if there is no suitable certification available. The nurse is directed to call 402-471-2666.
APRN-NP Requirements
The prospective APRN-NP will complete a program that culminates in a degree at at least the master's level. The program is to include 30 contact hours of pharmacotherapeutics coursework and 500 hours of clinical practice.
The APRN-NP will be certified by one of the following organizations: the American Academy of Nurse Practitioners, the American Nurses Credentialing Center, the National Certification Corporation for Obstetric, Gynecologic and Neonatal Nursing Specialties or the Pediatric Nursing Certification Board.
New graduates may be issued temporary permits; this will allow them to begin work while waiting to take the national certification exam.
The APRN-NP will need a supervising provider for his or her 2,000 hours of practice. In a sense, this is a new licensing requirement. In another sense, this is not a new requirement. Prior to the effective date, NPs carried out their healthcare provision under ongoing practice agreements with collaborating physicians.
Under new laws, the beginning practitioner will have a supervising provider; this may be a physician or an experienced nurse practitioner. The new professional will submit a transition to practice agreement (http://dhhs.ne.gov/publichealth/pages/crlNursingAppsReqsPracticeInfoFeesAPRN.aspx).
An APRN-NP must hold professional liability insurance.
Neonatal or women's health APRNs who graduated before July 1, 2007 will not necessarily have degrees at the graduate level. APRN-NPs in other specialty areas who graduated before July 19, 1996 may not have degrees at the graduate level.
<!- mfunc search_btn -> <!- /mfunc search_btn ->
APRN-CRNA Requirements
A nurse anesthetist is to pursue a program accredited by the Council on Accreditation of Nurse Anesthesia and Education Programs.
According to the Nurse Anesthetist Practice Act, a CRNA must hold certification through the Council on Certification of Nurse Anesthetists; the organization is now the National Board of Certification and Recertification for Nurse Anesthetists.
An individual who does not yet hold this certification may begin work under a temporary permit. A graduate who seeks temporary authorization will be required to file an application and pay the credentialing fee.
APRN-CNM Requirements
Prospective nurse midwifes must complete programs accredited by the American College of Nurse Midwives. They will then seek certification through the American Midwifery Certification Board (AMCB).*
The AMCB was formerly known as the ACNM Certification Council, Inc. and is referenced as such in Nebraska code.
Graduate nurse midwives are eligible for temporary authorization.
An advanced practice nurse loses the ability to work under temporary authorization if he or she fails an examination attempt.
The APRN Application Process
The Board has provided separate application documents for the different categories of advanced practice. Application forms can be accessed from the information pages (http://dhhs.ne.gov/publichealth/pages/crlNursingAppsReqsPracticeInfoFeesAPRN.aspx):
APRN-NP
APRN-CNS
APRN-CNM
APRN-CRNA
Some supplemental documentation will be required.
The applicant will request official transcripts.
The licensing agency will seek evidence of examination and current national certification.
The applicant must also document citizenship or legal presence.
Fees will vary depending on the stage in the renewal cycle.
Out-of-State APRNs
Out-of-state advanced practice nurses who are not recent graduates will be expected to provide evidence of current licensure and of practice during the most recent five-year period.
Educational requirements may vary, depending on date of graduation.
The out-of-state applicant will be required to hold national certification.
He or she will submit verification from the original state of licensure.
A temporary permit may allow a current out-of-state licensee to begin work sooner.
An individual may also be granted a temporary permit for the purpose of completing a re-entry program.
Renewal Requirements
APRN licenses are renewed every two years. The APRN must demonstrate current certification and (unless he or she is a relatively recent graduate) active practice. Some APRNs will have additional requirements. An APRN-NP is to demonstrate 40 hours of continuing education, with 10 in pharmacotherapeutics.
An individual who does not meet practice requirements for renewal may enroll in a re-entry program. There may be other options, dependent on APRN role.
Additional Information
The Board of Advanced Practice Nursing is under the banner of Nebraska Health and Human Services. The Health Licensing Specialist can be reached at (402) 471-4376.
State professional organizations include the following:
Nebraska Nurse Practitioners http://nebraskanp.com/
Nebraska Association of Nurse Anesthetists http://www.neana.org/
Nebraska Neonatal Advanced Practice Association http://www.nebraskannp.org/
<!- mfunc search_btn -> <!- /mfunc search_btn ->
Find Nursing Licensure Requirements in Your State: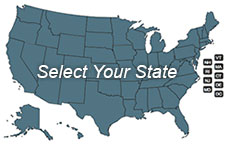 Learn about becoming a Registered Nurse, LPN or LVN in your state:
To View Full U.S. Map Click Here.