Nurse Practitioner Programs in New Mexico
New Mexico's nurse practitioners have a scope of practice far beyond that of most registered nurses. They may provide primary, acute, long-term, or primary care. It's largely the NP role as primary care provider that makes the discipline invaluable in a time of healthcare shortage. Among the things nurse practitioners can do: seek prescriptive authority.
A nurse who seeks nurse practitioner status will need to complete a graduate program and seek national certification. The program must be offered by an accredited institution. Nursing accreditation goes a long way toward ensuring certification examination eligibility.
<!- mfunc feat_school ->
Featured Programs:
Sponsored School(s)
<!- /mfunc feat_school ->
The program will prepare the future nurse practitioner for a national certification. Nationally recognized qualifying certifications are fairly broad in scope. Family nurse practitioner is a very common one. Some are tailored toward broad age bands: pediatrics or adult-gerontology. There are options to pursue psychiatric/ mental health or women's health; the latter would, at this time, necessitate enrollment in a program through a school located outside New Mexico. Distance programs enjoy widespread acceptance; the required preceptorships/clinical experiences can sometimes be arranged close to home.
Skill development is ongoing. Nurse practitioners may develop expertise in specialty areas of medical or healthcare practice. One nurse who was recently honored with a State Excellence Award provides primary care to veterans and is also very involved with programs targeting diabetes and related disorders; she holds adjunct certification in advanced diabetes management (https://www.nmnpc.org/page/2018AANPAwards). Her involvement with the New Mexico Nurse Practitioner Council furthered other areas of clinical interest.
Programs are offered at the master's and doctoral levels. New Mexico has two nurse practitioner programs, both accredited by the Commission on Collegiate Nursing Education (CCNE). One state university has transitioned its programs to the doctoral level. One offers nurse practitioner programs at the master's level but also has a DNP program available post-master. Among the topics included in the post-master program at the University of New Mexico: genetics and genomics, applied advanced epidemiology, organizational systems, and etiology and management of complexity within rural settings.
A DNP program includes a scholarly project that may continue across a number of semesters, indeed throughout most of the program. Recent award-winning DNP projects at New Mexico State University have focused on the following, among other topics: implementing trauma-informed staff development and childhood trauma screening on an adult psychiatric unit and creating a health needs assessment for a new Federally-Qualified Health Center (https://schoolofnursing.nmsu.edu/dnp-student-projects). DNP students select topics of interest to them.
(More Details: Nurse Practitioner requirements in New Mexico)
<!- mfunc search_btn -> <!- /mfunc search_btn ->
Nurse Practitioner Programs in New Mexico
#1: New Mexico State University offers a CCNE-accredited online DNP program with the following options: Family Nurse Practitioner and Psychiatric /Mental Health Nurse Practitioner. NMSU also offers these programs as 18-unit certificates to advanced practice nurses who initially pursued a different clinical specialty. Post-master certificate students will need to accrue at least 500 clinical hours in their new practice area.
#2: The University of New Mexico: Here a nurse can earn an MSN in any of four nurse practitioner specialties and then enroll in a clinical DNP track if he or she chooses.
APRN Practice Issues
New Mexico was among five states profiled by Westat in a study of the effects of factors such as scope of practice that influenced nurse practitioner practice (https://aspe.hhs.gov/system/files/pdf/167396/NP_SOP.pdf). The report noted some influx of nurse practitioners from Texas to New Mexico, presumably attracted by the less restrictive SOP. Some national data was analyzed. Two of the take home messages: that there are stakeholders particularly concerned about meeting needs in rural areas, and that skilled nurse practitioners had a lot of choices! States that, like New Mexico, allowed for independent practice that included independent prescribing privileges tended to have a greater percentage of their nurse practitioners in primary care and a greater percentage of them in rural areas. The latter went both ways: working in a rural area often meant that one would have more autonomy.
At the same time, there were factors other than SOP that drew nurse practitioners to urban areas. Those working in specialty settings and inpatient units might serve more as physician extenders. They might still command higher salaries.
Serving those who need it most and living with access to amenities: It's not necessarily an either or. Westat noted that telehealth was more common in New Mexico than in some states.
"The New Mexico Health Care Workforce Committee Report, 2017" noted uneven distribution of nurse practitioners and clinical nurse specialists as well as doctors. Counties with the lowest ratios of nurse practitioners and clinical specialists to people included Sandoval, Valencia, San Juan, McKinley and Otero. Bernalillo, Santa Fe, Eddy, Quay and Taos, by contrast, had relatively high concentration. Together they accounted for more than 60%.
There are actions at the state level to make it more attractive for healthcare professionals such as nurse practitioners to practice in New Mexico (https://nmhealth.org/news/information/2017/7/?view=590). Rural and underserved areas are an area of particular focus. The Westat report noted that loan repayment is a draw for new professionals, but they often did not choose to work in rural areas after their service commitment had been fulfilled.
New Mexico nurse practitioners averaged $52.56 in 2017 ($109,330 for 52 40-hour weeks).
<!- mfunc search_btn -> <!- /mfunc search_btn ->
Find Nursing Licensure Requirements in Your State: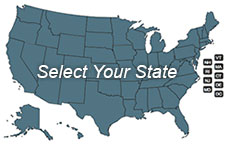 Learn about becoming a Registered Nurse, LPN or LVN in your state:
To View Full U.S. Map Click Here.