Advanced Practice Nurse Requirements in New Mexico
Most of New Mexico's advanced nurses are under the jurisdiction of the New Mexico Board of Nursing. The Board of Nursing recognizes nurse practitioners, nurse anesthetists, and clinical nurse specialists; collectively, they are known as Advanced Practice Registered Nurses, or APRNs. Nurse midwives, meanwhile, are licensed by the New Mexico Department of Health.
In each case, the nurse must first earn an RN license. (An individual can be a midwife without RN licensing, but cannot be a Certified Nurse-Midwife.)
An APRN who resides in another state that is party to the nurse license compact will hold primary RN licensing in the other state.
Advanced practice licensing is based on graduate education and national certification.
<!- mfunc feat_school ->
Featured Programs:
Sponsored School(s)
<!- /mfunc feat_school ->
Select a New Mexico Advanced Practice Registered Nurse Topic:
NP, CRNA, and CNS Educational Requirements
Prospective advanced practice nurses must earn graduate degrees. A CNS program must be offered by an accredited school; it is to be in a defined nursing specialty. An NP graduate program may be offered by a regionally accredited school or by the military; it is to prepare the practitioner to provide primary, chronic, acute, long-term, or end-of-life nursing care (Nurse Practitioner programs in New Mexico).
A nurse anesthetist is to complete a program that is accredited by the Council on Accreditation of Nurse Anesthesia Educational Programs.
NP, CRNA, and CNS Certification Requirements
The advanced practice graduate will need to pursue national certification in his or her practice area. He or she will take an examination through a third party certification agency. There are multiple agencies; selection will depend on specialty. The candidate will need to meet educational prerequisites set by the certification organization. He or she will apply and pay fees directly to the organization.
A CRNA is to be certified by the National Board of Certification and Recertification for Nurse Anesthetists (NBCRNA).
The New Mexico Nurse Practitioner Council, a state professional organization, refers prospective nurse practitioners to the American Nurses Credentialing Center or the American Association of Nurse Practitioners for certification information (http://www.nmnpc.org/?page=8).
Graduates may be issued permits-to-practice by the New Mexico Board pending national certification (http://nmbon.sks.com/rules-regulations.aspx). The permit is issued to the employer; there must be an intent to hire.
Graduates will work under supervision or in collaboration during the time that they hold pre-licensure status.
Examination results are to be released to the Board.
Prior to achieving full credentialing, the nurse will use one of the following titles:
Graduate Nurse Practitioner (GNP)
Graduate Registered Nurse Anesthetist (GRNA)
Graduate Clinical Nurse Specialist (GCNS)
<!- mfunc search_btn -> <!- /mfunc search_btn ->
Out-of-State APRNs
NPs and CRNAs who were originally licensed before January 1, 2001 may be eligible for licensure in New Mexico even if they do not meet the current requirement of holding a degree at the master's level or higher.
The NP certification requirement does not apply to those who were licensed before December 2, 1985.
CRNAs, CNMs, and NPs licensed in other states may be eligible for expedited licensing.
Out-of-state applicants may be eligible for six-month temporary licenses.
Prescriptive Authority
APRNs must have prescriptive authority to prescribe dangerous drugs.
A nurse practitioner or nurse anesthetist will need 400 hours of preceptorship unless he or she has already completed 400 hours of experience that included prescribing. Preceptorship can be completed under a letter of authorization. An individual who has not met this requirement will need a preceptor plan.
A clinical nurse specialist will need to verify advanced coursework in assessment, pathophysiology, and pharmacology in addition to work experience or university-supervised preceptorship. The licensing agency can accept 45 hours of continuing education in lieu of academic coursework in pharmacology. A clinical nurse specialist who does not have 400 hours of verifiable experience may be authorized for preceptorship after completion of qualifying coursework. Clinical nurse specialists who do not have work experience in a prescriptive capacity are required to have recent coursework in pharmacology.
Some advanced practice nurses will need controlled substances registration and DEA numbers.
The Application Process
Applications for initial APRN licensure are available on the BON website (http://nmbon.sks.com/advanced-practice-registered-nurse.aspx). There are separate packets for each of the three APRN roles.
The application package includes an educational verification form to be completed and submitted by the program.
The Board will require primary source verification of national certification.
The application fee is $100.
An out-of-state applicant who wishes to begin work under a temporary license will pay $160.
APRN Renewal
APRN licenses are typically renewed every two years. If the APRN holds RN licensing in another state, the New Mexico Board will issue an APRN license with the same renewal date.
The APRN must maintain national certification and complete continuing education. CRNAs will meet continuing education requirements set be their certifying agency. Clinical nurse specialists and nurse practitioners who are licensed as RNs in New Mexico as well as compact states other than New Mexico will also need to meet CE requirements:
NPs with DEA must have:
30 contact hours for RN licensure
5 contact hours related to the NP's practice
5 contact hours of non-cancer pain management (NOT AS PART OF THE PHARMACOLOGY REQUIREMENT)
10 contact hours in pharmacology related to the NP's practice
NPs without DEA must have:
30 contact hours for RN licensure
10 contact hours related to the NP's practice
10 contact hours in pharmacology related to the NP's practice
CNM Licensing Requirements and Application Process
According to New Mexico Administrative Code, a nurse midwife must be certified by the American College of Nurse Midwives or its designee; the certification council is now known as the American Midwifery Certification Board (AMCB). In order to be certified by the AMCB, the nurse midwife will need to meet educational prerequisites. The AMCB now requires nurse midwife candidates to earn graduate degrees and complete programs that hold accreditation by (or are seeking accreditation by) the Accreditation Commission for Midwifery Education (ACME).
Prospective nurse midwives can download application forms from the Department of Health website (http://nmhealth.org/about/phd/fhb/mwp/). The application form requires notarization. It is to be submitted with a $200 fee and a copy of the qualifying national certification.
Nurse-midwives have continuing education and quality management requirements.
Additional Information
Information about New Mexico nurse practitioner, clinical nurse specialist, and nurse anesthetist licensing is available from the New Mexico Board of Nursing (http://nmbon.sks.com). The Board can be reached by telephone at (505) 841-8340 or by email at 'boardofnursing at state.nm.us'.
Information about nurse midwife licensure is available from the New Mexico Department of Health (http://nmhealth.org/about/phd/fhb/mwp). Representatives are available at (505) 476-8907 and (505) 476-8866.
State professional associations include the New Mexico Nurse Practitioner Council (http://www.nmnpc.org) and the New Mexico Association of Nurse Anesthetists (http://www.nmana.org).
<!- mfunc search_btn -> <!- /mfunc search_btn ->
Find Nursing Licensure Requirements in Your State: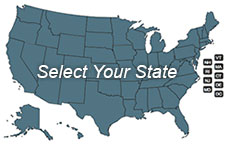 Learn about becoming a Registered Nurse, LPN or LVN in your state:
To View Full U.S. Map Click Here.