Nurse Practitioner Programs in Oregon
Oregon puts a lot of confidence in its nurse practitioners — and a lot of hope that their services will improve healthcare access. Oregon nurse practitioners have independent practice authority; this includes the authority to write prescriptions. The nurse practitioner role can involve a broad array of health management services: assessment and diagnosis, health promotion and preventative services, treatment, and, when necessary, admission to institutional settings and/ or referral to specialists.
Nurse practitioner is considered a type of Advanced Practice Registered Nurse. A nurse practitioner's scope of practice is determined by population focus. Oregon recognizes the following: Adult — Gerontology Acute Care Nurse Practitioner (AGACNP), Adult — Gerontology Primary Care Nurse Practitioner (AGPCNP), Family Nurse Practitioner (FNP), Neonatal Nurse Practitioner (NNP), Pediatric Nurse Practitioner Primary Care (PNP-PC), Pediatric Nurse Practitioner Acute Care (PNP-AC), Psychiatric/Mental Health Nurse Practitioner (PMHNP), and Women's Health Care Nurse Practitioner (WHCNP). Also recognized is the Nurse Midwife Nurse Practitioner (NMNP) designation. (Many states consider this a separate category of advanced practice nurse.)
<!- mfunc feat_school ->
Featured Programs:
Sponsored School(s)
<!- /mfunc feat_school ->
A 2016 workforce report included information about population focus or specialty. At 26.5%, family practice was the most common reported specialty, though it didn't predominate to the extent it does in some states. Psychiatry/ mental health was reported by a sizeable 14.7%. This was followed by obstetrics/gynecology/ women's health at 14.3%, pediatrics at 5.3%, and emergency and urgent care at 5.1%.
The Board notes that individual healthcare organizations may set a scope more restrictive than the one allowed at the state level. They may require more in the way of supervision. There are still a lot of options available to skilled NPs!
Nurse Practitioner Programs in Oregon
#1: Oregon Health & Science University, ranked #32 on the US News and World Report's list of best DNP programs, offers Oregon nurses plenty of choices. The family nurse practitioner, adult-gerontology acute care nurse practitioner, pediatric nurse practitioner, and psychiatric/ mental health nurse practitioner are available at the master's and doctoral levels.
#2: The University of Portland is ranked #44 out of all DNP programs in the nation. University of Portland students have the opportunity to earn a DNP in conjunction with a family nurse practitioner education.
<!- mfunc search_btn -> <!- /mfunc search_btn ->
Nurse Practitioner Educational Standards
Nurse practitioner education takes place at the master's level or higher. The program is to be accredited by a nursing accrediting agency. Oregon has two schools with nurse practitioner programs. Both are accredited by the Commission on Collegiate Nursing Education. This is the most common accrediting agency for nurse practitioner programs around the country. (The Accrediting Commission for Education in Nursing, or ACEN, is the main accrediting agency for nursing programs below the bachelor's level but is a distant second for NP.)
Oregon students can enroll in online programs located in other states and complete required preceptorship hours in Oregon. Oregon does exert a level of regulatory control over clinical placements (https://www.oregon.gov/OSBN/Pages/students_preceptors.aspx). The Board has provided a list that includes 31 APRN programs. It may not be inclusive of all options. Students are asked to verify status with programs they are considering.
The Oregon State Board of Nursing noted that while the Doctor of Nursing Practice (DNP) is the educational level recommended by multiple organizations, it's not a requirement. A number of programs have transitioned, but the process likely will not be complete for a number of years. One Oregon school has transitioned to the DNP level. The other has both master's and doctoral options. (It's the latter that has the largest selection of population foci/ specialties.)
(More Details: Nurse Practitioner requirements in Oregon)
Oregon APRN Work Settings
Setting is among the factors that can contribute to making one nurse practitioner's career very different from the next. The Oregon Center for Nursing notes that on the one hand, nurse practitioners are crucial to primary health. On the other hand, they're actually found in greater numbers in specialty settings.
Geography plays an important role in determining the types of positions that are available. It's the urban regions where the big medical centers and specialty practices tend to concentrate. Nurse practitioners can be a lifeline, though, in rural areas. Among the possible work settings is the rural health clinic. (A nurse practitioner in a remote clinic doesn't quite have to be a jack of all trades, but may need to serve as the primary point of patient contact.)
The greater Portland area has the most nurse practitioners; it's the Grants Pass and Medford areas, though, that have the highest job concentration, according to the Bureau of Labor Statistics. A 2016 workforce analysis by the Oregon Health Authority, Office of Analytics found county-by-county NP population to provider ratios ranging from 1,228 to 8,898; one county had none (https://www.oregon.gov/oha/HPA/ANALYTICS/HealthCareWorkforceReporting/4_Nursing_Wkfc_2016.pdf).
The job a nurse practitioner chooses straight out of college may not be the same one he or she will opt for a few years down the road. The Oregon Center for Nursing provided insight on 'churn' (a term which encompasses moving from one practice area to another or one geographic area to another). Significant numbers of nurse practitioners moved from emergency or urgent care to family practice, internal medicine, or occupational health (http://oregoncenterfornursing.org/reports/). It wasn't uncommon for family nurse practitioners to move into areas such as internal medicine or urgent or emergency care. The Portland metro area, high on nurse practitioners, was low on churn. The Southwest part of the state was also low on churn.
The Office of Analytics included detailed information about the NP workforce in its 2016 nursing workforce report. Nearly half (48.4%) of Oregon's nurse practitioners reported being employed in offices and clinic settings. The next most common settings were hospitals (reported by 14.3%) and primary care (reported by 11.2%). Also relatively common were public/ community health settings (4.7%) and school/ community-based ones (2.6%).
Nurse Practitioner Salary in Oregon
The Bureau of Labor Statistics reported a 2017 average of $54.27 an hour for Oregon nurse practitioners ($112,870 for a full year at 40 hours a week). According to Oregon's Office of Analytics, more than half of the state's nurse practitioners do work 40 or more hours a week. A substantial minority work 21 to 39 hours.
<!- mfunc search_btn -> <!- /mfunc search_btn ->
Find Nursing Licensure Requirements in Your State: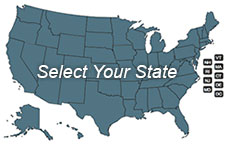 Learn about becoming a Registered Nurse, LPN or LVN in your state:
To View Full U.S. Map Click Here.