Advanced Practice Registered Nurse Requirements in Oregon
Oregon's advanced practice nurses are certified by the Oregon State Board of Nursing (OSBN). Oregon certifies nurses in all four nationally recognized advanced practice specialties. However, nurse midwives are certified as nurse practitioners. Nurse anesthetists (CRNA) and clinical nurse specialists are certified separately. Nurse practitioner is by far the most common advanced practice role; the state boasts 3,399 nurse practitioners, 634 nurse anesthetists, and 200 clinical nurse specialists.
Oregon's advanced practice nurses hold RN licensure as well as certification in their particular advanced practice role. Requirements vary from role to role. Formal education is a requirement in all instances. A nurse who is not yet licensed as an RN in Oregon will apply for an RN endorsement license.
Although Oregon does not guarantee advanced practice certification to out-of-state licensees, long-term practitioners are not held to identical standards; educational requirements are based on the date of program completion.
<!- mfunc feat_school ->
Featured Programs:
Sponsored School(s)
<!- /mfunc feat_school ->
Select an Oregon Advanced Practice Registered Nurse Topic:
Nurse Practitioner Certification Requirements in Oregon
Nurse practitioners must earn degrees at the master's or doctoral level (https://secure.sos.state.or.us/oard/displayDivisionRules.action?selectedDivision=3933). They must complete programs that are geared toward their intended role and population focus. It is acceptable for the program to be completed before or after the qualifying degree (Nurse Practitioner programs in Oregon).
Individuals who completed programs prior to 1986 will not need to demonstrate a master's degree. They will, however, need to demonstrate completion of programs that meet standards found in Oregon Administrative Rule 851-050-0001. Anyone who graduated in 1981 or later will need to demonstrate a degree at at least the bachelor's level. The qualifying specialty program, moreover, cannot be part of the bachelor's program.
All nurse practitioners must meet requirements for prescriptive authority.
Oregon requires new graduates to demonstrate 384 practice hours at the RN level; this requirement cannot be met through required clinical hours completed as part of a nursing program.
National certification is mandatory. Nurse practitioners may pursue various certifications depending on population focus. Certification agencies are approved based on standards described in 851-050-0008 of state rule. The certification agency is to mandate a graduate degree and 500 clinical practice hours. The examination is to meet standards set by the National Commission on Certifying Agencies or the American Board of Nursing Specialties.
Oregon recognizes the following specialties:
Family
Adult*
Adult-Gerontology Primary Care
Adult-Gerontology Acute Care
Pediatric
Pediatric Primary Care
Pediatric Acute Care
Neonatal
Geriatric*
Women's Health
Psychiatric/ Mental Health
Acute Care*
Nurse Midwife
*These three specialties are based on recently retired examinations.
A nurse practitioner must meet a work experience requirement unless he or she is a recent graduate. The Board may accept 192 hours earned in two years or 960 hours earned in five. An individual who does not meet this requirement may be granted preceptorship.
<!- mfunc search_btn -> <!- /mfunc search_btn ->
Clinical Nurse Specialist Requirements
A prospective clinical nurse specialist will complete a graduate degree or post-master certificate program that includes a clinical concentration. The program is to include theory that is specific to the CNS role.
A clinical nurse specialist who is not a recent graduate is expected to demonstrate recent work experience.
Oregon clinical nurse specialists are not mandated to hold national certification. However, the Board recognizes certification. If the clinical nurse specialist pursues certification and arranges to have verification sent to the Board, the online license verification report will show certification.
There are multiple organizations that certify clinical nurse specialists.
A CNS may seek optional prescriptive authority. It is not mandatory.
Nurse Anesthetist Requirements
A prospective Oregon CRNA must graduate from an accredited nurse anesthesia program (https://secure.sos.state.or.us/oard/displayDivisionRules.action?selectedDivision=3935). Current students must earn degrees at at least the master's level. The master's requirement does not apply to those who graduated from approved programs before January 1, 2001.
The nurse anesthetist will need to obtain national certification. However, he or she may be allowed to practice for a limited time as a Graduate Nurse Anesthetist; the limited license is valid for a maximum of nine months past graduation.
The application lists one certification agency: the National Board of Certification and Recertification for Nurse Anesthetists.
An applicant who is not a recent graduate (prior two years) is expected to have practiced 850 hours during the previous two years. An individual who does not meet the practice requirement can apply for a credential that authorizes work under supervision. He or she will need a supervision plan.
Nurse anesthetists may apply for prescriptive authority.
Additional Requirements for Prescriptive Authority
To qualify for prescriptive authority, an advanced practice nurse must demonstrate one course in each of the following:
Pathophysiology
Physical assessment
Pharmacological content
Integrated coursework in pathophysiology and physical assessment is adequate only if the coursework was completed prior to 1996.
Applicants for prescriptive authority will need applicable experience unless they graduated in the prior two years.
The Application Process
Application forms can be downloaded from the OSBN website (http://www.oregon.gov/OSBN/Pages/forms.aspx). There are separate application packets for each of the three categories: nurse practitioner, nurse anesthetist, and clinical nurse specialist; nurse midwives will use the nurse practitioner application.
Advanced nursing applicants will need to have background checks unless they received their RN license within the prior six months.
Official transcripts may be requested from the school or mailed in original sealed envelopes.
In cases where national certification is mandated, the Board requires official verification; this is to be sent directly from the certifying agency.
An applicant who answers "yes" to questions on the disclosure section will need to provide explanatory materials.
All categories pay $150 for initial state certification and $75 for prescriptive authority (if needed). A nurse practitioner is required to pay the $225 for both credentials.
Individuals applying for prescriptive authority must attest to having read the handbook of regulations.
Applications are to be sent to the State Board of Nursing in Portland.
Individuals who have questions about application submission may call the Board.
International Applicants
International nurse practitioners may be licensed in Oregon if their education is professionally evaluated and found to be equivalent. The evaluator must determine that education equates to at least a U.S. master's degree.
APRN Certification Renewal
Renewal is biennial. RN and APRN renewal are due at the same time. The nurse may use a single form to renew multiple credentials.
Additional information
Information about advanced practice credentialing is available from the Oregon State Board of Nursing (http://www.oregon.gov/OSBN). The customer service center can be reached at 971-673-0685.
Oregon has multiple advanced practice professional associations:
Nurse Practitioners of Oregon http://www.nursepractitionersoforegon.org/
Oregon Affiliate of the American College of Nurse Midwives http://www.oregonmidwives.org/
Oregon Council of Clinical Nurse Specialists http://www.oregonrn.org/?45
Oregon Association of Nurse Anesthetists https://www.oregon-crna.org/site/
<!- mfunc search_btn -> <!- /mfunc search_btn ->
Find Nursing Licensure Requirements in Your State: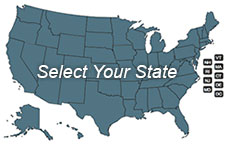 Learn about becoming a Registered Nurse, LPN or LVN in your state:
To View Full U.S. Map Click Here.