Nurse Practitioner Programs in Tennessee
Tennessee nurse practitioners have a history that goes back 48 years. There have been gains across the years and also challenges. At the present time, Tennessee nurse practitioners are recognized as primary care providers, but work under physician oversight.
Tennessee nurse practitioners receive a certificate of fitness that allows for prescriptive privilege. They practice in a wide variety of primary care and specialty care settings.
<!- mfunc feat_school ->
Featured Programs:
Sponsored School(s)
<!- /mfunc feat_school ->
Nurse Practitioner Programs in Tennessee
#1: Vanderbilt University offers a number of tracks, including some dual program options and less common sub-specializations. The school boasts multiple types of adult-gerontology acute care nurse practitioner program. A student can do coursework beyond the standard in order to prepare for work in hospitalist or intensivist settings. US News and World Report has ranked the Vanderbilt DNP program #11 in the country.
#2: The University of Tennessee Health Science Center also provides students with a wide range of options, including some dual majors. One can study to become a family nurse practitioner and a psychiatric nurse practitioner, thus fulfilling two very important roles. The UTHSC DNP program is ranked #23.
#3: The University of Tennessee—Knoxville offers several DNP options in blended format. Their DNP program also enjoys a very respectable ranking by US News and World Report: #61.
#4:The University of Tennessee—Chattanooga offers family and adult-gerontology programs designed to accommodate the working professional. The school boasts a 100% 2017 certification examination pass rate.
#5: East Tennessee State University offers multiple tracks in online/ blended format with full- and part-time options. ETSU boasts a 100% certification rate on the psychiatric-mental health certification.
<!- mfunc search_btn -> <!- /mfunc search_btn ->
Becoming a Nurse Practitioner
Educational requirements for nurse practitioners are more standardized than is scope of practice. Tennessee's standards echo those of many organizations. In order to be recognized as a nurse practitioner with a certificate of fitness, a nurse must enroll in a post-basic graduate nursing program designed specifically to offer preparation for the role.
Third party certification as a nurse practitioner is a separate requirement, but an interrelated one. Certification agencies stipulate the educational that is required for examination eligibility. The American Nurses Credentialing Center, which offers a number of nurse practitioner certifications, specifies that the candidate graduate from a program accredited by the Commission on Collegiate Nursing Education (CCNE) or the Accreditation Commission for Education in Nursing (ACEN).
Tennessee administrative code specifies that the nurse practitioner will have at least three quarter hours of pharmacology coursework. Pharmacology coursework has become a standard requirement. The CCNE also mandates discrete courses in advanced health assessment and pathophysiology.
Tennessee boasts a number of well-ranked schools. Would-be nurse practitioners can select from a range of NP specialties, including family practice, psychiatric/ mental health, pediatric, adult-gerontology, and women's health. There are doctoral (DNP) and master's options.
The Tennessee Center for Health Workforce Development connects underserved communities with healthcare professionals who can meet their needs, among them nurse practitioners. A nurse practitioner can potentially receive a $25,000 stipend for serving two years in rural Tennessee. The organization states that their recruitment services are relationship-based; they are dedicated to putting the right person in a particular job.
(See: Nurse Practitioner requirements in Tennessee)
Issues Pertaining to Practice
Nurse practitioners are under the joint regulatory control of the Tennessee Board of Nursing and the Tennessee Board of Medical Examiners. Nurse practitioners have specific physicians with which they have formal collaborative relationships. Physician oversight requirements are multi-faceted and include requirements for retrospective chart review.
There are many in the state working toward easing of regulations. They wish to make it easier for NPs to open practices in very rural areas where there is high need: without having to worry about whether there are physicians within easy driving distance, without having to pay fees for oversight.
Medical associations sometimes argue against parity or independence. They may note that there are some things that primary care physicians can do that their NP counterparts can't: set bones, even delivery babies when necessary (https://www.tennessean.com/story/money/industries/health-care/2016/09/14/turf-war-pits-tennessee-doctors-against-nurse-practitioners/89780404/). Proponents of full practice argue that primary care providers are crucial, even so.
There are options for those RNs who recognize that they can't quite do it all but want to come closer. One Tennessee school – arguably a very prestigious one – offers a dual family nurse practitioner and nurse-midwife program. Nurse midwives are expected to refer their high-risk patients. Their scope of practice, though, includes attending certain types of birth and providing support for mothers and babies who are in serious circumstances and still awaiting physician arrival.
The Tennessee Nurses Association is a professional resource for the state's nurse practitioners. There are multiple advanced practice registered nursing groups that serve different parts of the state (http://www.tnaonline.org/aprn-issues-and-updates/regional-and-area-advanced-practice-nursing-groupsmeetings). The Tennessee Nurses association has provided a history of nurse practitioners in Tennessee, with a focus on legislation (https://www.tnaonline.org/wp-content/uploads/2016/12/updated-2011-aprn-legislative-history.pdf).
Job Opportunities and Salary Potential
Despite challenges, there are many nurse practitioners practicing in Tennessee. Tennessee has a relatively high concentration of NPs, according to the Bureau of Labor Statistics. There are many who have found their niche — and their nursing passion — in a particular part of the state and in a particular branch of nursing. Provision CARES Proton Therapy published a profile of a nurse practitioner who found her home again in East Tennessee after seeing a fair amount of the world (https://www.provisionproton.com/2016/05/19/nurse-practitioner-serves-prostate-patients). Her passion? Assisting prostrate patients.
Routine care, too, can be an act of dedication. These NPs prevent conditions from spiraling out of control. Among the places where primary care nurse practitioners are finding homes: the expanding world of retailed-based care clinics, like those under the CVS banner.
Three of Tennessee's metropolitan areas make the list of those with the highest nurse practitioner concentration in the nation: Cleveland, Johnson City, and Knoxville. Two of the state's nonmetropolitan areas make the separate top five list for non-metropolian areas.
Tennessee nurse practitioners earned an average hourly figure of $45.18 in 2017; this translates to $93,970 for a year of full-time work.
<!- mfunc search_btn -> <!- /mfunc search_btn ->
Find Nursing Licensure Requirements in Your State: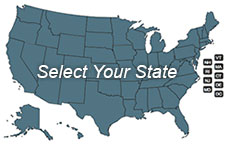 Learn about becoming a Registered Nurse, LPN or LVN in your state:
To View Full U.S. Map Click Here.