Advanced Practice Nurse Requirements in Tennessee
The Tennessee Board of Nursing issues advanced practice certificates to nurses who complete qualifying graduate level programs and achieve certification in their specialty areas. The Tennessee Board uses the title Advanced Practice Nurse, or APN.
Tennessee recognizes all four advanced practice roles that are recognized in the National Council of State Boards of Nursing (NCSBN) National APRN Consensus Model:
Nurse Practitioner
Clinical Nurse Specialist
Nurse Anesthetist
Nurse Midwife
APNs also hold licensure as registered nurses (RNs). If the place of residence is another state that is party to the nurse license compact, RN licensing will be held in the other state. However, the nurse will need to apply to the Tennessee Board for Tennessee APN status and (if needed) a certificate of fitness to prescribe and issue legend drugs.
<!- mfunc feat_school ->
Featured Programs:
Sponsored School(s)
<!- /mfunc feat_school ->
Select a Tennessee Advanced Practice Nurse Topic:
APN Education and Certification Requirements
The prospective APN must complete a post-basic advanced practice program. He or she will need to earn a degree at at least the master's level (for example, an MSN or PhD). The degree is to be in some specialty of nursing (Nurse Practitioner programs in Tennessee).
An advanced practice nurse who was nationally certified in the specialty by July 1, 2005 is not held to the master's degree requirement if he or she had also earned, by the qualifying date, an RN license that granted Tennessee practice privilege.
Educational and clinical content will vary, depending on population focus. The student will need to meet academic prerequisites set by his or her certification agency. A typical requirement is 500 clinical hours in the practice area.
A student who seeks prescriptive authority will need a course in pharmacology as part of his or her program.
Certification agencies acceptable to the Tennessee Board include, but are not limited to, the American Nurses Credentialing Center (ANCC), the American Academy of Nurse Practitioners (AANP), and the National Board of Certification & Recertification for Nurse Anesthetists. The AANP certifies nurse practitioners in some of the more common practice areas. The ANCC offers a variety of certifications for both nurse practitioners and clinical nurse specialists.
The American Midwifery Certification Board (AMCB) is the nationally recognized certification agency for nurse-midwives. The National Council of State Boards of Nursing has put together a list of certifications examinations and agencies that meet its criteria (http://share.tn.gov/sos/rules/1000/1000.htm). Ultimately, Tennessee determines what examinations will be accepted.
APN requirements are described in Chapter 1000-03 of Board rule (http://share.tn.gov/sos/rules/1000/1000.htm).
<!- mfunc search_btn -> <!- /mfunc search_btn ->
The Application Process
Application materials can be downloaded from the website of the Tennessee Board of Nursing .
An RN who holds licensure in another compact state will submit a copy of his or her multi-state license.
The applicant will fill out a Mandatory Practitioner Profile Questionnaire. This includes information that will be made public by the Board of Nursing after licensure. Applicants will note their credentials and provide basic information such as managed health plans that they work with. They may include other voluntary information such as community service activity. The questionnaire includes questions about adverse legal or professional history. Applicants who answer "yes" to questions about recent disciplinary history or criminal history are required to submit supplemental information.
Official transcripts are to be sent directly to the Board of Nursing in Nashville.
The applicant will also arrange to have his or her third party certification agency provide verification directly to the Board.
The student will need to have an educational verification form completed by the program director or dean. The official will identify the degree and the role: nurse practitioner, clinical nurse specialist, nurse anesthetist, or nurse midwife. If a certificate of fitness is sought, the official will verify that the program included the equivalent of at least three quarter hours in pharmacology.
A first-time applicant will pay $210. (This includes $200 for the initial APN certificate and 'fitness to prescribe' as well as a state regulatory fee of $10. )
The applicant will need to attach a professional passport-style photograph.
The application form requires notarization. The application packet also includes a citizenship attestation that needs notarization. (It is not necessary to be a citizen of the United States; the licensing agency can accept some other types of legal status such as "qualified alien".)
The review process will likely take four to six weeks. Once a license has been issued, the APN will be able to verify status online. Applicants are advised to contact the Board only if it has been six weeks since the application fee cleared.
APN Renewal
APNs renew their certificates biennially. National certification is a requirement.
Effective June 2015, APNs with certificates of fitness are required to complete two hours of continuing education related to prescribing controlled substances (http://tn.gov/assets/entities/health/attachments/rulemaking_rules_effective_6.22.2015.pdf).
APNs should be aware that regulations change periodically.
Addition Information
Information about advanced practice nursing is available from the Tennessee Board of Nursing. The Board can be reached by telephone at 1-800-778-4123, Ext. 25166. Individuals residing in Nashville may call 615-532-5166.
Advanced practice professional organizations include the following:
Advanced Practice Registered Nurse Committee of the Tennessee Nurses Association http://www.tncrna.com/
Tennessee Nurse Practitioner Association https://tnnpa.enpnetwork.com/
Tennessee Association of Nurse Anesthetists http://www.tncrna.com/
<!- mfunc search_btn -> <!- /mfunc search_btn ->
Find Nursing Licensure Requirements in Your State: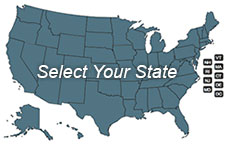 Learn about becoming a Registered Nurse, LPN or LVN in your state:
To View Full U.S. Map Click Here.