RN Careers in Alabama: Becoming an RN
Alabama's registered nurses are everywhere — in hospitals, clinics, schools, and skilled nursing facilities — but sometimes there aren't quite enough to go around.
WIAT CBS 42 reported in December 2017 that one Tuscaloosa hospital had 179 vacancies (http://wiat.com/2017/12/04/dch-health-system-working-to-overcome-nurse-shortage). The organization reported that it was making do: relying on traveling nurses, overtime, and extra pay, but it was a struggle. Like many facilities, it was looking to step up the hiring. This is not an isolated event. West Alabama is currently experiencing a shortage. And registered nurse makes the list of Alabama's most high demand jobs – in fact, it is near the top of the list.
<!- mfunc feat_school ->
Featured Programs:
Sponsored School(s)
<!- /mfunc feat_school ->
The job isn't for everyone. Registered nurses need certain common traits: compassion, critical thinking, and dexterity. But professional nursing is a broad discipline with opportunities for many skill sets.
Becoming an Alabama RN
A person becomes a registered nurse, or RN, by completing an approved nursing program (RN programs in Alabama). Programs develop a broad set of competencies which will be strengthened through experience. Some Alabama programs confer degrees at the associate's level; others award a bachelor's (http://www.abn.alabama.gov/nursing-programs). It is also necessary to pass a licensing examination: the NCLEX. Authority to practice is granted by the Alabama Board of Nursing.
Alabama RNs pursue continuing education to retain licensing status, keep knowledge current, and develop specialized skill sets. There won't always be nursing shortages, but facilities will always be seeking to hire and retain those with proven track records.
RN Duties
The RN scope of practice is wide. Actual duties vary by work setting. Some positions depend on specialized technical skills on a day-to-day basis, others on in-depth knowledge of systems and human dynamics. The following are a sampling of job titles, drawn from recent job postings:
Clinical Obstetrical Nurse
Rapid Response Nurse
Care Management Navigator
Nursing Team Leader (Emergency Department)
Emergency Department Flow Coordinator
Health Center Manager
Home Infusion Nurse
Psychiatric Triage RN
While associate and bachelor's level nurses have the same license, they don't always compete for the same positions. Some positions require education at the bachelor's level.
Specialized Roles Described in State Code
Some nurses perform specialized technical duties under surgeon supervision in the operating room. The position may be termed surgical first assistant. Alabama code lists the following among the allowable duties:
Positioning patients
Handling tissue
Suturing
Placing primary tocars
Harvesting extremity veins
Sexual Assault Nurse Examiner (SANE) is another role referenced in state code. Sexual Assault Nurse Examiners carry out examinations of rape and sexual assault victims. This is an area where Alabama mandates specialized training. A nurse must pursue education that meets standards set by the International Association of Forensic Nurses. Alabama notes that the education will comprise at least 40 hours for adult/ adolescent examiners, 40 for pediatric examiners, and 65 for those with combined roles. The nurse must also complete supervised clinical practice. The IAFN website lists 14 Alabama SANE programs (http://www.forensicnurses.org/search/newsearch.asp).
In some settings, delegation constitutes an important job duty. Among these are residential mental health communities and schools; the State of Alabama Independent Living (SAIL) Program is another. The registered nurse won't always be the one dispensing medications at a school or residential mental health community, but he or she will bear responsibility for professional judgment. The nurse would personally carry out more difficult technical tasks (for example, gastric feedings).
<!- mfunc search_btn -> <!- /mfunc search_btn ->
Premier Alabama Hospitals
Multiple organizations, including the Center for Medicare and Medicaid Services, recognize hospital quality (https://www.medicare.gov/hospitalcompare/About/Hospital-overall-ratings.html).
The American Nurses Credentialing Center awards magnet status to hospitals based on patient care and nursing quality. Among the considerations: whether the particular hospital is able to hire and retain 'top talent'. Magnet hospitals can be very desirable workplaces. The University of Alabama – Birmingham is, as of 2017, the state's one magnet hospital. UAB Medicine News spotlighted its neurosciences unit, noting that more than half of the nurses had been there ten or more years.
Each year during National Nurses Week, UAB recognizes some of its most skilled and dedicated nursing staff with Clinical Excellence in Nursing Awards (https://www.uabmedicine.org/web/careers/-/uab-announces-2017-clinical-excellence-in-nursing-award-winners).
Nurses in Community Settings: The Role of the Home Visitor
Nursing is about promoting wellness as well as helping the sick, and the groundwork is laid before birth. Alabama's infant mortality rate is the second highest in nation, but the state's RNs are aiming to bring it down — and to help the state's at-risk babies off to a good start developmentally. The Nurse-Family Partnership, already operating in Tuscaloosa and Montgomery County, recently secured the funding to begin operations in Jefferson County. The Nurse-Family Partnership pairs nurses with low-income first-time moms. Participating mothers will receive 64 visits beginning in the prenatal phase and continuing on up to their toddler's second birthday. The need is great: Of the 172 infants born in Jefferson County in an average week, 20 are premature; what's more shocking is that two infants won't make it to their first birthday. One factor: very young mothers.Home visitors know the value of prenatal nutrition and medical care, of curbing smoking and other substance use, of developing parental know-how – and of fostering relationships with their clientele.
Beyond the RN: Advancement Opportunities
Graduate level education can make a nurse even more valuable to the community. Some nurses pursue advanced practice in disciplines such as family nurse practitioner, nurse midwife, or nurse anesthetist. The additional education takes substantial investment, but there are various sources of support, including tuition reimbursement programs and scholarships. Alabama has its own graduate scholarship program.
The state also has a loan repayment program for advanced practice nurses who are willing to work in areas of critical need.
Career Outlook and Average RN Salary in Alabama
Alabama registered nurses made an average salary of $56,900 in 2016.
Alabama RN employment has been projected to increase 14.5% between 2014 and 2024.
Related Articles:
Medical Assistant Certification Requirements in Alabama
<!- mfunc search_btn -> <!- /mfunc search_btn ->
Find Nursing Licensure Requirements in Your State: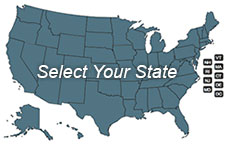 Learn about becoming a Registered Nurse, LPN or LVN in your state:
To View Full U.S. Map Click Here.