RN Careers in Alaska: Becoming an RN
RNs are professional nurses who have theoretical and practical training. They provide a level of care that is absolutely essential, and even a rural state like Alaska employs thousands. Because of their importance – and because economic and demographic figures can cause numbers to dip too low – Alaska periodically collects information about its RN workforce. This information can be of use to people who are considering healthcare careers.
One factor influencing the number of registered nurses that will be needed in Alaska in the years to come is age. In a recent workforce survey, the age group with the most respondents was 55 to 59. When combined, the 60 to 64 and 65 and older age groups represented well over 20% of the workforce.
<!- mfunc feat_school ->
Featured Programs:
Sponsored School(s)
<!- /mfunc feat_school ->
Becoming an Alaska RN
A prospected RN will complete a professional nursing program (RN programs in Alaska) and then take the NCLEX-RN. Alaska approves registered nursing programs at the associate and bachelor's level provided that they meet state standards (including outcomes). The level of nursing degree required – when, if ever a bachelor's is required — will depend on career goals. Some goals will necessitate more. Some nurses eventually complete graduate education in an area if clinical practice and become advanced practice registered nurses; they have a greater scope and greater salary.
Specialized certification is not required for those below the level of advanced practice. However, there are Alaska healthcare organizations that reward third party credentials and/ or consider them in the hiring process.
The ACE-HC competencies describe standards for different units , for example, medical-surgical, intensive care, and emergency room (http://www.ashnha.com/workforce/nursing-competencies-ace-hc/).
Alaska has procedures in place for approving nurses to practice beyond the usual scope when there is need and when qualifications are documented (https://www.commerce.alaska.gov/web/cbpl/Professional Licensing/Board of Nursing/Nursing Statutes and Regulations).
Alaska Workforce Needs
In 2016, the Alaska State Hospital and Nursing Home Association (ASHNHA) conducted a survey of healthcare employers in three categories: urban hospital, rural hospital, and urban long-term care. The survey indicated that organizations often found themselves struggling to hire nursing staff. The following represent specialties that were especially difficult to fill:
Psychiatric nurse: 91%
Perioperative nurse: 88%
Obstetric nurse: 86%
Geriatric nurse: 85%
Critical care nurse: 83%
Some roles outside staff nurse were difficult to fill. Case management nurse had 84% difficulty. The biggest challenge was psychiatric nurse practitioner — a graduate level, health provider role – here the difficulty was 100%.
The Alaska Sub-Specialty Nursing Consortium supports training in difficult-to-fill subspecialties (http://www.ashnha.com/workforce/alaska-sub-specialty-nursing-consortium/).
<!- mfunc search_btn -> <!- /mfunc search_btn ->
Urban and Rural Employers
Overall there were quite a few vacancies reported, with a greater percentage occurring in urban hospitals than rural ones (14% vs 9.3%). Notably, rural hospitals tend to been quite small. Norton Sound reported just 7 total nursing positions. Only one rural hospital reported more than 50; South Peninsula had 120. Urban Providence Alaska Medical Center, by contrast, is listed at 1,000. Urban hospitals reported having a more difficult time filling specialist positions than generalist ones. This trend was not seen in rural hospital or urban long-term care settings.
Challenges of rural healthcare are well-known, however. There are substantially fewer RNs even when figured on the basis of population. The Northern labor market area is home to 3.7% of the state's population but just 1.7% of its RN licensees. The Anchorage / Mat-Su, by contrast, is home to 54.2% of the population – and 65.5% of the licensees.
One urban hospital stated that a bachelor's was required, another that they were considering making it a requirement. The rest of the urban hospitals were split between preferring but not requiring the bachelor's and having no bachelor's over associate's preference. It was the rural hospitals that most often selected the bachelor's preferred category this small sampling; this is not representative of the nation as a whole. Some employers noted that the higher degree was preferred for some positions but not others.
What will one find when one visits the site of Providence health system (an Alaska giant)? Inpatient positions tend to include the note that a Bachelor of Science in Nursing must be earned within a set time after hire; some positions note 20 years of experience as a way of meeting standards without baccalaureate education. Prospective hires will, on the other hand, find Providence advertising long-term care positions without a statement of BSN preference; here there are jobs that require RN licensing but emphasize a different set of qualifications.
Alaska Native Medical Center notes that more than 80% of their nurses hold the BSN. 45% hold specialty certifications. As a large urban medical center, Alaska Native employs nurses in many specialties. The following are among them: Dialysis Nurse, Cardiology Clinic Nurse/Case Manager, Maternal Fetal Medicine/Antenatal Testing (Case Management and Direct Care).
Practicing in Alaska: Additional Trends
A recent survey determined that there were nearly half as many non-residents with Alaska licenses as residents. An Alaska license does not always indicate intent to establish residency. In the modern era, a person does not always even have to be physically present in a state to be considered to be practicing. It appears, though, that employers are not averse to hiring nurses from other states. Some note relocation assistance. One notes in the description that Alaska has incredible scenic beauty and that a person can enjoy activities such as golfing under the midnight sun. The organization does ask a year of prior related experience.
Noteworthy Alaska Facilities
Alaska boasts one magnet hospital. Alaska Native Medical Center has maintained that status since 2003.
There is a lot of innovation going on in Alaska, too, in the world of long-term care. Providence operates multiple Green House nursing home lodges. The Green House is a model that emphasizes person-centered care through resident/ caregiver relationships, flexible daily schedules, and physical building structure.
Alaska RN Salary
Alaska is among the highest paying states. The Bureau of Labor Statistics reports average earnings of $41.56 an hour (potentially, about $86,450 a year). This figure does not include nurse practitioners or nurse anesthetists.
Organizations may have career ladders in place. Alaska Native Medical Center, for example, offers an incentive for professional certifications.
Earnings don't necessarily come down to one set salary figure. Nurses are needed round the clock and through the weekend, but facilities may offer a pay differential for picking up the less desirable days and times.
<!- mfunc search_btn -> <!- /mfunc search_btn ->
Find Nursing Licensure Requirements in Your State: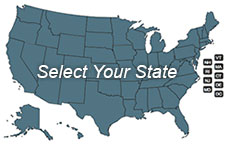 Learn about becoming a Registered Nurse, LPN or LVN in your state:
To View Full U.S. Map Click Here.