Choosing an RN Program in Alaska
In a state that's as spread out as Alaska, geography can be a big factor in choosing a nursing program. However, thanks to dormitories and family housing, as well partnerships between colleges and universities — and, yes, the internet — there are more options than one may think.
Different schools have different focuses. There are options for individuals who already have practical nursing certificates – unlike in some states, there may be accommodations provided while the student wraps up their associate's.
<!- mfunc feat_school ->
Featured Programs:
Sponsored School(s)
<!- /mfunc feat_school ->
Degree Options
One of the big decisions: What level of nursing education to pursue? A person can obtain either an Associate Degree in Nursing (ADN) or a Bachelor of Science in Nursing (BSN) in Alaska.
Both degrees qualify graduates for the same nursing license. However, they don't necessarily qualify them for the same positions.
BSN programs typically require more prerequisites before admission. They may set grade point average requirements higher. In other words, it may be more difficult to get in. (ADN students do have the option of completing bridge programs later.)
Here is a list of RN programs in Alaska: https://www.commerce.alaska.gov/web/cbpl/Professional Licensing/Board of Nursing Applicant Information
Out-of-State Education
If a person is obtaining a baccalaureate degree, chances are good that they will be going through the University of Alaska – it has partnerships with 13 schools (http://www.uaa.alaska.edu/schoolofnursing/outreach/index.cfm).
A student who opts for an out-of-state program but plans to work as a nurse in Alaska will be safest picking a school that has programmatic accreditation through either ACEN (formerly known as the NLNAC) or CCNE. (Programmatic accreditation can also be important for a nurse who is considering a higher degree.)
A student considering distance learning through an out-of-state school will have additional questions to ask (for example, whether the program is able to supervise clinical hours in Alaska).
<!- mfunc search_btn -> <!- /mfunc search_btn ->
Admission Requirements
Applications exceed spots in Alaska programs (http://www.aacn.nche.edu/government-affairs/resources/Alaska1.pdf). Schools have different ways of handling demand. Often it means that it gets harder to make the cut — meeting the stated requirements isn't necessarily enough. Therefore an applicant may want to inquire about the average profile of admitted students.
Some programs strive to be inclusive, but are forced to waitlist students. Thankfully, what is found in Alaska in the present tense doesn't match the waitlist horror stories one might read about on the internet. AVTEC, a school that helps LPNs transition to registered nursing practice, does note that individuals who meet requirements may be placed on a waiting list for "up to one year".
Discover Nursing provides a search function for schools without waitlists (http://www.discovernursing.com/schools#no-filters). However, it doesn't include them all.
Test Scores
If one is considering multiple schools, licensing exam pass rates may be a point of comparison. All RN candidates must take and pass the NCLEX-RN. The national average for those making a first attempt at the NCLEX-RN was 90.34% in 2012 and 84.28% in 2013 (https://www.ncsbn.org/1237.htm).
Paying for Nursing School
A nursing degree is comparable to other degrees at the same level. At the University of Alaska, a year of full-time study is well under $10,000 (not counting those little 'extras' like living expenses).
Financial aid opportunities are also comparable to other degrees at the same level – with a few extra options tossed in. Among the more common options are federal Pell Grants and Stafford loans, Alaska Supplemental Education Loans, and Alaska Family Education Loans.
Some registered nurses may see loans repaid through Alaska's SHARP program (http://dhss.alaska.gov/dph/HealthPlanning/Pages/sharp/default.aspx). This requires a service commitment, providing nursing care to underserved populations. The federal government also has loan scholarship and repayment programs for highly qualified nurses who are willing to serve in Health Professional Shortage Areas.
Ultimately Alaska's RN salaries are well compensated. The Bureau of Labor Statistics reports $80,970 as the 2012 average (http://www.bls.gov/oes/current/oes291141.htm). Prospective nurses should be aware that nurses with expanded duties and advanced competencies are included in this figure.
Resources
RN License Requirements in Alaska
Alaska Board of Nursing http://commerce.state.ak.us/dnn/cbpl/ProfessionalLicensing/BoardofNursing.aspx
Alaska Nurses Association http://aknurse.org
Become an RN in Alaska: RN Career Paths
Become an LPN in Alaska: LPN Career Path
Medical Assistant Programs in Alaska
<!- mfunc search_btn -> <!- /mfunc search_btn ->
Find Nursing Licensure Requirements in Your State: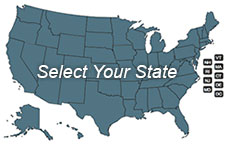 Learn about becoming a Registered Nurse, LPN or LVN in your state:
To View Full U.S. Map Click Here.