RN Careers in Arizona: Becoming an RN
Being a registered nurse in Arizona is about competence and compassion but also about choices. Nurses do more than ever before and, though the license they work under is generalist, they often do some degree of specialization at an early stage.
<!- mfunc feat_school ->
Featured Programs:
Sponsored School(s)
<!- /mfunc feat_school ->
RN Scope of Practice
RNs have a greater scope of practice than LPNs. The difference is in the level of judgment and autonomy as well as in the procedures performed. The RN has a greater role in patient assessment. An RN can make nursing diagnoses; an LPN can't. An LPN has only a limited role in patient education; he or she may provide education under direction or according to an established plan. An RN on the other hand, may take responsibility for patient education from assessment of educational need through implementation and evaluation. There are instances where an LPN could perform a procedure only under supervision of an RN or other health professional. From time to time, the Board issues advisory statements about specific procedures and whether they are allowed under the scope of practice of an RN or other nursing professional.
Registered Nursing Roles
Hospital/ acute care is the most common type of practice for registered nurses nationwide. However, many do work in ambulatory settings or in home health or long-term care. Some work in other community settings. They may practice as public health nurses or even carry out reseach.
Roles and duties can be diverse; 'hospital inpatient' is too broad to describe what a nurse actually does on the job. Different units represent a form of specialization.
The following is a sample of RN positions from across Arizona that sought applicants in December of 2017:
AcuteCare/ Telemetry
RN – Mother/ Baby
RN – Neonatal Intensive Care Unit
Registered Nurse – Same Day Surgery
Registered Nurse – Endoscopy
Registered Nurse – Progressive Care Unit
OB Nurse Coordinator
Nursing-Oncology
While the majority of the state's RNs are providing direct care/ performing procedures as staff nurses, many roles are possible. RNs manage caseloads of patients, supervise nurses and support staff, and tackle infection control and other quality improvement issues.
Banner Health, a large nonprofit with a presence in Arizona and several other Western states, notes the following among the different nursing roles and titles (https://www.bannerhealth.com/health-professionals/for-nurses):
Charge nurse
Nurse manager
Nursing educator
Nurse informatics
Charge nurse
Some roles require graduate education; an example is clinical nurse leader. An informatics position, on the other hand, could easily go to an RN with a bachelor's degree provided he or she had the requisite clinical and technical expertise. AZ Big Media recently published an article on nurse informatics (https://azbigmedia.com/nursing-informatics-specialty-thriving-healthcare).
Banner also utilizes travel nurses who perform short stints at different hospitals when there is unmet need. This has become a common role.
<!- mfunc search_btn -> <!- /mfunc search_btn ->
Basic RN Requirements
In order to be licensed by the Arizona Board of Nursing, prospective RNs must complete approved educational programs (RN programs in Arizona) and pass the NCLEX licensing examination. They may work under temporary licensure pending examination.
Nursing Residencies and Entry-Level Employment
A person can act under the scope of practice of an RN as soon as he or she is licensed, but it is generally recognized that expertise takes time. The Board has reported that residency programs are becoming more common; it is more likely that an RN will be granted this opportunity in an acute care setting than in a long-term care setting.
Residency typically lasts a year. The new graduate is an employee, but has access to a preceptor and has regular opportunities to participate in other learning activities. The medical center may have a simulation lab to further develop resident skills – lab work isn't necessarily left behind in college.
Residency may take place on a specialized unit.
The Arizona Board conducted a survey in 2014 and noted that the unit was very important in determining where a graduate would seek employment; it appeared that there was a tendency to specialize early.
The Board also determined that graduates with Bachelor of Science degrees (BSNs) were less likely to report difficulty in finding employment.
The level of difficulty (if any) for a new graduate with an Associate Degree in Nursing (AND) will depend in part on the hiring market. 2017 finds a number of positions open to ADN and diploma nurses. However, they should be aware of BSN hiring preference for some positions, including residencies at premier institutions.
RN First Assistants
First assistants have roles of responsibility in the operating room and also at the pre- and post-operative stage.
Arizona RN First Assistants complete role-specific education and seek certification through the Association of Operating Room Nurses (AORN).
The required first assistant coursework may be offered by the medical center itself. One Tucson medical center, for example, recently advertised for an RN to take on perioperative duties, noting that the AORP Perioperative 101 course would be offered. No experience was required in this particular instance; residency would be offered as well.
Beginning in 2020, the minimum educational level for an RN First Assistant in Arizona will be the baccalaureate degree. This mandate will not, however, apply to RNs who are already practicing.
Health Research and Health Promotion Nursing
Nursing is about health promotion as well as illness management. The College of Nursing and Innovation at Arizona State University, for example, recently saw some successes with a research program designed to identify and support families at risk for diabetes (https://asunow.asu.edu/20171120-arizona-impact-asu-diabetes-prevention-research-sees-promising-results).
This type of work calls for understanding in different domains, including culture as well as nutrition. The ASU program brought together members of different disciplines. In the modern era, nurses are often interdisciplinary team members and leaders.
Premier Arizona Facilities
Arizona has 11 magnet hospitals. The majority of them operate under one of two systems: HonorHealth and Banner. The Phoenix Mayo Clinic is also a magnet facility (and a well-known destination hospital).
Magnet status is an honor. The mayor of Gilbert recently proclaimed Banner Gateway Nursing Day in honor of the local hospital's status (https://azbigmedia.com/gilbert-mayor-proclaims-banner-gateway-nursing-day).
Like many premier institutions, Banner has a tuition reimbursement program. Banner Heath nurses have the option of participating in Grand Rounds in Phoenix and learning more about nursing topics, from transplants to disaster nursing (https://www.bannerhealth.com/health-professionals/for-nurses/umc-phoenix).
Average RN Salary in Arizona
Arizona registered nurses averaged $35.31an hour in 2016. The average is nominally higher in the Phoenix/ Mesa/ Scottsdale area: $36.03. Tucson lags a little below at $33.47 but is known for being among the most affordable housing markets among U.S. cities. Many factors influence salary – setting, level of experience, specialized knowledge – and some carry greater weight. Travel nurses make more than their permanently stationed counterparts. Organizations may have career ladders and other incentive programs for their permanent employees.
Related Articles:
Medical Assistant Certification Requirements in Arizona
<!- mfunc search_btn -> <!- /mfunc search_btn ->
Find Nursing Licensure Requirements in Your State: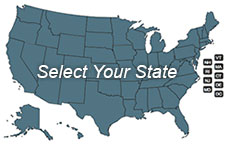 Learn about becoming a Registered Nurse, LPN or LVN in your state:
To View Full U.S. Map Click Here.