Choosing an RN Program in Arizona
Pursuing professional nursing education in Arizona? It is imperative to graduate from an approved program through an accredited college or university. A list of programs is available on the Board site (https://www.azbn.gov/education/nursing-programs-lists/). There are many options. The following is a guideline for selection.
<!- mfunc feat_school ->
Featured Programs:
Sponsored School(s)
<!- /mfunc feat_school ->
Program Level and Admission Requirements
One can pursue RN training in Arizona at the associate's or baccalaureate level. There is also one direct-entry master's program in the state for individuals who already have a college degree. BSN and ADN nurses are eligible for the same license, but the American Association of Colleges of Nursing reports that Arizona is among the states where nurse educators have put together a differentiated practice plan (http://www.aacn.nche.edu/media-relations/fact-sheets/impact-of-education).
While it would seem that the associate's is the quickest route into nursing, this is not always the case. After all, a student may get credit for general studies courses that were taken at a lower level. One thing a prospective nurse should consider is the length of the wait list. Schools don't have the faculty or facilities for all interested students. There are long wait lists at some community colleges. At the higher levels, schools are more likely to be highly selective in admission instead of admitting all students who meet stated requirements. Some programs are selective even at the associate's level.
RN programs generally require prerequisites in English, math, science, and psychology; some coursework may be accepted as co-requisites.
Baccalaureate programs typically require a grade point average of 2.7 or 3.0; a few associate level programs set requirements at this level. Those that require the HESI typically set the math score at 75, but some will accept lower scores. One can find a list of admission requirements for approved in-state programs on the Board site, but the Board cautions that information should be verified with the individual school (https://www.azbn.gov/education/about-us).
<!- mfunc search_btn -> <!- /mfunc search_btn ->
Quality Indicators
Nursing graduates across the country are required to take the NCLEX-RN. Thus prospective nursing students may want to take NCLEX pass rates into consideration. Arizona requires a 75% pass rate and issues warnings to programs that fall below.
Students may also take into account student success in completing the program. The Arizona Board also posts on-time graduation rates (https://www.azbn.gov/education/about-us) 66% for AZ RN programs.
A prospective student may consider program-level accreditation. Board approval is sufficient for licensing purposes, but program-level accreditation can be important for students who plan to pursue higher degrees later. Associate level programs may be accredited by ACEN (formerly the NLNAC). Baccalaureate programs may be accredited by ACEN or the CCNE.
Out-of-State Programs
The Arizona Board notes that out-of-state programs that have been assigned NCLEX codes give substantially equivalent education to Arizona programs and are considered approved. It might seem that that only applies to people who are physically present in other states, but it doesn't. You can get an Arizona education from a Wisconsin or Ohio school! Arizona has approved four out-of-state schools to supervise students to do clinical rotations in Arizona; the names of these schools appear at the bottom of the list of approved programs.
Financial Considerations
Although degree programs can be expensive, there are financial resources available. Some scholarships are offered by individual schools. Students who are ready to make a significant commitment may also check the site of the HRSA (https://www.hrsa.gov/loan-scholarships/scholarships/index.html). Because there is special need for highly educated nurses, there are loan scholarships.
The Bureau of Labor Statistics lists the average salary for an Arizona RN at $71,390. This reflects a broad range of education and experience levels, so a new graduate should not expect to make this amount.
Resources
RN License Requirements in Arizona
Arizona Board of Nursing https://www.azbn.gov/
Arizona Nurses Association http://www.aznurse.org
Become an RN in Arizona: RN Career Paths
<!- mfunc search_btn -> <!- /mfunc search_btn ->
Find Nursing Licensure Requirements in Your State: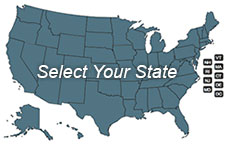 Learn about becoming a Registered Nurse, LPN or LVN in your state:
To View Full U.S. Map Click Here.