RN Career Paths in Minnesota: Becoming an RN
Minnesota's registered nurses are under the jurisdiction of the state's Board of Nursing – and in the service of the population as a whole. The RN scope of practice is termed professional nursing. As professional nurses, RNs have a solid background in theoretical and practical aspects of nursing across settings.
The scope of practice encompasses a number of roles. RNs implement nursing interventions, some independent, others under delegation by a medical professional. They provide nursing care and delegate more basic duties to other healthcare workers. (This often happens in settings where non-acute care is given; the RN delegates care but retains responsibility.)
RNs also collaborate with others in creation of treatment plans. They may act as care managers, educators, and nursing supervisors; roles can include activities as diverse as case finding and policy development.
<!- mfunc feat_school ->
Featured Programs:
Sponsored School(s)
<!- /mfunc feat_school ->
Becoming a Minnesota RN
Registered Nurse represents the middle level of nursing licensure and largest subset of the nursing workforce. If someone has a degree in nursing below the graduate level (RN programs in Minnesota), chances are good that they are a registered nurse. Some nurses at the graduate level will also be in this category; they have not had the clinical preparation required to be licensed as advanced practice registered nurses.
All RNs must pass the NCLEX-RN licensing exam.
RN Employment Settings
The Minnesota Department of Health, Office of Rural Health and Primary Care provides periodic reports about the state's nursing workforce. By far the largest subset of Minnesota RNs count hospitals as their primary work setting. (The 47% reported for hospital employment, though, is actually smaller than what has been reported in many states.)
13% of the RN workforce work in ambulatory care settings. Nursing homes, long-term/ extended care facilities, and assisted living are grouped together as one category, employing 7% of the state's RNs. Home health agencies (5%) and hospice (2%) are separate categories.
4% of the state's RNs are under the banner of insurance companies. Academic teaching and research institutions, ambulatory surgical centers, and community/ public health each account for 3%. Schools and college clinics together employ 2%. Rehabilitation facilities, correctional facilities, and private industry each employ 1%; federally qualified health clinics, less than 1%. The 'other' category is actually quite large: 10%. The Department of Health notes that medical air transport, call centers, emergency rooms, and clinical research settings got repeated mention.
More than half of the state's RNs are in the Twin Cities area. The next largest group (just 14%) are in the Southeast. The Department of Health notes that this is the part of Minnesota where the Mayo Clinic is located (and also notes that there might be a bit of 'oversupply' here relative to other regions).
Premier Facilities
Rochester's Mayo Clinic, ranked #1 in the nation by U.S. News and World Report, employs nursing staff with varying levels of education. A person can be hired as a Registered Nurse with education at the associate's level. Registered Nurse Supervisor and Registered Nurse Manager are options listed as bachelor's level. At the master's level, there are even more options, for example, Nursing Education Specialist. (It is at the master's level, too, that advanced clinical practice becomes a possibility.)
<!- mfunc search_btn -> <!- /mfunc search_btn ->
Even at this premier facility, there are options straight out of college. RNs with less than a year of experience complete residencies. This is a one-year program that includes activities designed to facilitate transition to practice (for example, group discussions, simulations, and evidence-based practice projects).
Some students get a little experience at premier facilities before graduation. The Summer III externship at the Rochester Clinic is a paid opportunity, though a competitive one — nursing students apply from far outside Minnesota.
The Mayo Clinic in Rochester is one of three Minnesota magnet hospitals. The others are St. Cloud Hospital and Abbot Northwestern Hospital.
Children's Specialty Healthcare, meanwhile, has won the AACN Beacon Award and has been selected among the top healthcare employers by Becker's Hospital Review. In addition to providing direct patient care and education about meeting health needs at home, nurses participate in pragmatic, care-centered research. Among the research findings: that parent presence in the post-anesthesia care unit can promote stabilization.
Minnesota also has high caliber small facilities serving its rural populations. Six of the highest rated critical access hospitals are in the state (as of 2017). Included on the list is the Mayo Clinic Health System-St. James. Among the others are Swift County Benson Hospital and Glacial Ridge Hospital.
School Nursing in Minnesota
Requirements for Licensed School Nurses are higher than those for general RNs. An RN can become an LSN if he or she holds a qualifying nursing degree at the bachelor's level. The nurse will need to have had theoretical and clinical coursework in public health — this is to attain registration as a public health nurse, which is a step in the qualification process.
Minnesota Maternal Child Nursing: Tackling the Big Issues
Many Minnesota nurses are in the business of helping babies get off to a good start. They may be employed as case managers or work in other clinical or public health roles.
One issue that has gotten a good deal of attention lately: issues facing infants born to mothers with substance abuse issues. RNs are working under the banner of multiple organizations to address their needs, often before birth.
A registered nurse who has been employed by Hennepin County Medical Center as coordinator for high risk OB cases reports that babies born to opioid-addicted mothers can do very well after their initial rocky start (https://www.twincities.com/2017/12/26/number-of-minnesota-newborns-addicted-to-opiates-is-rising/); they need good care to get through withdrawal.
Babies can be at-risk for many other reasons. The Nurse Family Partnership pairs visiting nurses with first-time mothers; visits start in the prenatal phase and continue until the child is two.
Average Salary
Minnesota registered nurses made an average hourly wage of $35.55 in 2016. The Bureau of Labor Statistics equates this to $73,940, assuming 40-hour weeks. The Office of Rural Health and Primary Care reports that Minnesota full-time RNs may work 36 or 40 hours a week. (36 hours would be three 12-hour shifts; this is common in hospital settings.)
<!- mfunc search_btn -> <!- /mfunc search_btn ->
Find Nursing Licensure Requirements in Your State: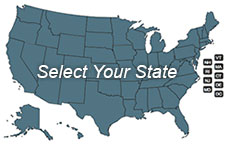 Learn about becoming a Registered Nurse, LPN or LVN in your state:
To View Full U.S. Map Click Here.